Greetings Steemian's,
I hope you're all well today. Psychology is intriguing to me, and has always been something I enjoy studying in my spare time. It's my belief, that anyone with a solid conceptual understanding of human psychology, is always a bit objective to different aspects of the psychology/social science(s). After all, no two humans are biologically identical, unless they are identical twins, and even identical twins will have very different psychological attributes.
At one point in my life, I desired to become a psychologist. Later on, I determined that my desire to understand psychology, was actually an inherent desire to fix my own issues.
Throughout the course of my adult life, I've come to realize, that understanding different aspects of your disorders can help a bit, but it takes more than just understanding. It takes work, and it's work that must take on a spiritual aspect in my humble opinion.
Psychology is a huge area of study, and even a licensed psychologist will tell you, that a good psychologist never stops learning!
There are even ways psychology can be used in a very malevolent manner. It can be used to manipulate others for the worse, and it can also be used to seduce. I won't list any literature's that exist on the topic, because I don't agree with these types of behavior's; which is exactly how I see them, behaviors employed, through the use of the mind, to gain advantage over others. It's a realistic aspect to psychology, and many people employ these tactics without even realizing it. I choose to focus on aspects of psychology which promote healing of oneself, and others. Knowledge is power, and comes with great moral responsibility.
So why am I choosing to speak on the topic to begin with? Well, because no matter how much you know about psychology, when you suffer from mental illness/disorder(s), grounding yourself in the moment can be a real chore, sometimes even a seeming impossibility.
Today I'm dealing with some pretty extreme depression. This is something that seems to affect me less than other issues I have, but it's also influenced dramatically when you deal with bi-polar disorder. Compound it with PTSD, and Generalized Anxiety Disorder, and you have yourself a real merry-go-round of a life.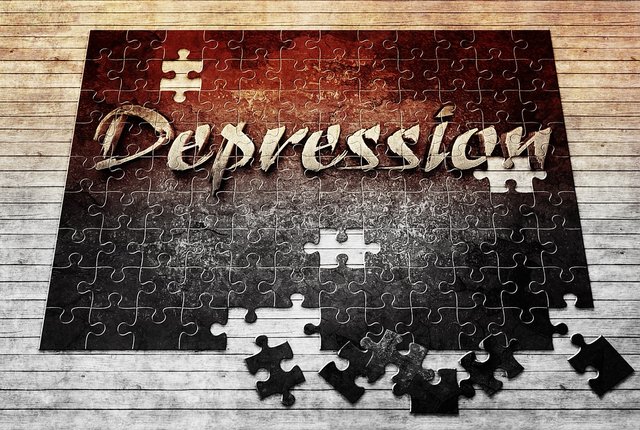 Image Source
I've learned how to manage my symptoms in work environments pretty well, due to lack of choice. I can show up on a job, and be a real cheerful fellow, while actually hurting quite deeply, or feeling very sad/anxiety ridden/ect. Is this deceptive? Absolutely, but it has a genuine intent, which is to provide a sense of pleasantness around others, as to not "rub off" onto them, or ruin their day in any capacity. Most would likely agree this is a normal human function, and not see it as a bad thing. In fact, it's pretty noble in my opinion.
Of course, when you get to know another human being, on a personal level, behind closed doors, you learn that it isn't all rose petals and rainbows. Futuremind's closest friends, have seen me in some pretty rough states, and the one's who have stuck around, will likely be my friends for life. I'm loyal to a fault.
Being loyal to a fault, comes with consequences, oh yes it does, because if you, the reader, share this commonality, you are probably nodding your head in agreement when I express just how painful it is to give someone your loyalty and trust, and watch them suddenly beat feat on you. Yeah, that usually incites a bit of anger with me, at least in the beginning.
So what does this have to do with my depression today? Quite a bit actually, because it's what I recognize to be driving it.
Now before I express some free-flowing thoughts, (generally how I write), I'll say, there are many different types of depression. You have (off the top of my head), depressions like:
Manic Depression
Major Depressive Disorder
Persistent Depressive Disorder
Atypical Depressive Disorder
Premenstrual Dysphoric Disorder
Situational Depressive Disorder
Peripartum Depression (Postpartum)
Psychotic Depressive Disorder
Bi-Polar Disorder (Depression is part of this disorder)
And probably a few more I'm not thinking of.
My depressive moods generally are influenced by bi-polar swings, but not always. Sometimes it just comes out of nowhere, and luckily for me, it's not something that lasts very long in my case. I generally stay in a heightened state of alertness, driven by anxiety, which is influenced by PTSD; hence the merry-go-round. Quite a plethora, and getting to the root, in a non-judging, realistic fashion, is critical, at least for me. I've made some significant strides, but it's non-stop work, and there have been "backslides" at times.
My depression as I type this, is driven by lost friends, and lost family. Not all the friends I've had relationships with , but the one's who abandoned ship when I had crossed the point of no return "so to speak", when futuremind's undying loyalty kicked in. There is a special group of people, who will run away from you, or figure out a way to manipulate your words, create a drama, ect, as a means to bail. Why? It's only my opinion, but perhaps it's because they are afraid of something, perhaps it is because they do not truly love themselves, and maintain an inability to love others. I do not know, but these types plague my mind, in the worst possible way, but the thoughts are driven by the pain of being hurt. It's akin to be violated in one way or another.
Obsessive thought patterns/OCD is not something I am diagnosed with, but I'm a complicated person. I'm not sure the Diagnostic and Statistical Manual of Mental Disorders, 5th Edition is working in my favor. As I stated earlier, people are complex creatures, and no two are alike. I probably have some form of OCD, un-diagnosed. At this point, could really give a shit about diagnosing. I know myself, and that is what is truly important.
So I do think about these lost relationships quite often. Sometimes the thoughts are pervasive. Sometimes I am able to push them away and refocus, other days, it's not so easy for me.
I would like to believe that the one's whom I started to become close with and bailed, were good people; in what I would opinion as a good person. I try not to judge, but would be fooling only myself to think there isn't some internal judging going on , of course. The decisions of others is a reflection on themselves, more so than myself. People make decisions based on selfish intent, more often than not, whether they think so or not. It's part of who and what we are as a species. We're competitive for just about everything in our existence, right down to our sexual drives/desires, to our status in the community(s), and how we look. There are so many superficialities that we feel are of intrinsic importance, when really, so much of it is shallow. This is a collective sense I'm referring to, many people are not driven by some of our more primitive motivators, and I'm not just talking about the Steem blockchain for anyone who might be internalizing or confused.
I've lost friends in this space as well, and it's really not important to internalize it down to "who's fault" it was in these scenarios. We are all different in how we think, and it takes two to tango, so the few I've lost in this space that I've given loyalty to, and chose to walk the other way, oh well.. The sad part to me, will be if I ever have to cross paths with them in real life, because I've learned that it can be sad, when you meet someone who you thought was someone else, and then the reality turns out to be anything but. I have a pretty intense gaze, thousand yard stare some would call it, and others might say it's flat out intimidating and scary at times. Would I still offer a hug and a handshake to those who've hurt me? Sure I would, I'm not a major asshole, even though I've been known to take on that trait. I have a heart, and being hurt sometimes harbors the side effect of anger.
So how am I dealing with this depression of lost friends today?
Well, not very well, but I chose to write about it, because writing helps me kind of sort things out and put everything into perspective. It's effective at times, but not always. Depression really gives it to me, in that I become very self defeating, and start thinking I'm a major screw up that can't keep people in my life. The bottom line is that I'm a very different person, and only align with a select few. This is ok, because me and those select few get along great, and we understand things about ourselves and others, that many don't grasp on a deep level.
It's not easy letting go of old friendships, and it's not easy dealing with depressive thoughts associated to old friendships that died in bad way, and not all of them die in a bad way either. Some people just drift away, for whatever reason. I've met some pretty cool folks that I thought I was developing good friendships with, and they just slipped away, stopped talking to me or answering me, and hey, I can take a hint... So it's cool, but it still affects me. The online scene especially can screw with your head at times, because some of us become emotionally attached to social circles, and even social media platforms themselves.
Being that we're all different, one might say "damn futuremind, I totally get it dude", and another might say, "oh you poor thing... get over it..." Both are ok to think, because diversity is what makes us what we are, and it also makes for some really interesting observations.
I also exercised today, and ate a low amount, but very healthy meal. Two areas I am working on in my life. Futuremind wants to get back into shape and make his muscles giant again, as well as maintain a healthy diet. Do I believe I can do it? No, I know I can, because I've already defied any semblance of logic. I've beaten odds and statistics in many areas of my life. So hey.. Let's just do this thing we call life, and give it our best shot.
A positive note to end this on, would be, for all the people who've left me, in one capacity or another, I'm always meeting new and amazing people. I'm an introverted guy who likes to live alone, and has chosen celibacy during the past two years of my healing process. It's what I need to do for me. So much of my social interactions are with people I meet online, and you guys bring just as much joy into my life, as real "in person" experiences, because despite the fact that we're not in the flesh while talking, this is still a very real thing we're doing here. So it's just as important to me to maintain healthy and positive relationships here, as it is when I'm maintaining relationships in the flesh.
Some might wonder how an introvert could be so affected by relationships..? That is an interesting cognition indeed. I'm glad you're thinking about these things. Perhaps I'll touch on that another time. Personalities are pretty complicated, but interesting form of psychology/social science as well, and it plays a big part in how we communicate with others, as well as the way we view our relationships, and the values we associate to them.
This concludes my thoughts on Depression. Feel free to express any thoughts or disagreements. I'm always happy to debate, so long as it's the kind of debate which maintains respect and politeness.
Thank you for reading.


Get some good karma into your life, vote @good-karma for witness!



Please consider voting helpie for witness

Our hope is that those who decide to support @helpie's efforts do so because they see the value in people too.