Phew, I'm Done With My January Posting Challenge - And Here Are My Stats!
I stated 2018 by challenging myself to post every day during the month of January. Since I try make sure my posts have at least a bit of value to the platform, posting daily was quite grueling and time-consuming. I did not manage to post on two occasions during the month, but posted twice in the same day on another. This means that I managed 30 posts in 31 days during the month of January, so I'm going to pat myself on the back and pretend I was successful.
But what was really important to me is that this was an extremely positive experience and I showed myself that I'm capable of constancy on the Steem blockchain (despite the fact that I took 3 days off from posting as soon as my challenge was over). Doing this challenge was really rewarding as the Steem platform had to become an integral part of my daily routine and I thoroughly enjoyed constantly interacting with the community.
A Huge Thank You!
I was inspired to do this challenge by @deirdyweirdy and the way she aced the Alphabet Art Challenge and by @dragosroua who created his own January 30 Day Challenge. I really want to thank the people and communities who kept me going with their support. I really appreciate the most faithful reader and supporter I have ever had - @deirdyweirdy. I'm also really thankful for the highly reputable people who started autovoting my work like @crimsonclad, @ausbitbank and @discordiant - this is an honor that is truly humbling!
Of course, I also have to mention the awesome communities and projects who deemed some of my posts worthy of an upvote like @steemstem, @steemiteducation, @curie and @sndbox. Those projects and the awesome people trailing their votes were responsible for the majority of my January author rewards.
Thank you to everybody that ever took the time to read, comment or upvote a post of mine! It's hard to express my gratitude...
My Most Recent Word Cloud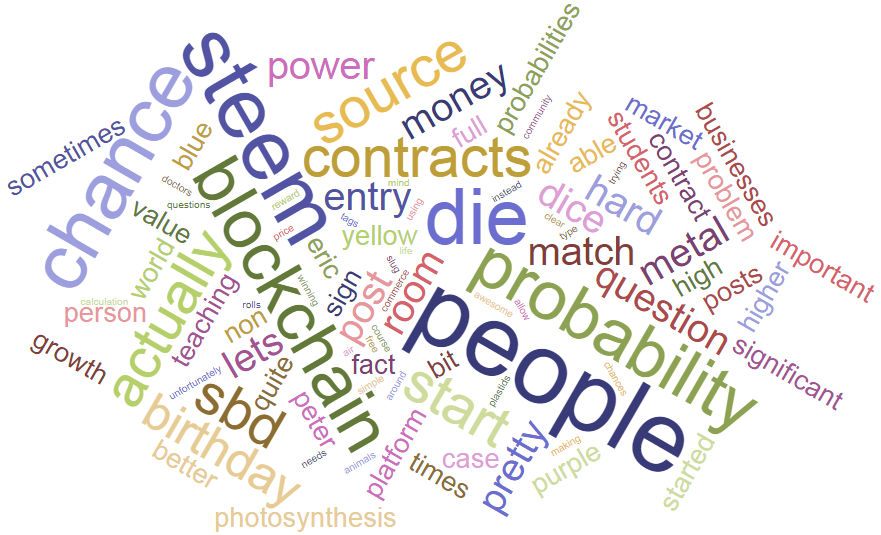 Source: Steem Reports
The world cloud created using my latests posts looks a bit different than last time I posted one.
Contests
During January I had the privilege of running two different contests which received more than 50 entries and allowed me to give away a total 16.84 SBD to 11 different steemians. Besides giving away some prizes, I also managed to get some as I was among the winners in contests by @sndbox and @digitalking.
The Stats
More than half of the 30 posts I made in January received more than 10 comments (my own replies included in that number). Exactly half of my posts received more than 30 upvotes and none got under 10.
On average, my posts earned 7.65 SBD and 1.515 SP with two thirds of my posts falling below that mark. Only 8 of my posts earned more than 10 SBD this month and only managed 3 earned more than 20 SBD. With a few posts not having paid out yet, I've included expected rewards as displayed at Steem.Supply.
You can view the stats of all my posts from January below (ordered by SBD earned).
---
Thank you for reading and for the support! I really appreciate it!
---