Online Shopping or Going to the Store; Which one is preferred?
If I go 10 years back I realize how painful certain things were in my daily schedule. Like getting the daily Grocery and utility stuff. Sometimes I had to hunt for hours to get something very small. And now if you see everything is at the click of a button and with so much of variety offered online you are spoiled with choices and sometimes also creates confusion.
I have started becoming a fan of Online shopping. Most of my stuff I get it online. Initially I had a lot of reservations with it with regards to the quality of the product I would receive but with more and more stuff getting online, there is a lot of competition in that area too so the services are better to keep attracting the customer again and again.
But there are few things that I still prefer to buy going to the store. Like Clothes, Shoes, Accessories. I never get satisfaction to a garment bought online. Only after a trial can I decide if I want to go ahead with it or not so clothes and footwear is something I will never go in for online shopping. Also this is not a daily affair so once in a way when you go to the store it is also a good break from the daily routines.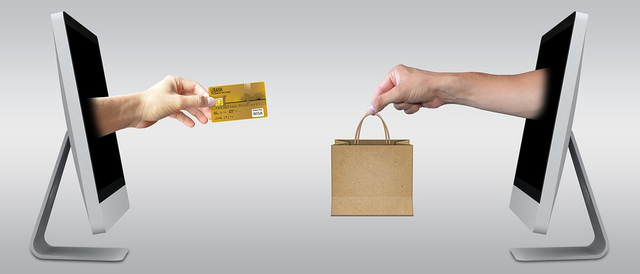 Source
The stuff that I would prefer buying online is the daily grocery and utilities. Also stuff which are not easily available in the market. Like sometime back I wanted to buy a Crystal Lotus for home decor and I was just not able to find it anywhere. Then I could find it on Amazon with a lot of choices. Lately I have been able to buy some crazy stuff online like a very unique Pendulum for my dowsing work and some beautiful Crystals. I am so much loving the energy of all of it.
I will say that Amazon has spoiled me a lot..hehehe, Specially with the Candle affair and some of the Books that are so difficult to get in Indian stores.
I personally feel there is a charm to both Online as well as Store shopping. When I go for a Store shopping then I sit out for a Coffee or indulge myself with a dinner evening. The whole vibe gets energetic for me. Surely not for my husband as his pockets get lighter...hehehe.
In India Big Basket is very convenient for the daily stuff. Within 24 hours you get the delivery and no headache of carrying it home from the store. Everything is readily available at your doorstep. Also the variety of stuff that you get is large. Their Organic section is wide and good quality which I like. Else it gets difficult to find organic products in the local market. So I any day now prefer online shopping over going to the store. Also it so much of save of time and energy.
So what is your preferred; Online or Store Shopping?
Thank you for visiting my blog.

GIF Courtesy
@enginewitty
😍😍
My other blogs of Interest
---
---
Member of
---
| | |
| --- | --- |
| Supporting People Who Help Make The World A Better Place @ecoTrain | |
---