Big Easy..Part I
Big Easy feel of jazzy nothingness and drunken depression..Part I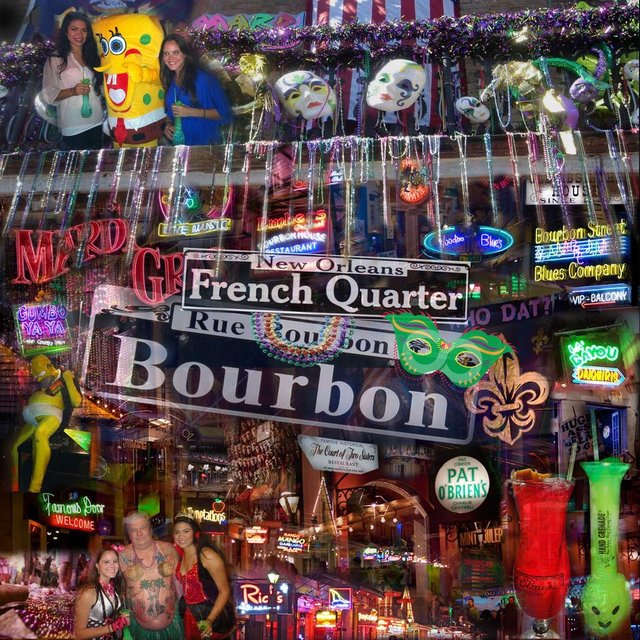 I have lived in Louisiana for a few years now and every time I need a relax moment I choose New Orleans..maybe it's just that is so close to where I live or maybe it is the Big Easy feeling of laid back nothingness that draws me in..nevertheless it dragged me towards it this weekend..Things haven't been going great in my life and my recurring depression doesn't seem to help at all..actually it gets worse every day or it stays consistently the same as time passes by. Not seeing any light at the end of the tunnel seems to tone things to a even lower light. I guess I just needed to get out or perhaps my constant need to change something in my stubborn desire to feel whole made me think that..I arrived in New Orleans Sunday although the plan was set on Saturday. If anybody has lived in Louisiana knows weather and plans don't work here..Saturday was a stay in bed kind of day pouring rain and thunderstorms like there was no tomorrow. Don't get me wrong I like the so called "bad weather" somehow it's suits the constant depression and anxiety, but this time I needed to get out of town. As Saturday plans got rained down, I finally managed to get my Sunday in NOLA..
There are not many things to do in New Orleans but one thing is clear If you are not a drinker you will probably not enjoy it as much. As I was walking on Bourbon Street in the deplorably familiar state of misery I could not help but wonder why? Why is this place so famous? Why do normal people get so fucked up here on this street? The answer is obvious and unbelievably stupid..it is "allowed" to buy alcohol and drink it as you walk down the street..would people behave differently if every town would "allow" people to have a beer while walking on the street? Damn sure it would be different! I mentioned out loud the fact that so many fucked up people are here..I was meaning to mumble that to myself..I was wrong..they are not fucked up they are free to drink on the street and dress up..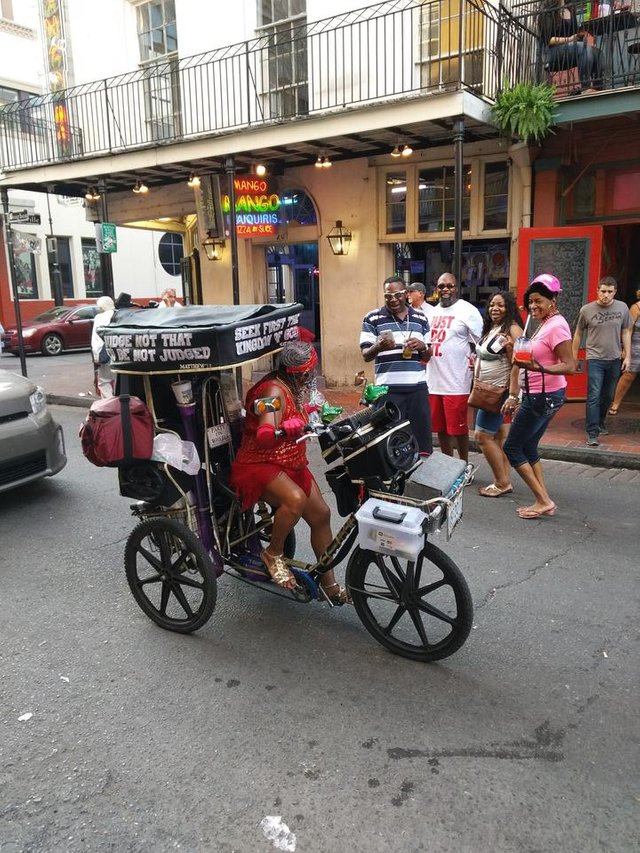 not that dressing up different is illegal in the US, at least not that I know of..Now take a moment to think and by that I mean use your sense of right or wrong..leave the rules and laws and everything behind and just think..why would there be such a big deal in drinking a beer while strolling through a city's streets? Why is French Quarter so popular? Sure the jazz and the booze and the atmosphere..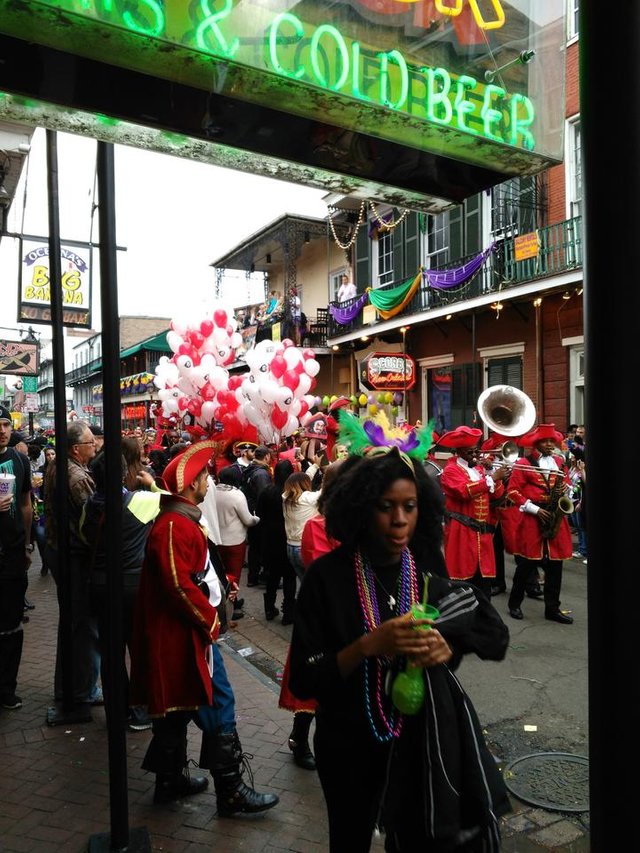 the strippers, the Mardi Gras beads that people throw from the balcony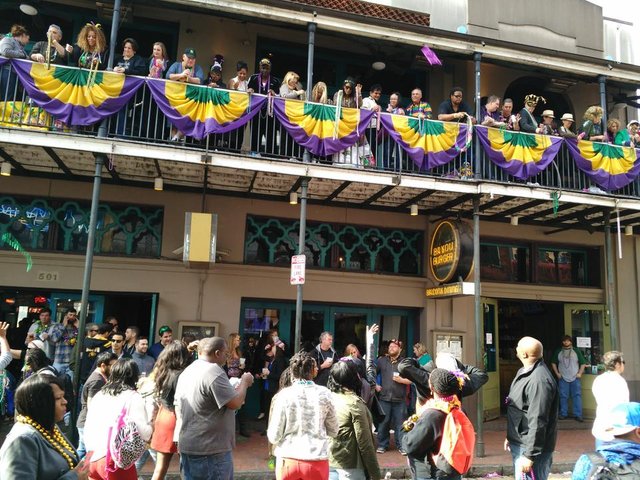 ( especially if you show them your boobs) ..sure sure it's fun and nice, but don't forget the homeless people, the drug dealers, the police on every corner, the hookers, the passed out or almost passed out partiers, the bride to be and her posey on their bachelorette big night out getting her so called last drink and fuck before the "sacred union"and don't forget the dudes and their unmistakable posey just looking out for that next lay screaming and grossly misbehaving thinking that all is allowed,the unbelievably untalented magicians gathering crowds through their so called tricks in the middle of a pissed out street, the talented musicians playing in the middle of the street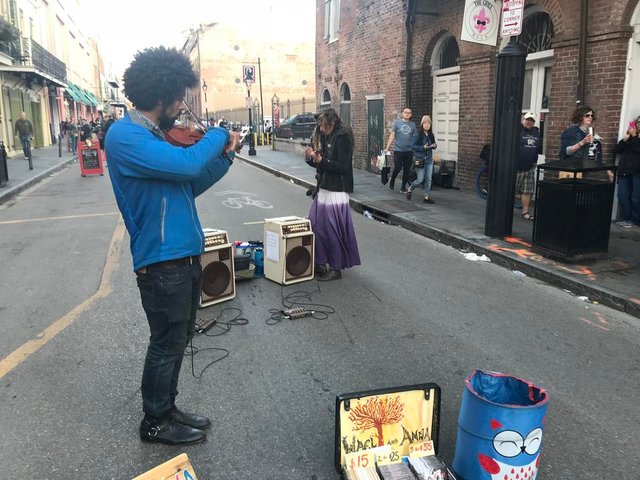 and the untalented hustlers beating on some Home Depot buckets trying to make a buck!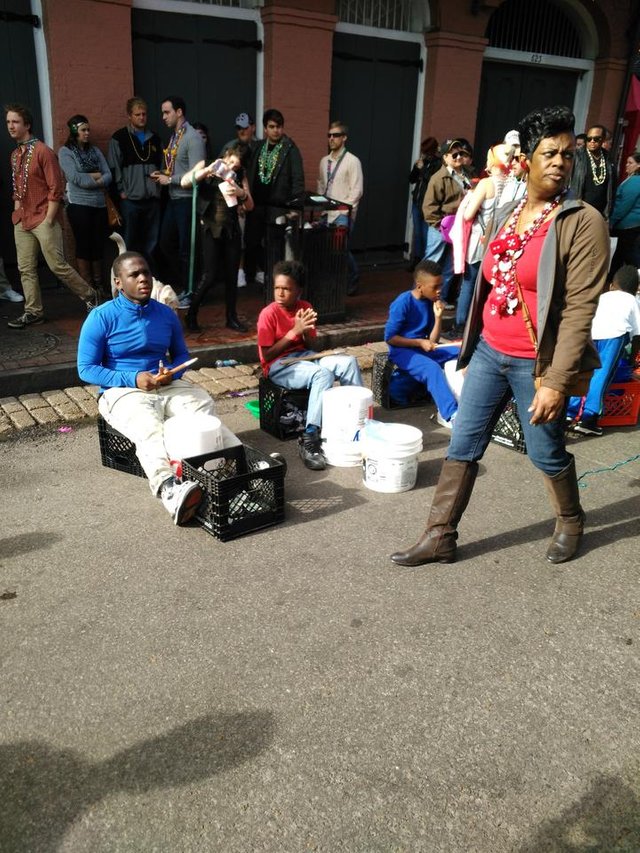 All of them are here because of the drinking the false feel free sentiment that has been imbedded in those full of piss and vomit streets. The sentiment is there and the freedom is as close to none..a few years back on my first visit to New Orleans I found the allure as magical as any other blind partier... I loved it! As I smoke I finally could enjoy a smoke while having a drink in the oldest bar in New Orleans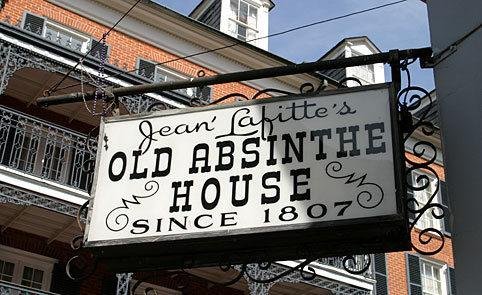 ( at least so they say) ..a few months after that I found that even that has been banned..somehow it is allowed to get fucked up drunk but not have a smoke or even vape because it might hurt somebody(?!) Listen New Orleans if you pride yourself in being a free easy going party crashing pill popping shots gulping puking vomit freedom seeking town you wouldn't allow this crap to stand..but unfortunately it's not up to you New Orleans..you don't make the choices you just represent what should be normal and it is taken to another level by desperate normally caged up little mice that jumped off the wheel for a couple of days and try to absorb all the energy and life moments that they miss every day..I was wrong about the fucked up people..they are not bad they have just experienced a moment of freedom and it is so shocking that they forget all human normality and try to overachieve some kind of drunken Nirvana..good for them..unfortunately this too will become extinct and somehow some law will ban this as well..
Keep in touch,
@lidac

Join us @steemitbloggers
all images belong to me except one that comes from Duckduckgo.com and that falls under the fair use act!