What "Human Certified Original Works" means to me - a totally unofficial mission statement from just one person in a decentralized movement
(and Badge of Originality original art roundup - see bottom of post for all personalized badges created to date for participants in the Human Certified Original Works Initiative)
This is not an "official" mission statement for the @humanbot Human Certified Original Works Initiative. This is an explanation of what this movement means to me, personally, and what sort of posts and posters I am likely to reward with a Badge of Originality. I encourage all other members of this movement to write a similar post, but it is not a requirement. Going forward, I will be linking to this post when I award a Badge of Originality.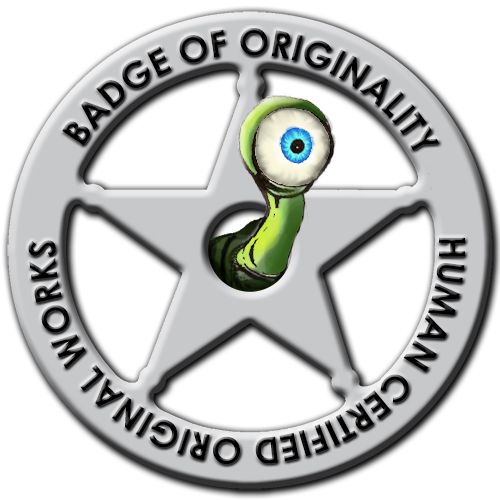 @humanbot Human Certified Original Works Initiative Links:
@carlgnash's totally unofficial Human Certified Original Works mission statement
This is not an official mission statement because I am not in charge of the "Human Certified Original Works" initiative. I started this initiative, but I started it as a decentralized endeavor. I do not want to force other people who join this initiative to do things the exact same way I do them; nor am I going to police the way that other people use their Badges of Originality once I have made them. It is not
completely
decentralized because I am still vetting people personally when they express interest in this initiative, and only making a badge if I feel confident in the person's ability to actually detect plagiarism. If this takes off, at some point I would love to make even this stage of the process decentralized, perhaps through a chat channel for participants in the initiative and a simple majority vote required for all prospective new members, but I am open to suggestions for other methods as well.
"Original Works" - Going beyond just "Not Plagiarized"
To me personally, "Human Certified Original Works" means more than just "Not Plagiarized". "Not Plagiarized" is really a pretty low bar to get over, a baseline, but I am looking for something more... I am looking for creative posting, truly original posting, posting that adds something valuable to Steemit. When I give out this badge I am not just saying that I have checked the work manually to make sure it is the original work of the author (although that is part of the process - I do manually check for plagiarism before handing out a badge), but I am going farther and saying I think this post is
original
. I think it is
creative
. If you see my familiar alien eyeball poking out of a badge in the comments of a post you are looking at, this post and this author have the
@carlgnash
seal of approval.
I want to take a moment to thank Steemit user @aurumv for this comment in response to the genesis post:
Very nice and probably very useful idea. I see the way how to inform about plagiarism, bur maybe there is some way to inform directly about originality ? And this way to have confirmation or decline about that. ... I think many authors often are thinking that they are very unique ... but might be they are not :)
@aurumv's comment helped me come to the realization that "original works" means more to me than just "not plagiarized", and I thank you for that @aurumv! Great comment! I will note that I am not posting anything when I do not feel content is original in the broader sense that goes beyond just not plagiarized. If content is plagiarized and I have clear evidence I typically leave a polite request to stop posting plagiarized content, and repeat offenders I report to @steemcleaners.
Examples of "Not Plagiarized" but also "Not Original" work
I think it may help explain what I mean above to give some examples of posts that are not plagiarized, but also are not original enough (in my opinion) to warrant a Badge of Originality.
A post that is properly cited but only summarizes the information found in a single short article and does not add any original analysis or commentary might not be plagiarized, but it is not original and I would not award a badge in this case.
A recurring contest post that is indeed the original work of the poster (the poster runs the contest) would not be considered to be original in the sense I am looking for when I award badges.
A collection of links to resources would not be considered original in the sense I am looking for when I award badges unless there is some creative writing associated with the links.
A repost of the author's own original content that had been posted elsewhere online more than a month ago (without any significant changes or additions made to the content when posted here) would usually not be considered original in the "adds value to Steemit" sense that I mention above. Cross-posting new content here and elsewhere is absolutely fine, particularly if there are links to Steemit in the content posted elsewhere, but if Steemit is just being used to dump content once it has grown stale on other websites which are higher priority to the author, I am not going to reward this.
Some original art and photography may be (subjectively) judged by me to be pretty bland and ordinary even if it is the original work of the post author. In particular, unexceptional cell phone photography without any significant original accompanying text to add value and context is unlikely to receive a Badge of Originality from me.
Why individualized badges?
Precisely because I do not want to write an official mission statement nor attempt to police other members of this initiative, I think it is important that anyone else handing out a Badge of Originality is handing out one that is easily recognizable as associated with that person's account. Human Certified Original Works will mean different things to different people. Just like the alien eyeball in the badge above means "
@carlgnash
approved", the awesome Steem-logo wearing
@geekgirl
flying out of the badge below means "
@geekgirl
approved", and the same goes for each of the other unique badges I have created and which you can find below. I want anyone who already is familiar with
@geekgirl
to instantly recognize her in the badges that she hands out, so that they can take what they know about
@geekgirl
and the kinds of things she likes to support, and translate that into their understanding of
her
Badge of Originality.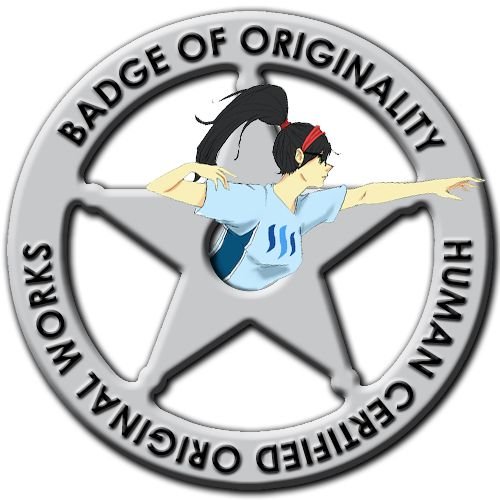 Why can't I call Human Certified Original Works / request the certification for my post or any other post?
Because I have a higher bar than just "Not Plagiarized", I do not want any hurt feelings that would inevitably arise if I had some channel that allowed other users to request my certification, only for me to determine that the content did not meet the bar of truly
original
,
creative
work that I want to reward. Other individuals participating in this movement may feel differently. If anyone else who is participating in the Human Certified Original Works initiative wants to create a channel that other users can request the certification through, that is fine - it is just not something I personally want to do.
Badge of Originality original art roundup
Here are all the personalized Badges of Originality that I have made for other users who have joined the Human Certified Original Works initiative. See the
The Badge of Originality - Human Certified Original Works GENESIS POST and ART TUTORIAL
for a step-by-step tutorial on how I created the badge in the first place. If you are interested in signing up for this initiative and getting your very own personalized badge, let me know
in the comments here
.
In no particular order: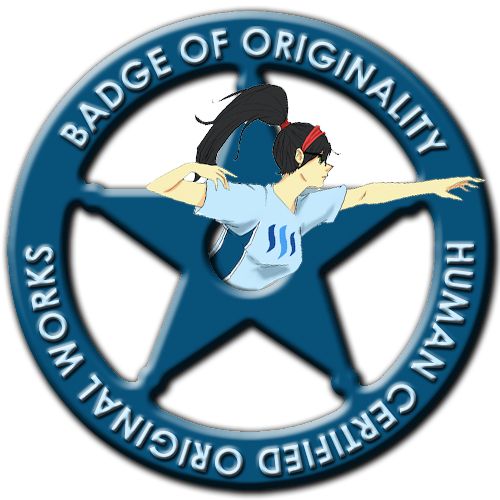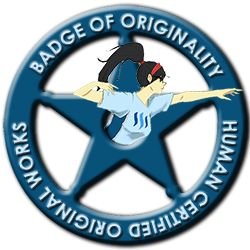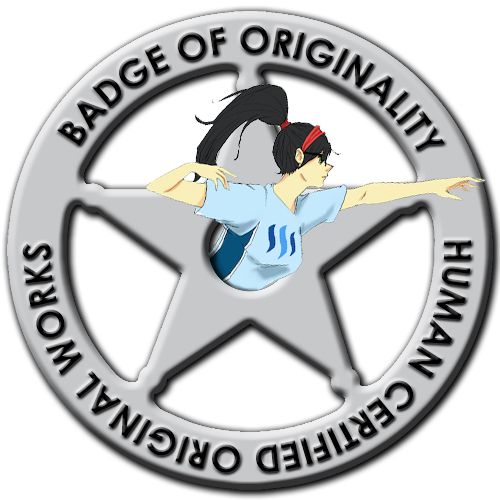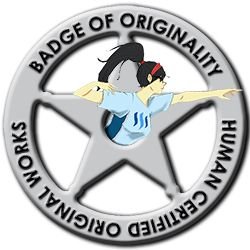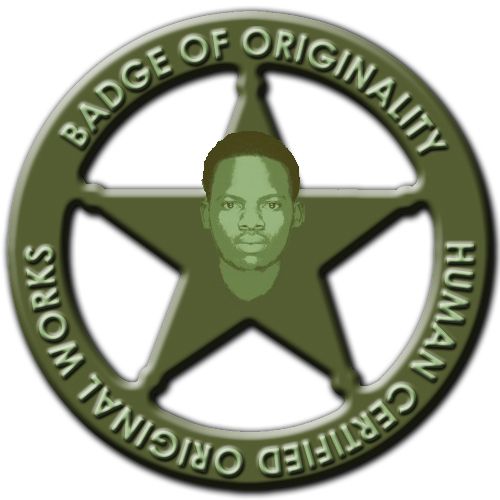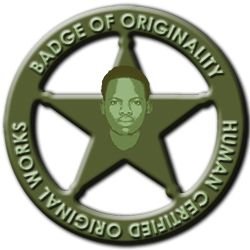 For this one I actually drew the avatar that is being used in the badge, as
@doctorcrypto
's actual avatar is a still from a game and he did not feel it was appropriate to use this image which he did not own rights to in a badge specifically for awarding original content!
My original art based on @doctorcrypto's steemit.chat avatar: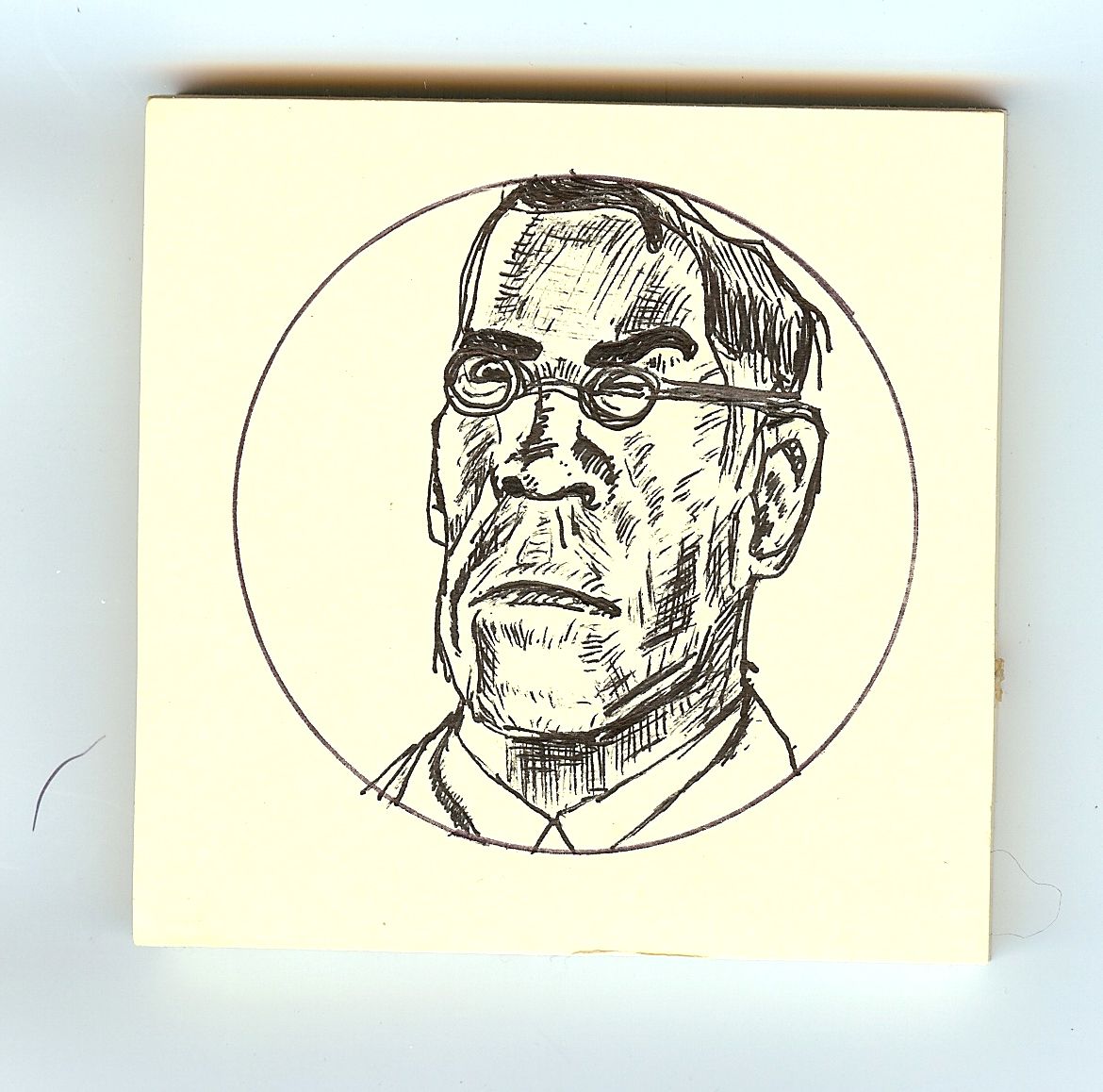 Pen and ink on post it note - original art by moi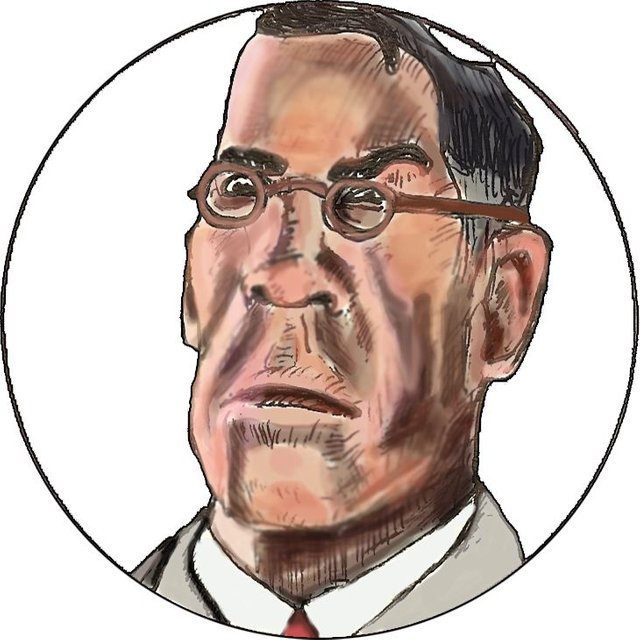 colored in PhotoShop by moi