In my previous post, we visited West Wycombe Park. Within a short walk of the park is West Wycombe Hill, and the village of West Wycombe itself.  I was staying with family, who mentioned the caves there.  It was a short drive from their house, so I decided to pay them a visit.  It's great when you can spend an extended amount of time in other countries, because you can visit more obscure places like this.
---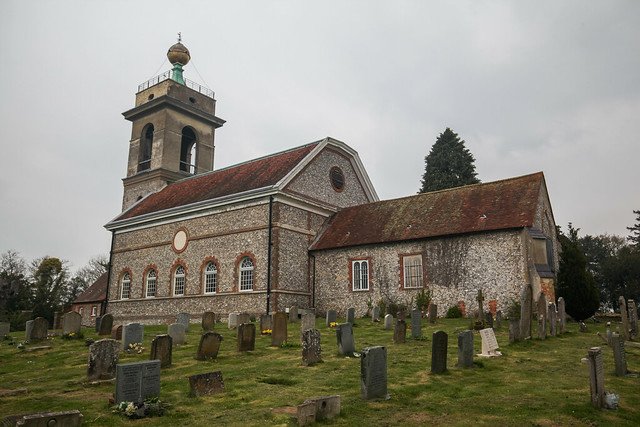 1: St Lawrence's Church is located on the highest point of West Wycombe Hill. It was built in the 1760s by Sir Francis Dashwood, 2nd Baronet, whose estate we visited in our first installment. The bell tower is topped with a golden ball, which can fit 6-10 people. It was rumored to be one of the meeting spots of the notorious Hellfire Club.
---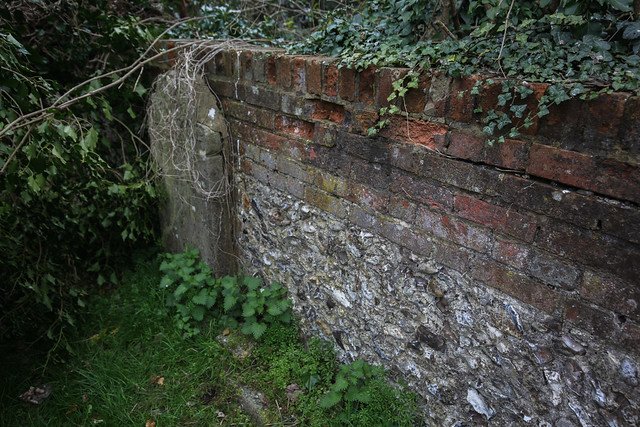 2: One thing that was striking to me was the condition of some of the graves in the church courtyard. The next few photos are some examples that I found.
I've seen plenty of unrecognizable graves in my travels, but for whatever reason my state of mind caused me to dwell upon them. This particular example had a stone and brick wall up against it. I'm wondering if the location of the gravestone influenced the placement of the wall, or vice versa.
---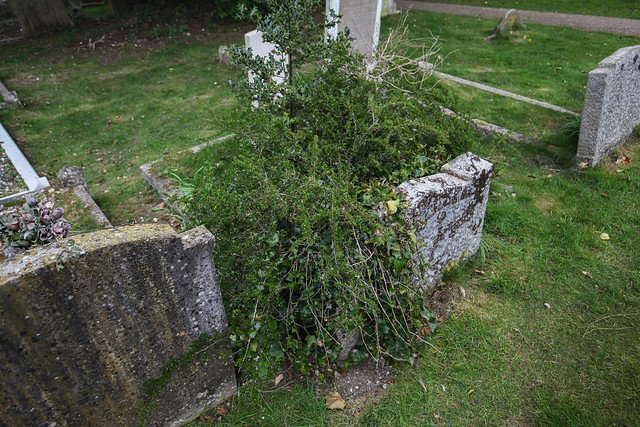 3: This particular grave has a diverse grouping of plants growing out of it, including a sapling. Why is this particular grave so overgrown? Is there some superstition behind it?
---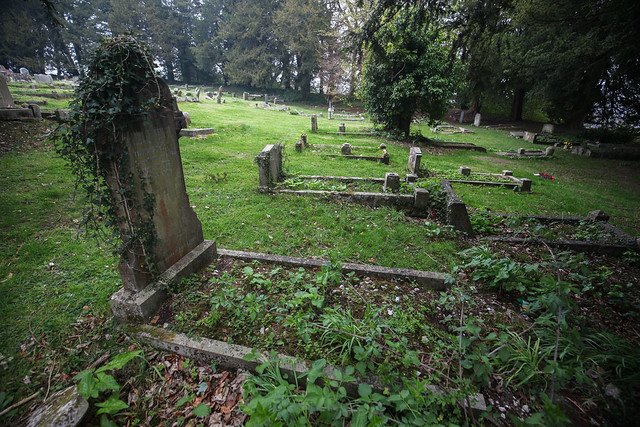 4: Another example with a patch of ivy growing up one side. You can still make out the name though. It actually looks attractive in a way.
---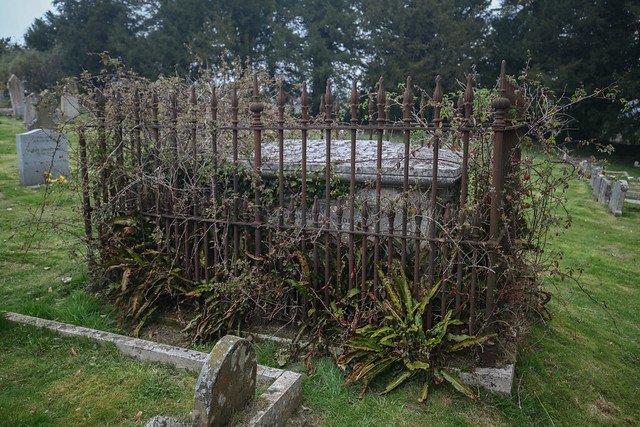 5: The final example was the most powerful one to me. This is the grave of someone who obviously had some wealth. It's well protected by an iron fence. Are there no surviving family members to tend to this grave?
Memories fade, and for a great many of us, our existence will eventually be completely forgotten. This grave encapsulates that notion for me.
---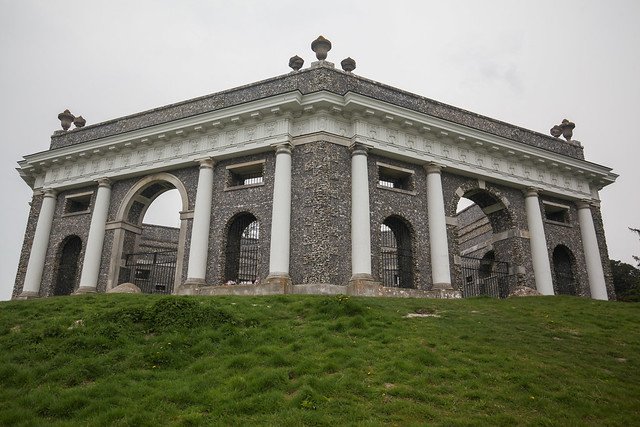 ---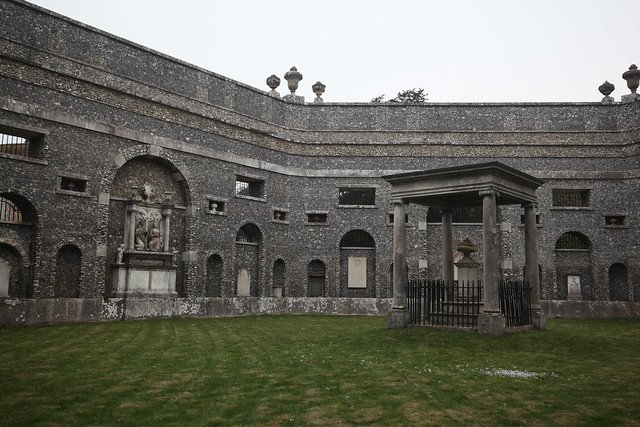 6-7: Near the church is the Dashwood Mausoleum, whose design is based on the Constantine Arch in Rome. It was built in 1765 and houses remains and monuments to family and friends of the 18th Century Dashwoods.
---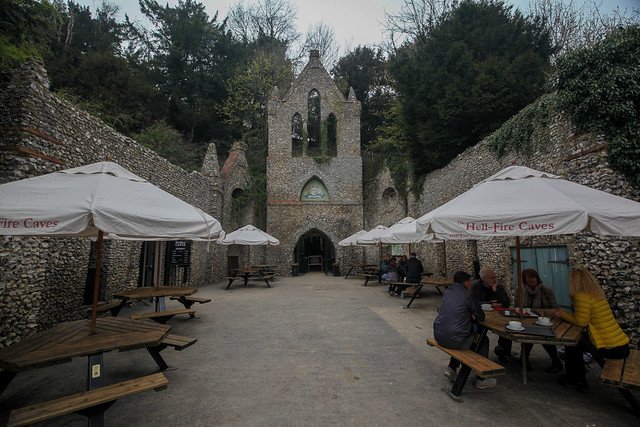 8: The Hellfire Caves have the most interesting story of all the attractions in the area. The caves were excavated for chalk which was used to construct a nearby road. You can find bits of chalk scattered around most of the hill. Excavated by design, the caves were later used as the meeting place for the Hellfire Club. Many rich elites of the time were members of the Hellfire Club, and they were rumored to have participated in all kinds of lecherous activities. Benjamin Franklin, a founding father of American Revolution fame, was a good friend of Sir Dashwood, and is thought to have visited the caves on multiple occasions.
---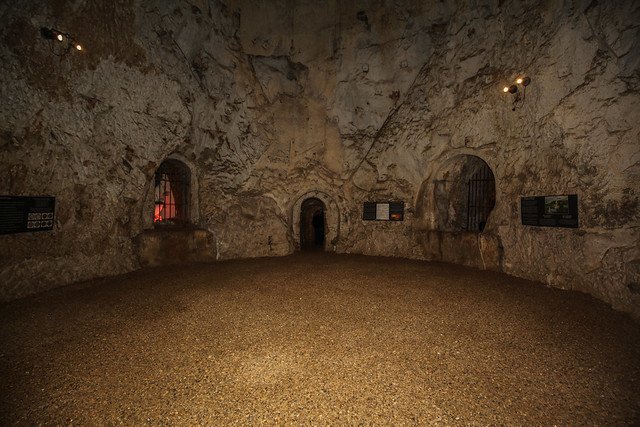 9: This is the main banquet room of the cave. The small alcoves are thought to have been where members were entertained by ladies of the night. You can hold private functions here.
---
10: The entire village of West Wycombe (whose main drag is pictured here), was sold by the Dashwood family in 1934 due to financial problems. It was later transferred to the National Trust, who currently manages it. It's quaint and has a number of old buildings, but don't drive through too fast because it's very small and you'll miss it!
---
Thanks for viewing! If you enjoyed this post, please consider following me and supporting my project
@steempatron
. You can support us by delegating, following this account, and/or upvoting its reblogs. You can also join the
@steempatron
curation trail via
@steemauto
. With
@steempatron
, I am attempting to reward and retain Steemians who have large followings on platforms like YouTube and Twitter. This is in the hope they will evangelize STEEM to their many followers.
---
Posted from my blog with SteemPress : https://joshman.com/west-wycombe-hill-uk-10-photos
---
[//]:# (!steemitworldmap 51.646157 lat -0.802613 long West Wycombe Hill, UK (10 Photos) d3scr)