Honoring the Past, Embracing the Future: New Year's Day 1/1/19
The idea for this post came to me today as I was boxing up my Christmas ornaments. It's always a little melancholy putting them away because it means the holidays are over.
But it also got me thinking about how we are shaped by the past, even as we are moving toward our future. We came from those bygone days. They helped to make us who we are today. And there is far more in our past than memory. It's kind of like a buried treasure.
I know, it sounds a little deep (pun intended), but I wanted to explore this idea. Perhaps this notion will resonate with you. I will keep it brief, because I want to get on to listing my New Year's resolutions.

Honoring the Past, Embracing the Future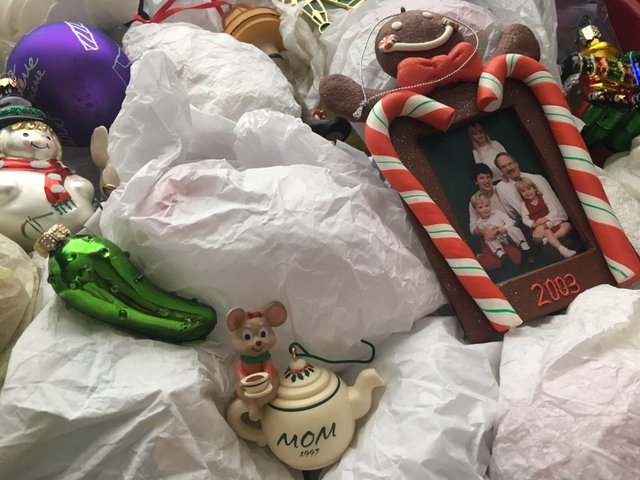 Source: This image is my own.
As I removed the last few ornaments from my Christmas tree and nestled them into their tissue paper, it really got me thinking. The "Mom" ornament from 1997 was a gift from my husband when we were expecting our first child.
At the moment he gave me the ornament, the entire journey of being parents was ahead of us. I had no idea we would ultimately become a family of five. I can hold this ornament in my hand today, and I'm the same person as I was the day he gave that to me, and yet I'm completely different.
We had that baby, and now she is getting ready to graduate from college.
Then there's the ornament on the right from 2003 showing our little family. The baby we were expecting in 1997 is five years old and has twin two-year-old siblings in the picture.
We had no idea who those little people would turn out to be. But they have become amazing young adults we could not have imagined back then. And we are forever changed by being their parents.

What's my point?
We are always shaping our future, but we can only see the past. The future is completely unknown. We can plan for it and put one foot in front of the other, but we really don't know for sure what will happen the next day, week, month or year.
This may be frightening or agonizing at times, but we are never without the richness of everything that has come before. Our past is what we build on.
The important thing, it seems to me, is to honor the past while embracing the future.

My New Year's Resolutions
The year of 2018 was a great year in many ways, and I really look forward to building on that in 2019 and taking everything to the next level.
I began writing in earnest in 2018, after some years away, and I fell in love with it all over again. I won multiple writing contests and have quite a few stories to polish and begin submitting to mainstream publishers. 2019 will be the year I get some of my work formally published.
I returned to a regular exercise regimen to improve my body tone and lose weight. I'm using the Actifit app, and am on a weight loss challenge. In 2019, I will get to my goal weight of 129 pounds and maintain it.
I've been evaluating how and where I spend my time, and I want to re-calibrate a bit. I currently work 50-60 hours per week, for example, and that squeezes out other things. In 2019 I will dial back my work hours to 40-45 (hopefully!) per week to fit in more writing time, family time, and other things that are getting short shrift.
One of the additional things I would like to do with available time is to really invest myself in Steem communities. I have a very difficult time managing all the Discord channels I am a member of and exploring all the tools and tokens. Hopefully with a bit more time I can immerse in more of the community awesomeness!
Happy New Year.

---
Posted from my blog with SteemPress : https://jaynalocke.com/2019/01/02/honoring-the-past-embracing-the-future-new-years-day-1-1-19/
---