A criticism of the phrase "Poverty is a state of mind"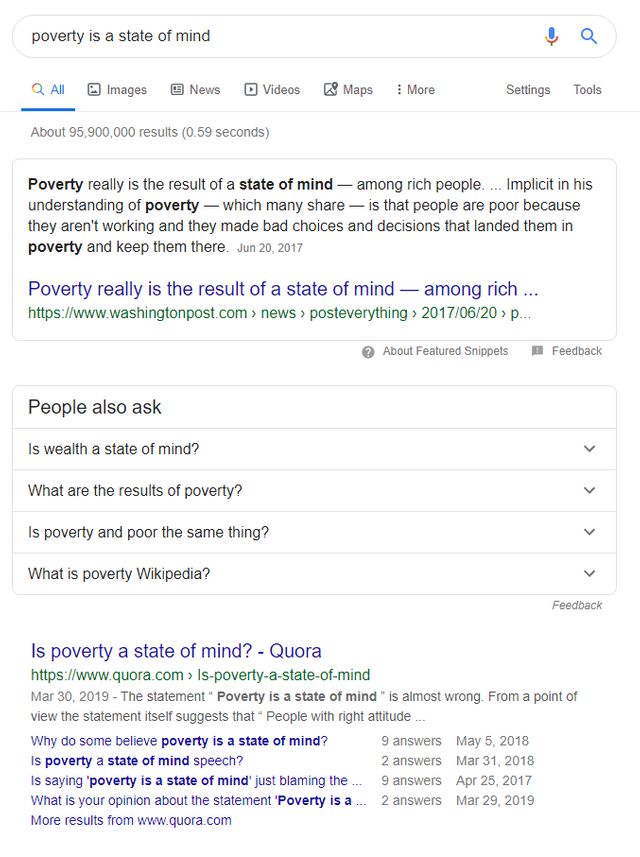 They say that poverty is in the mind. I interpreted this at first as a spiritual statement, as if you could only be poor if you believed yourself to be. People poor in spirit, not generous, or simply not curious, who simply lived in inertia not wanting to improve. I thought that's what the saying referred to, years ago.
Then as money became scarce for everyone around me, but I stayed afloat, I reinterpreted it as if it referred to the creativity that allows you to seek new ways to make money so as not to be poor, making poverty a decision or a lack of insight.
However, it took me long to realize that this saying is just decorated nonsense. There are clearly geographical economic divides. People in Venezuela are clearly going hungrier than before, and pretending that it's their choice not to seek personal solutions is to encourage an illusion that, while it does not harm everyone, creates false expectations. I've met many people with the right exploratory enterpreneur mindset, but they don't have the tools, way beyond matters of thought, to advance to a new economic level.
I know two couples of developers, both married. Both men make websites, one woman designs booklets and the other one is a marketing expert. All have more than five to ten years of experience. Yet they live trying to make ends meet, no savings beyond a couple hundred dollars. Both couples decided to leave the country, as most of my acquaintances, friends and family have.
So when more than 20% of the population of my country actually leaves the country to seek better economic situations, and when more than half of those who stay would leave if they had the means, it's easy to observe that poverty, more than an illusion, or a decision, or a lack of intelligence, is a simple socioeconomic phenomenon that can affect any population given the right circumstances.
Most people wouldn't choose to starve to death, yet there have been countless famines across history. I think that insinuating that poverty is only in the mind or the spirit is quite a disrespectful statement to all the victims of these catastrophes. Not that I would normally care about what people say about others, but when it affects our decision-making, we must take false statements such as this a bit seriously such as not to hamper our decision-making.
I wonder how this mindset became so common. I assume that it's a rationalisation of privilege as merit. Don't misunderstand me, I'm not against privilege, but I think it's a bit silly to believe that, having been born in a comfortably "having" household, I used to think that I'd earned my place, not having worked much more than a year in my life (and having already spent all that money years ago).
---
Written for today's freewrite.