360 STEEM + 40 Bonuses ~ Sponsored Writing Contest: Chimaera
Welcome to the @OriginalWorks sponsored writing contest! Status: CLOSED. Accepted Languages:
Start Time: 6 PM ET, Friday
End Time: 6 PM ET, Monday
This is a call to all great Steemit writers! Chimaera has sponsored a Steemit writing contest!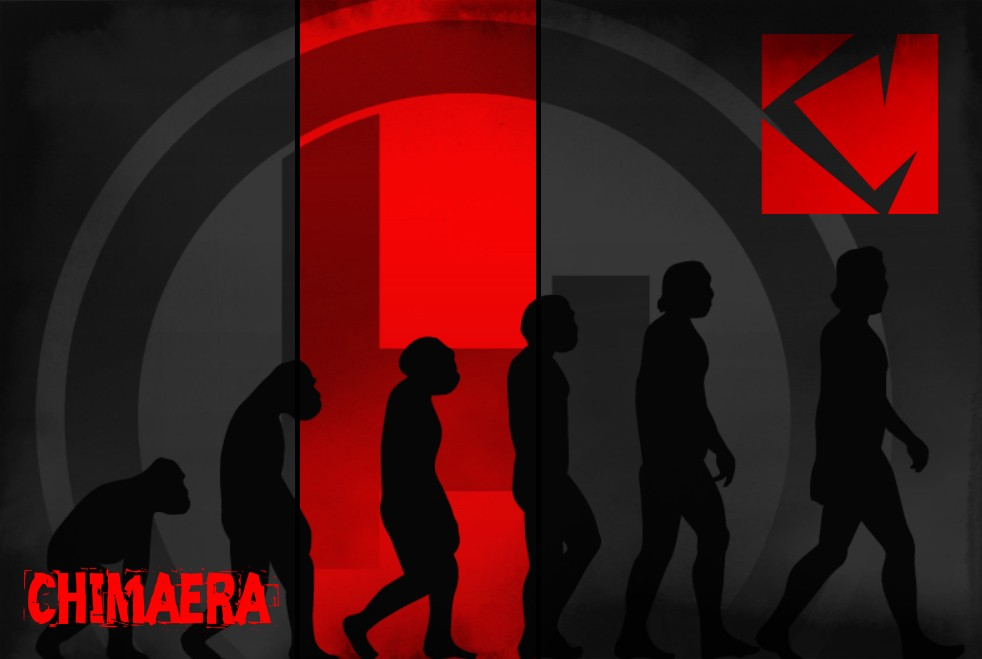 Prizes: 360 STEEM + 40 Bonuses

1st Place: 65 STEEM
2nd Place: 51 STEEM
3rd Place: 41 STEEM
4th Place: 36 STEEM
5th Place: 31 STEEM
6th Place: 27 STEEM
7th Place: 25 STEEM
8th Place: 20 STEEM
9th Place: 18 STEEM
10th Place: 16 STEEM
11th - 15th: 6 STEEM
16th - 55th: 1 STEEM Bonus

Deadline: 72 Hours
All articles must be submitted within 72 hours of this post to be considered!
Changes in submission rules below
Chimaera is an ecosystem for blockchain game development and game currency/asset management. With Chimaera, online games can be developed, published, and connected to directly on the custom Chimaera blockchain. For developers, Chimaera eliminates the costs and burdens associated with hardware servers and maintenance, as both are automated with the implementation of Chimaera's blockchain. For gamers, Chimaera represents an environment of complete and verifiable control of all virtual assets and achievements.
Chimaera is compatible with any type of gaming, and even enables the framework for new gaming genres: human mining and Decentralized Autonomous Universes (DAUs).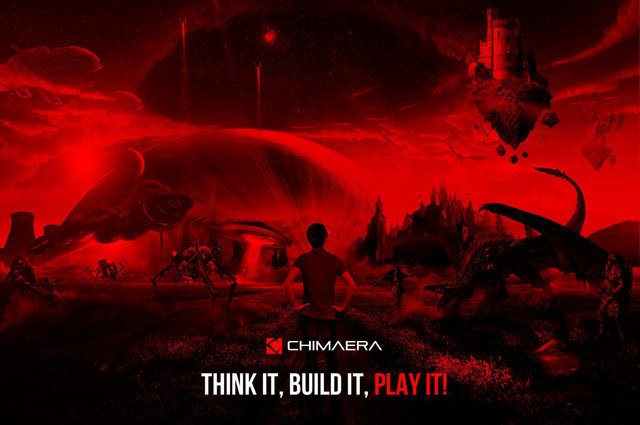 Chimaera solves scaling issues currently associated with Blockchain gaming using Game Channel Technology that is reminiscent of gamified Lightning Networks..
Chimaera supports fraud-proof trading and full asset management of games, accounts, and in-game assets for blockchain and non-blockchain games alike.
Game studios are already working with Chimaera to put together the first full-fledged blockchain games. The next iteration of Soccer Manager (Soccer Manager Crypto), will be built on Chimaera. So will Treat Fighter, the newest game from Tricky Fast Studios. Two more development studios that have yet to be announced are also building the first Chimaera games.
Play-to-Earn Gaming
The emergence of the human mining genre of gaming will empower players worldwide to participate in a new style of online gaming: Play-to-Earn Gaming. Human mining is essentially a gaming environment where scarce and valuable resources are procedurally, fairly, and finitely released in accordance to rules instilled and upheld on the blockchain into the gaming environment for players to collect and compete over.
By giving players complete ownership over virtual goods of intrinsic value, gaming is changed forever. For the first time, players will see profit for their achievements and progressions. Their virtual collections can be sold to purchase other games, or, in the case of the most successful players, can translate to real world, substantial paychecks.
Decentralized Autonomous Universes
DAUs represent the maximum potential of the Chimaera framework. A Decentralized Autonomous Universe represents some virtual environment, a city, a planet, or a universe. The DAU, via a Human Mining approach, provides its playerbase with all the raw tools necessary: oil, gold, animals, etc., to evolve a world as best seen fit. While it's logical to suggest that the first infrastructure and groups will be formed for the goal of maximizing production of certain resources, the potential for what can be created is infinite. Imagine The OASIS from Ready Player One.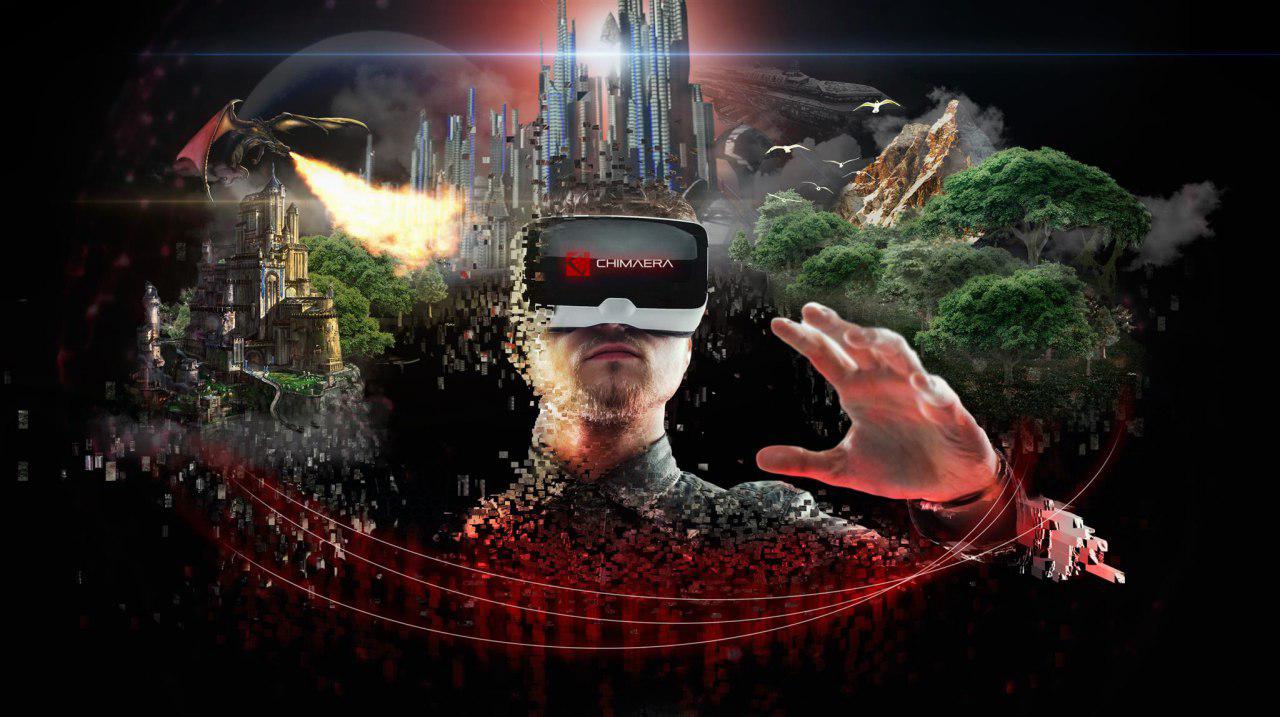 The DAU represents the first system fully equipped for limitlessly scalable, complex, massively influential virtual economies. As society in this virtual setting develops in the form of metropolitans and conglomerates, the scope of what is possible for each individual player is unrivaled in all regards. The economic, cultural, and most importantly, real world implications of such an environment are truly revolutionary.
The Chimaera economy is fueled by CHI(the reserve currency of the Chimaera Blockchain). CHI is used to create accounts, purchase in-game items and powerups, trading and for services, such as the crowdfunding of games! Developers can earn for their work, whilst users can earn for their efforts in-game.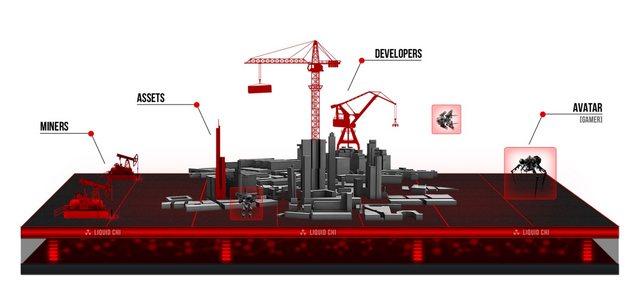 Chimaera Evolution Phases
The Chimaera platform will develop in three phases depicted below.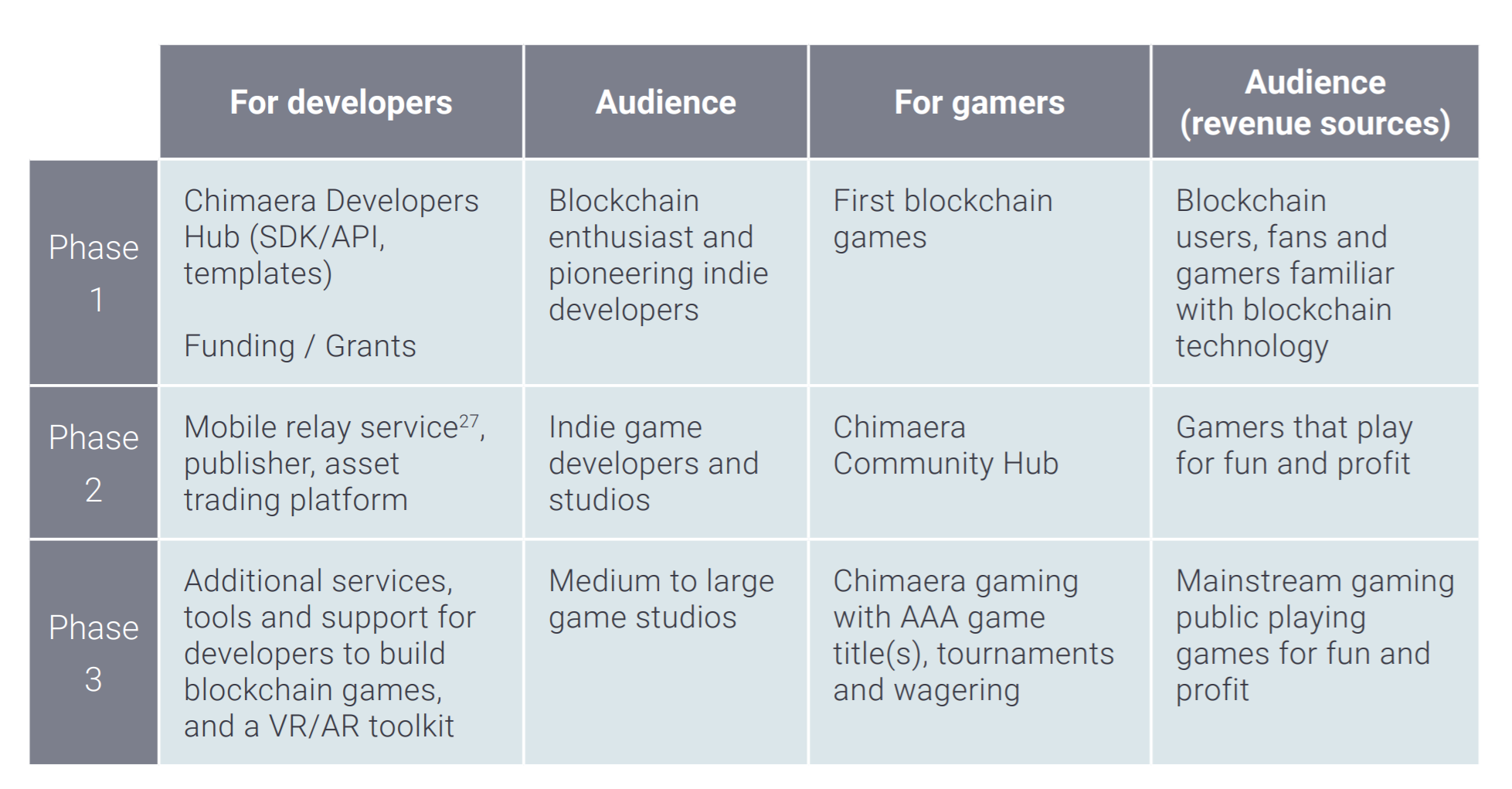 First Phase - Building The Foundation.
The first phase is intended to grow the platform. For developers, grants and funding will be provided to get the first games on the Chimaera platform. This phase will get the gears moving as games are released on the platform, bringing in early users. This stage is targeted at a niche that is already knowledgeable about the blockchain and wants first hand experience of what it can do for gaming.
Second Phase - Offering Opportunity.
With the first phase completed, a fraud-proof trading platform will be introduced, which will make assets highly liquid. Further, a mobile relay service will enable easy integration on mobile platforms. With more games being actively played on the Chimaera platform, a second wave of users, those who are interested in earning, will begin engaging with Chimaera. This wave of players will improve the economy by bringing more transactions to the platform and widening the pool of active players.
Third Phase - Mass Adoption.
The third and final phase is when Chimaera goes mainstream. By this point there will be an ample set of players on the platform and a healthy CHI economy. A large pool of players will also attract larger game studios to develop and contribute to the platform, attracting even more players.
The Chimaera team is comprised of the original inventors of blockchain gaming.
In 2013 the team created the world's first true blockchain game, the world's first decentralised MMO and the first cryptocoin with Human Mining, Huntercoin.
The Huntercoin project and its predecessor were the team's first foray into blockchain gaming, and was carried out with success as well as positive public reception. This experience will now be applied to completely revolutionize the stage of blockchain gaming.
The team consists of blockchain experts, AAA game developers and experienced business professionals. Advised by Richard Kastelein (Blockchain Expert), Prof. Nick Colosimo (Futurist), John "NEVERDIE" Jacobs (President of VR), Dr. Yen Nguyen (Finance Specialist), and Senior Blizzard Producer Rudy Koch.
For a quick introduction, check out this video:
More Information & Resources: Rules & Submission

Write an article about Chimaera and how it will change the gaming industry! How can blockchain technology change the way games work as it pertains to channel, asset and server management? What kind of Decentralized Autonomous Universe would you like to see? How will solving scalability issues in gaming promote growth of grand new worlds? How will this impact the future of VR gaming and the way users interact with virtual worlds? As always, the contest is open-ended! Be creative and have fun!

Feel free to use images and media from their website. You can even make your own video and have it in your submission! Videos have a chance of winning a separate bonus based on quality.

The article must be at least 250 words in length and it is recommended(not mandatory) that the length is under 1250 words.

At least 70% of the submission must be original.

All copied text must be in quotes.

To submit please do the following:

Add the word "chi2018" (without the quotes) at the very end of your article.
Link this post in your submission.
Post the link to your article as a reply to this post.
Resteem this contest post.

How the winners are decided
The submissions will be passed along to the team at Chimaera, and they will decide the best articles.
More information & recommendations:

Pay attention to spelling and grammar!
Feel free to use informal language such as "I would, etc"
Use information and resources above to learn more about Chimaera)!
If you copy something, use quotes. This is an @OriginalWorks contest after all :)

After writing an article, within a few minutes you should get one of these as a response to your article post:

If you don't get one, let me know by adding a quick message after you submit your link as a reply here and it will be done manually. Sometimes it can take some time, so don't worry if it isn't instant! Rest assured, as long as your link is shared as a reply here, everything is double checked at contest close to ensure that all articles are submitted!
40 submissions will get 1 STEEM each. The article must meet the contest conditions such as word length and a level of quality.
Disclaimer: @OriginalWorks makes no claims as to the legitimacy or operating procedures of contest topics. @OriginalWorks does not offer any sort of investment advice. This is a writing contest. @OriginalWorks does guarantee prize payout. The contest topic company may choose to share the winning contest submissions.
Good luck to all the contestants!