What is Wanchain?
Wanchain aims to build a distributed future "bank." As a distributed digital-asset based financial infrastructure, Wanchain allows any institution or individual to set up their own virtual teller window in the "bank" and provide services such as loan origination, asset exchanges, credit payments and transaction settlements based on digital assets.
From this we can gather two important results from Wanchain:
First: Wanchain is not limited to just being a universal cross-chain protocol, it is a distributed ledger that records cross-chain and intra-chain transactions within the network.
Second: The online ledger not only supports the use of smart contracts, but also supports privacy protection for the respective users.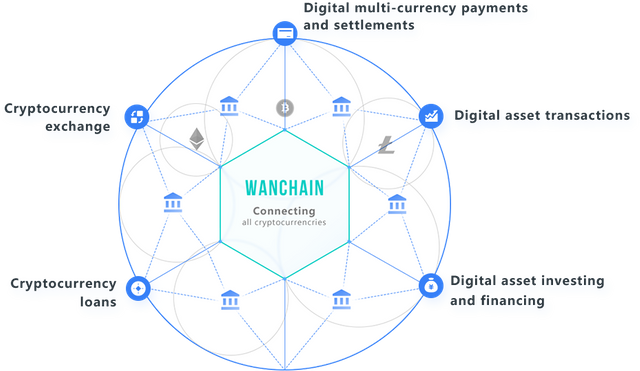 The current state of the cryptocurrency market
The crytocurrency market has significantly risen in value the past few years and per Coindesk and Coinmarketcap, the value of all cryptocurrencies set a new time high, totalling $126 billion as of August, 11 2017.
According to cryptocoinsnews.com (CCN) bitcoin has now topped PayPal's market cap after steadily passing the $4,000 margin (with a $70 billion market cap). CCN also reports that in early 2016 PayPal appointed the founder and CEO of Xapo, Wences Casares to its board of members. Xapo allows consumers to purchase Bitcoin and store them in a digital wallet. The need for cryptocurrencies is ever day increasing and will continue to do in the future as more learn about the technology behind it and the value it brings not only as "investments" but as mediums of value using different platforms.
What problem is Wanchain trying to solve?
As more digital assets (akin but not limited to digital currencies, stores of value and digital commodities) enter the markets, the appreciation of these assets significantly increase in value and the need for exchanges and transactions among different digital assets keeps growing. We have seen a significant rise in centralized exchanges as well as decentralized exchanges, thus including OTC Trading of ERC20 tokens.
The problem today and of tomorrow is interlinked to the fact that exchanges and wallets are mostly operated in a centralized way. Value exchanged between different digital assets with a distributed approach will be a long-term goal in the blockchain and digital economy, just as traditional banks are important in the current economic system. Wanchain is one of the solutions in keeping costs down, interlinking blockchains (this will not only be limited to the Ethereum and Bitcoin blockchains) and helping the unbanked (adults without access to banks backed by financial institutions either due to the nature of opening a bank account or the high costs involved). Wanchain helps others running their own wallets, ledgers and smart contracts through the Wanchain platform.
The main goal of Wanchain is to solve the issue of value transfers between different ledgers.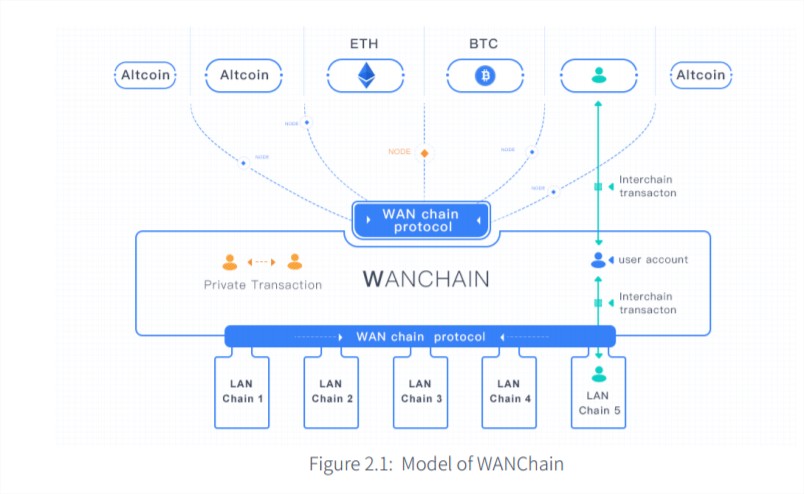 From a technical standpoint, Wanchain has developed an original cross-chain mechanism, to become the first to use one-time addresses and ring-signatures to make privacy protection possible.
Wanchain has achieved proof-of-concept privacy protection based on one-time addresses and ring-signatures, making this function available when version 1.0 of Wanchain is online (estimated Q4 2017). After this, Wanchain aims to implement cross-chain transactions among Wanchain, Ethereum and Bitcoin, as well as the cross-chain transactions of consortium blockchains that are developed based on Wanchain (see www.wanchain.org for more information).
Who is behind Wanchain?
Jack Lu is the Founder of Wanchain. Jack Lu launched Factom in 2014 and some years later the ICO of Factom successfully raised over $9 million. Factom is now one of the top 30 cryptocurrency markets in the world, valued at over $200 million.
Aside from Jack Lu, Wanchain counts on some of the top software engineers and cryptographic experts in the world. Many of the developers have graduated from Peking University, which per Times Higher Education World University Rankings 2017 (THE) gives a very respectable reputation not only as one of the top in China but in the world:
Top 20 world university in reputation (THE)
Top 30 world university (THE)
Source: https://www.timeshighereducation.com/world-university-rankings/peking-university#ranking-dataset/617475
What is the value of Wancoin, the coin that will be used on the platform?
There are two primary functions for Wancoin:
1) Process fees for Wanchain transactions and cross-chain transactions.
2) Bond deposits at each node for ensuring cross-chain transactions. In terms of applications, as more and more cross-chain transactions are run by Wanchain, the more Wancoin rises in value.
Thus, as many ICOs offer tokens that are not really needed for use in their platform but are more actors as "shares" in the project, Wancoin (the Wanchain "token") begs to differ, and is required to run transactions within the network, cross-chain transactions and bond deposits for each node thus increasing the value of Wancoin with every use in the platform.
In retrospect, Wanchain not only offers the unbanked or small and medium companies the chance to run its platform but also those interested in securing cross-chain transactions and proof-of-concept privacy protection.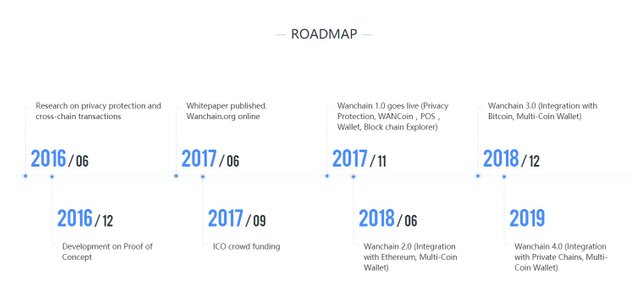 Wanchain Roadmap — Due to realease Wanchain 1.0 Q4 2017
ICO details:
Distribution Schedule
1 15% off
Sep 06, 2017 12:00 — Sep 13, 2017 11:59 UTC
2 5% off
Sep 13, 2017 12:00 — Sep 20, 2017 11:59 UTC
3 Original Cost
Sep 20, 2017 12:00 — Sep 27, 2017 11:59 UTC
*When either 107.1 million tokens are sold or when the crowd-funding time ends, the smart contract will be automatically closed.
To read more about the ICO please visit: https://wanchain.org/crowdsale
Contact:
Reddit: https://www.reddit.com/r/wanchain/
Slack: https://wanchain.herokuapp.com/
Twitter: https://twitter.com/wanchain_org
Other sources used:
CoinDesk. (2017). $126 Billion: The Cryptocurrency Market Just Set a New All-Time High — CoinDesk. [online] Available at: https://www.coindesk.com/126-billion-cryptocurrency-market-just-set-new-time-high/ [Accessed 18 Aug. 2017].
CryptoCoinsNews. (2017). Bitcoin, Cryptocurrencies Fulfill PayPal's Original Goal, Says Ex PayPal COO. [online] Available at: https://www.cryptocoinsnews.com/early-paypal-executive-says-cryptocurrencies-fulfill-paypals-original-goal/ [Accessed 17 Aug. 2017].