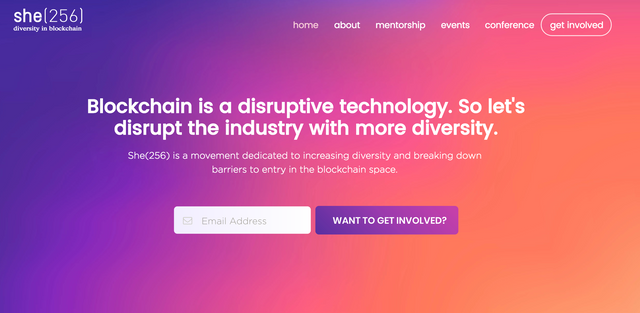 This is a very interesting project in the crypto space that I stumbled upon today as I was looking at some top women devs in the crypto industry. As we know, this is a male dominated industry and very few women exist in this space.
She(256) is trying to change that in the blockchain space by encouraging and empowering women to get involved in blockchain development. The founders have built a platform to connect enterprising young women with mentors from the blockchain world to help them grow.
They have a mentorship program where you can sign up as a mentor. Their goal is to match up young female-identifying individuals with professional mentors from the blockchain industry and help guide these individuals in their pursuit for knowledge and professional career and growth.
Mentorship presents the opportunity for a professional and young student or early-career young adult to learn from each other serving as guides and allies.

For mentees, utilize your mentors and their industry expertise to ask questions, bounce off ideas, and seek direction. For mentors, provide guidance, learn from fresh perspectives, and serve as an anchor.
Mentor/Mentee form is open until the 17th of September and you can easily. You can find more information on their website: She(256)
I hope that in the years to come there will be some amazing women entrepreneurs in this domain from across the globe. Please share this information with your friends if you think they can benefit from this project.
---
If you like my work kindly resteem it to your friends. You may also continue reading my recent posts which might interest you:
---