Prime Minister of India Tweets About Blockchain & IoT!
In an interesting turn of events the official twitter handle for Prime Minister of India or the office of the PM tweeted the following. This doesn't mean that cryptocurrencies will be legalised anytime soon but blockchain technologies but signals the fact that the government welcomes the underlying technology.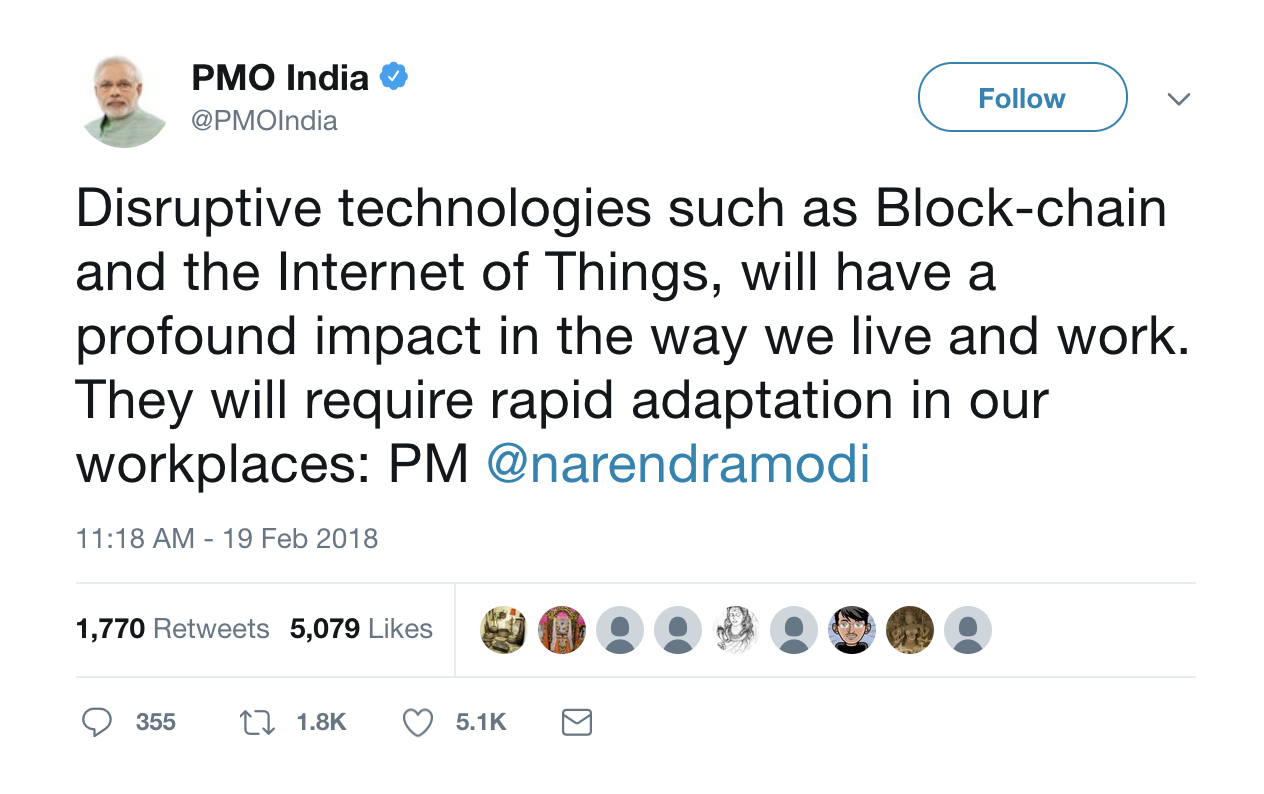 Disruptive technologies such as Block-chain and the Internet of Things, will have a profound impact in the way we live and work. They will require rapid adaptation in our workplaces: PM @narendramodi

PMO India (@PMOIndia) February 19, 2018
However, for distributed systems and decentralised blockchains there is no incentive for owners of participating nodes to run their servers without some kind of a monetary benefit. This is what makes cryptocurrencies powered by blockchains so interesting.
The government in recent times has conducted raids on Indian exchanges, arm-twisted banks into suspending accounts of top Indian bitcoin exchanges while it's IT department demands tax without any policy in place or regulation that clarifies exactly how much tax needs to be paid and why.
Banking industry in the country however remains bullish on the technology and in 2017 they have formed bankchain where they will share resources and work towards learning and developing their blockchain based solutions.
I'd love to see the next financial year bring a ray of hope to Indian cryptocurrency investors in the form of a investor-friendly framework around cryptocurrency trading. Currently, the government doesn't recognise them as cryptocurrencies and prefers to call them 'crypto-assets.'
India is currently adding 200K-300K new users on a monthly basis and all exchanges are under a lot of pressure owing this activity. This has certainly roused the interest of the Indian media which continues to monitor the market while the government continues its scrutiny.
Personally, I welcome this move from government and i'm glad they are recognising the importance of blockchain technologies and I hope they will work towards empowering its citizens by implementing these in government structures.
But I doubt any of this will happen soon because blockchain technology if employed in its truest form will disrupt the government mechanism by curbing corruption; reducing or stopping corrupt practices and falsification of data amongst other things. How will these politicians fill their pockets then?
---
If you like my work kindly resteem it to your friends. You may also continue reading my recent posts which might interest you:
---