Partnership is beneficial to all. DataBlockchain.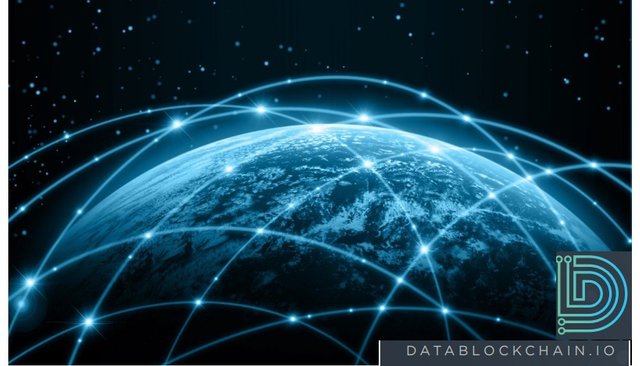 Large global companies have a name, money, technology and use the services of other companies in order to work more efficiently, produce a quality product and sell it to their consumers. I think many people know that there are companies that collect our data, store and sell them. Data is collected and analyzed, groups of people are evaluated, their preferences, desires, gender, age, hobbies, pets, etc. Today there is a whole industry for collecting and selling data. Often, these data are ineffective due to the presence of a large number of intermediaries.

The DataBlockchain.io platform makes premium data available not only for large enterprises, but also for small businesses. Thanks to cooperation with large companies to collect data directly, the price of services becomes significantly lower than with cooperation through intermediaries. Collected from thousands of sources and formed reliable data that are provided to the client depending on the needs. The client can specify the parameters that he needs for the success of a business A simple and intuitive interface will help the client understand the platform. DBCCoin tokens are used for all transactions on the platform, to pay for these service providers. Data Providers Accept DBCC tokens as payment.
For which you can use the data available on the DataBlockchain.io platform:
Increasing the number of customers
For inspections
To search for people
For direct sales
For online marketing
To update the data
For health insurance companies etc.

There are three types:
Data is not placed on the DataBlockchain.io website but is available through the data provider API. (profit 20/80)
All data is stored on the DataBlockchain.io platform (100% profit)
Data is stored locally and in isolation, but safe (profit 50/50)
The DataBlockchain.io platform already cooperates with such large companies as: Media Direct Inc, Appsbar.com etc.
The platform has data on more than 300 million users and sixteen million enterprises.
The DataBlockchain.io platform uses IPFS, so data providers can check the data used and payments for it. Smart contracts on the platform are used for all transactions and payments, as well as for auditing.



Thanks to the DBCWallet wallet that is installed on your computer, you can easily buy DBCC tokens and pay for services or receive rewards in DBCC tokens. Anyone can deal with a DBCWallet wallet and buy Ethereum first (secure exchangers are provided) and then exchange them for platform tokens.



Now, there is a public sale of platform tokens. The minimum purchase amount is 0.1 Ethereum. The price of a single DBCC token is 0.12 dollars. Soft cap already collected. All tokens that will not be sold during the ICO will be burned.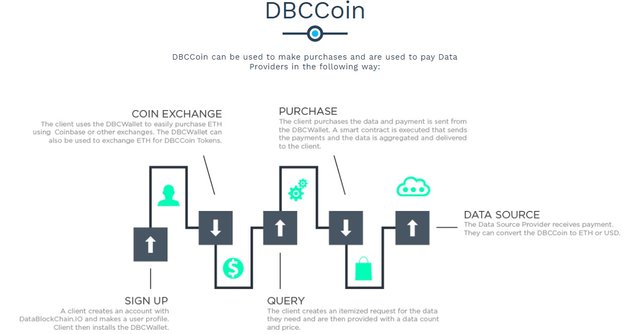 Conclusion: The DataBlockchain.io platform combines data, sorts them from thousands of sources, enables smallenterprises and businesses to use services that previously were available only to large firms. With the DataBlockchain.io platform, everyone earns: platform clients and service providers. Confidentiality, reliability andsafety are ensured by blockchain technology and smart contracts. The platform is already cooperating with large data providers and is not standing still, expanding its borders. Partnership with DataBlockchain.io is mutually beneficial for all parties.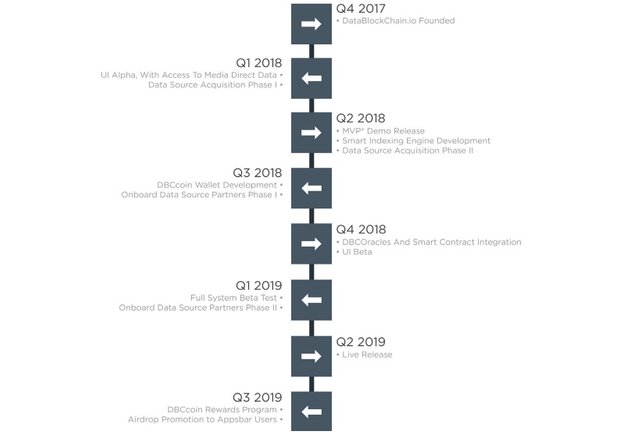 For more information, please visit:
Website: https://www.datablockchain.io/
Telegram: https://t.me/dbcio
Whitepaper: https://www.datablockchain.io/pdf/whitepaper.pdf
Social networks:
Twitter: https://twitter.com/DBC_IO
FACEBOOK : https://www.facebook.com/datablockchain/
ANN thread: https://bitcointalk.org/index.php?topic=3361166.0
My details:
My bitcointalk profile URL: https://bitcointalk.org/index.php?action=profile;u=1593336
Му bitcointalk username: Aroma92
I will be glad to feedback!
If you liked the article I will be glad for upvote!