16 Token giveaway recently to 9 people! Vote for your favorite and leave your bitshares user name for giveaway. Check recent prices for steem(it)bitshares UIAs and others for BLOCKPAY, PEERPLAYS, STEEM, TASKMANAGER, TRAIL, VIRGROW, WANGCHANGE, and new WANGCENTS bitshares UIAs (User Issued Assets)

Vote for favorite UIA for (future) giveaway. Check out market data for BLOCKPAY, STEEM, TASKMANAGER, TRAIL, VIRGROW, WANGCENTS/WANGCHANGE bitshares UIAs (User Issued Assets)
If you don't have an account already you can sign up for bitshares here.
Please feel free to check out blockpay, peerplays, steemtrail, taskmanager, thirsty, wangchange if you are interested in learning more about them.
---
---
VIRGROW
VIRGROW UIA will serve as an investment in an assortment of cryptocurrencies. While also partially investing in top market cap cryptocurrencies and some steem(it) related UIAs including TRAIL & TASKAMANGER. Recent VIRGROW info & update here.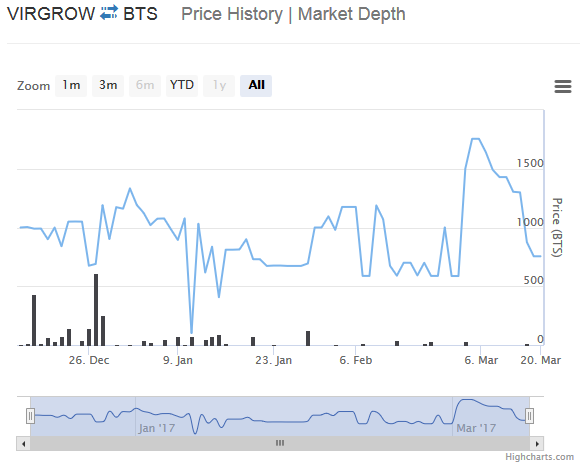 | Market | Last Price | Last Price ($) | 24h Volume | Volume ($) |
| --- | --- | --- | --- | --- |
| VIRGROW : BTS | 755 BTS | $3.59 | 0.17 VIRGROW | $1.00 |
TASKMANAGER
Read more about @taskmanager / taskmanager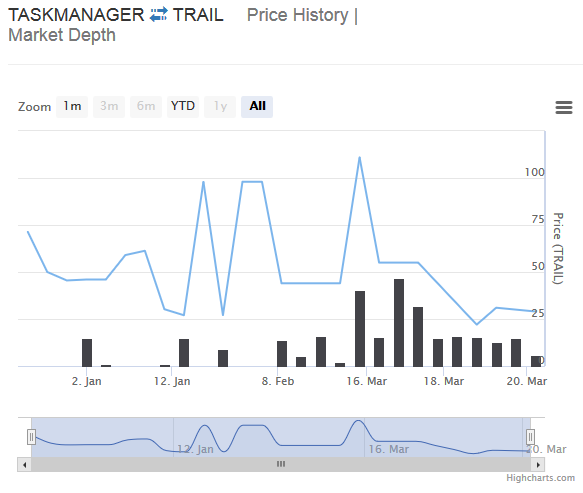 TRAIL
Trail Token is issued by @steemtrail as a reward token for curators, authors, and voting trail members.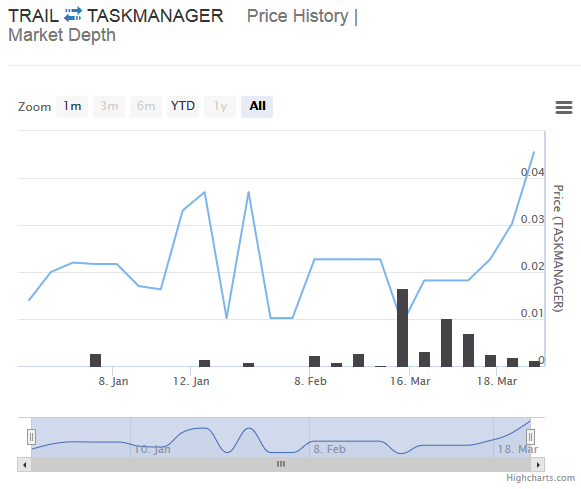 TRAIL Market Cap.: $1,224 (from cryptofresh, but may be below actual market cap value)
(OPEN) STEEM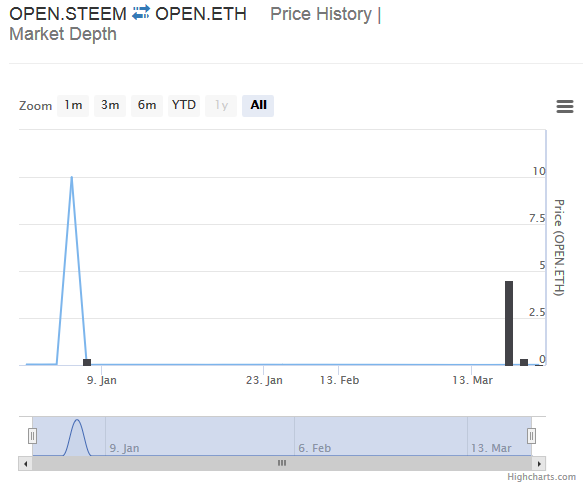 BLOCKPAY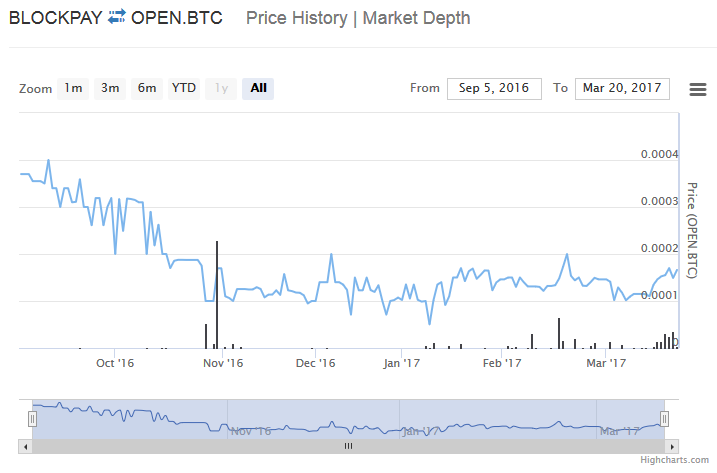 WANGCHANGE
WANGCHANGE is now offered for sale for bitshares! for 62,480.72093 bitshares each. Read more about wangchange: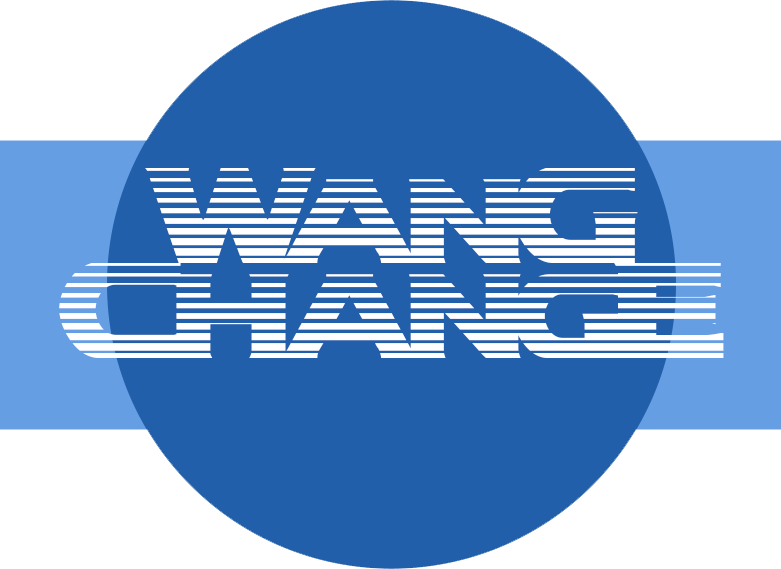 The WANGCHANGE Token (UIA) - Promoting Steemit Projects That Inspire
virtualgrowth will offer a WANGCHANGE token in exchange for any cryptocurrency that may be interested in the service for the token. A fraction of a WANGCHANGE token may be purchased for a smaller project / introductory offer. Look forward to working with @mrwang and others in the steemit community.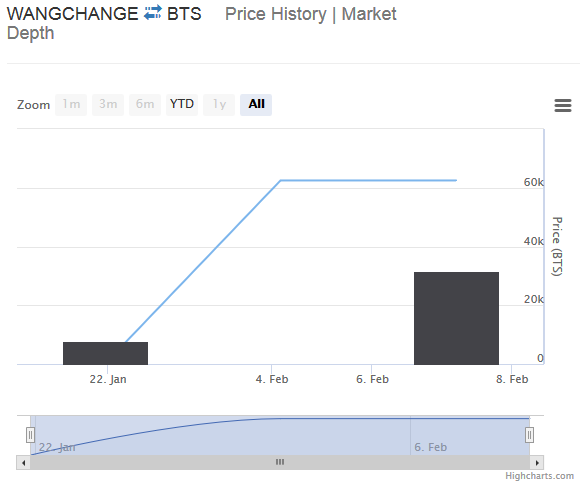 WANGCENTS to be mentioned on Beyond Bitcoin Hangout #200.
Steemprentice STEEMP
STEEMP is offered as a way to hold an asset represented by STEEM POWER in @steemprentice crowd whale.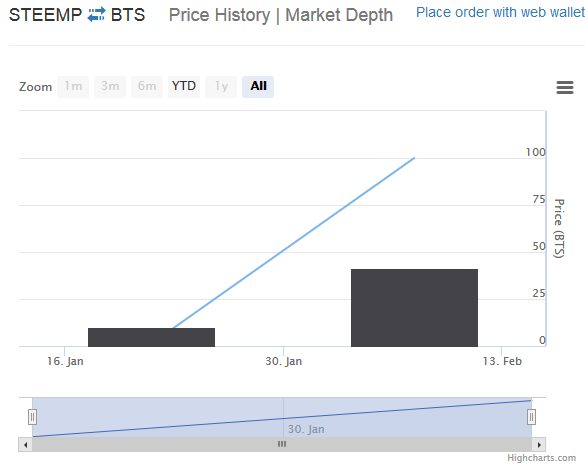 PEERPLAYS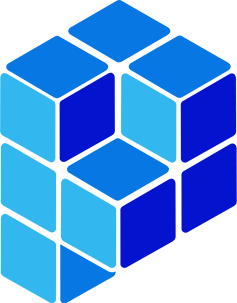 If you have Peerplays™ tokens in your digital wallet, you automatically earn profits from every play - every single day - and in every supported digital currency worldwide. The Peerplays™ network collects fees for peer-to-peer wagering on sports games, lottery tickets, casino games and more, and a percentage of these fees are automatically distributed to you, the Peerplays™ token holder.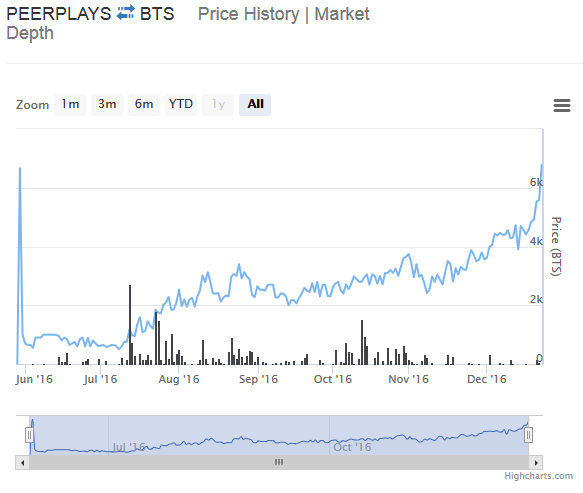 Previous giveaways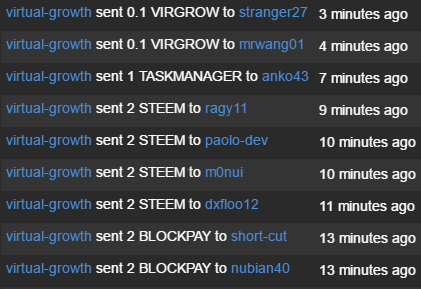 ---
Have fun earning, investing, and learning to trade these tokens with different value aspects in steem(it) and the community. Vote for your favorite Bitshares UIA tokens to be eligible for a giveaway which will consist of the most voted favorite #bitshares UIA's that are related to steemit, steemtrail & #beyondbitcoin.
Please feel free to check out these steemit related bitshares assets: TASKMANAGER, STEEMTRAIL, & VIRGROW
---
Please vote on virtualgrowth's comment to support and help get featured earlier on Beyond Bitcoin Hangout #200! 3/24/17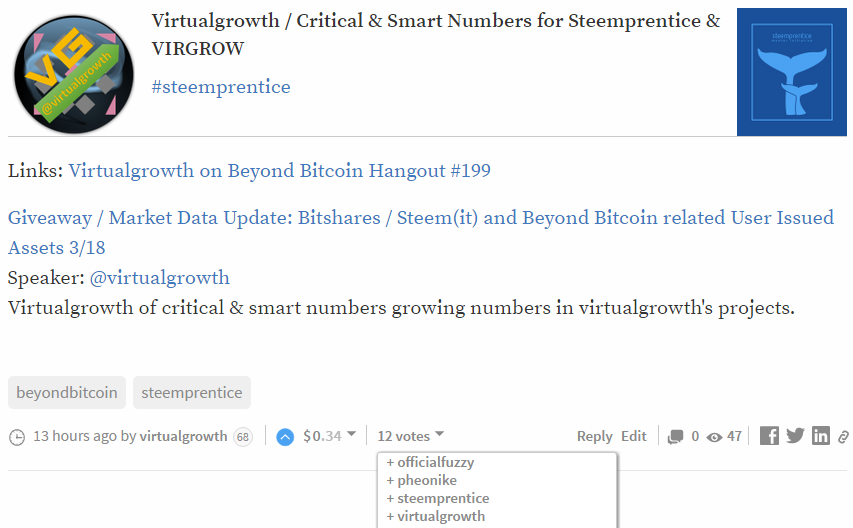 ---