Tribute to Paul "Onceuponatime" Martello
To be, or not to be--that is the question:
Whether 'tis nobler in the mind to suffer
The slings and arrows of outrageous fortune
Or to take arms against a sea of troubles
And by opposing end them.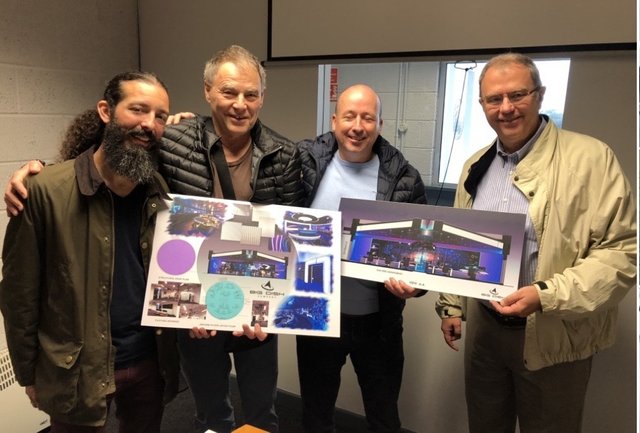 Paul with Michael, Angus and Stan at Mission Space headquarters
Alas, my dear friend Paul Martello is currently wrestling with Hamlet's dilemma. I'm writing this now so he can hopefully read my thoughts on his life. A couple months ago he had a massive stroke which left him lying in his home in Greece for many hours before he was discovered and rushed to the hospital. As a result, he has been paralyzed on his right side and unable to speak since then. He was recently transferred to a hospice in Switzerland where strong laws permit him to refuse medical service and food allowing him to control his own fate and pass on with dignity in the presence and care of a loving family.
To die, to sleep--No more
--and by a sleep to say we end
The heartache, and the thousand natural shocks
That flesh is heir to. 'Tis a consummation
Devoutly to be wished.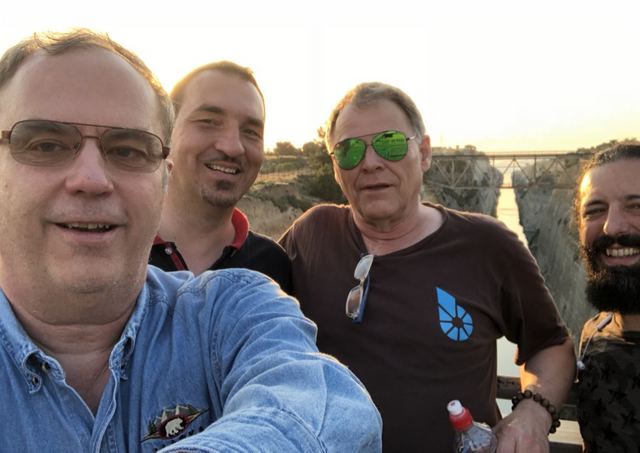 Stan, Daniel, Paul and Michael at the Corinth Canal
A lot of us have tried to talk to him. He is a very strong-willed person unwilling to spend the next twenty or thirty years trapped in a malfunctioning body unable to have the quality of life to which he is accustomed. He is courageous, strong, tough, strong willed, stubborn, determined and never never wants anyone else to control him. That is the worst thing that anyone could ever try to do to Paul. Especially when, as a devout Christian he knows that "although we know that while we are at home in the body, we are away from the Lord. For we walk by faith, not by sight. We are confident, then, and would prefer to be away from the body and at home with the Lord." -- 2 Cor 5:6. He has a new version 2.0 body waiting for him just across the spiritual Jordan river.
To die, to sleep--
To sleep--perchance to dream: ay, there's the rub,
For in that sleep of death what dreams may come
When we have shuffled off this mortal coil,
Must give us pause.
Paul is not worried at all about what dreams may come in that sleep of death. He knows, as St. Paul wrote in 2 Corinthians 5:1 "Now we know that if the earthly tent we live in is dismantled, we have a building from God, an eternal house in heaven, not built by human hands. For in this tent we groan, longing to be clothed with our heavenly dwelling, because when we are clothed, we will not be found naked. So while we are in this tent, we groan under our burdens, because we do not wish to be unclothed but clothed, so that our mortality may be swallowed up by life."
There's the respect
That makes calamity of so long life.
For who would bear the whips and scorns of time,
Th' oppressor's wrong, the proud man's contumely
The pangs of despised love, the law's delay,
The insolence of office, and the spurns
That patient merit of th' unworthy takes,
When he himself might his quietus make
With a bare bodkin?
So, Paul has chosen this metaphorical bodkin (dagger), refusing to eat and intends to exit on his own terms. He has no need to bear the fardels (burdens) of this life any longer.
Who would fardels bear,
To grunt and sweat under a weary life,
But that the dread of something after death,
The undiscovered country, from whose bourn
No traveller returns, puzzles the will,
And makes us rather bear those ills we have
Than fly to others that we know not of?
Thus conscience does make cowards of us all...
Paul has no such fears. Paul has had so many life experiences in many different cultures and in many different countries. He has lived in caves in Afghanistan, in the Himalayan mountains in a high altitude remote village. He has lived in a luxury high rise in the city, on the streets, under bridges, in ditches, with native Indians in Arizona, in prison, in arctic mining camps, on the concrete floor of a dark and bare basement, in a van, in a cabin in the woods and in a trailer. He has worked as a labourer, as an entrepreneur, as an accountant, as an undercover tax fraud agent for the Government of Canada and then right back to being a pizza delivery man.
He has lived in poverty and with riches. His views about life and death have been shaped by what he has seen and experienced. Things more diverse than almost anyone will ever experience in their lifetime. He is supremely intelligent, in fact he was moved ahead by two grades in school and yet contrastingly he is highly impractical and idealistic. He has read more books and studied more subjects than any one that I know or have heard about.
Paul is my partner in Terradacs, where we together funded the development of BEOS and is a board member on the BLCA Limited Cooperative Association that was created to operate BEOS. I will miss him terribly if he leaves us. So will his many friends some of who are shown in the photos here. I hope that many of you will post your love and remarks to Paul in the comments below while he is still with us and able to appreciate them.
"The things that began to happen after that were so great and beautiful that I cannot write them. And for us this is the end of all the stories, and we can most truly say that they all lived happily ever after. But for them this was only the beginning of the real story. All their life in this world and all their adventures in Narnia had only been the cover and the title page: now at last they were beginning Chapter One of the Great Story, which no one on earth has read: which goes on for ever: in which every chapter is better than the one before." -- CS Lewis, The Chronicles of Narnia
See you later Onceuponatime - "There at the Beginning of the Stories You Love"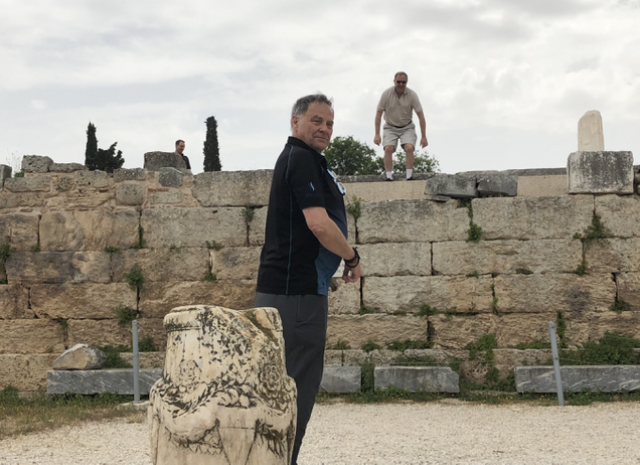 Paul stands in the place of St. Paul before the bema (judgement seat)
of Proconsul Galleo (occupied by me) in Corinth per Acts 18:12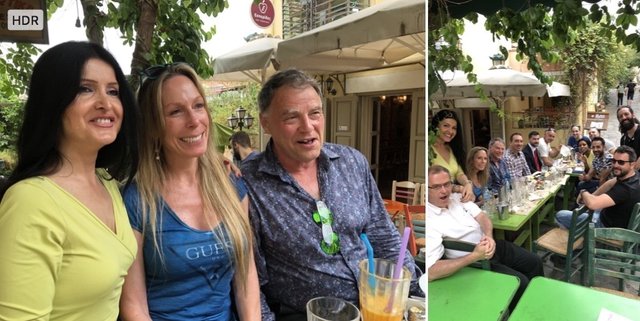 Paul's many friends gather in a restaurant at the base of the Acropolis in Athens
Epilogue
Dear friends and business associates of Paul "Onceuponatime" Martello,
Unfortunately I need to give you the news that our dear brother Paul passed away this morning at 10:25. He was strong, brave and resolved to the end. Larry, Manuela and I were with him holding his hand as he took his last breath.
As you know he was offered every possibility for recovery both here and in Greece and he chose this path. I am happy that he is now at peace and I am confident of seeing him again under better circumstances. I know that he was confident of that too.
In faith and hope,
Ted Martello and family