🗞 Daily Crypto News, June, 6th💰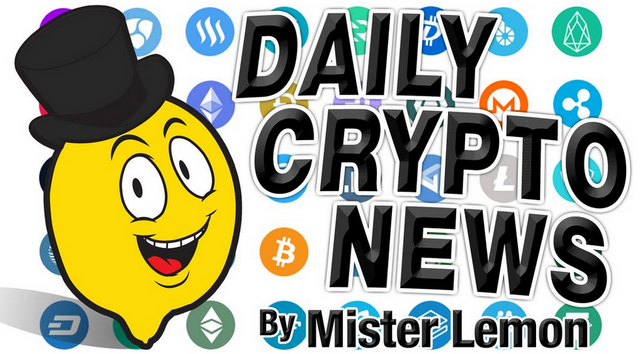 Welcome to the Daily Crypto News: A complete Press Review, Coin Calendar and Trading Analysis. Enjoy!
Leading cryptocurrency exchange Binance will reportedly issue its own stablecoins within two months, Bloomberg reported on June 5.


Binance's Chief Financial Officer, Wei Zhou told Bloomberg that the exchange will start issuing its own stablecoins "in a matter of weeks to a month or two," with the goal to make stablecoins available for more of the world's currencies.


The exchange's first stablecoin dubbed "Binance GBP" will reportedly be denominated in and 100% pegged to the British pound. Zhou also revealed that Binance will make money off of interest on fiat deposits, like tether (USDT) does.


Apart from Binance GBP, Binance is reportedly planning to introduce an array of other stablecoins backed by other currencies, with the exception of the U.S. dollar. Explaining the company's decision, Zhou said that "from the users' perspective, only certain portions of the world use the dollar. Other users use other currencies, and we feel it should be reflected in stablecoins as well."
ocial media giant Facebook is said to reveal its own cryptocurrency later this month.


According to a report from The Information on Wednesday, Facebook is poised to unveil its cryptocurrency to the public later in June, which is aimed to allow users to process transactions via the social media channel, and will be offered to Facebook employees who want to be paid in the form of the cryptocurrency.


The report added Facebook is also planning to have physical portals for users to purchase the cryptocurrency, which, according to previous reports, is called GlobalCoin.


In addition, Facebook is reportedly inviting external parties to participate in the network that will empower the cryptocurrency to act as "nodes" for a fee that could be as much as $10 million each.
Blockchain project Polkadot's bid for a $1.2 billion valuation has hit a snag.


Since January, the Web3 Foundation, the Switzerland-based nonprofit behind the project, has been trying to raise up to $60 million through a private token sale. According to people familiar with the situation, three Chinese funds have agreed to invest $15 million in the project's DOT tokens.


However, these three investors agreed to pay prices that, on average, valued the project below $1 billion, the sources said – falling short of the unicorn threshold Polkadot was reportedly seeking. (The agreed-to prices may vary from investor to investor.)


While it's unclear how many tokens the three Chinese funds bought, or how many investors besides them participated, one source said Polkadot has been able to sell only 70 percent of the intended 500,000 DOT.
An experimental metric used to gauge the quantity and quality of activity on bitcoin's network clocked a 28-week high last Saturday, signaling the cryptocurrency's latest price rally may be more fundamentally driven than many expect.


The Transaction Amount to Active Addresses Ratio (TAAR), first proposed by CoinDesk Contributor and Pugilist Ventures Founder Chris Brookins, divides bitcoin's 24-hour adjusted transaction volume (USD) by the number of its active addresses to identify how much each active address spends in transactions per day on average.


If TAAR is high, then it means each user (active address) is transacting in high notional values, in other words, the network "quantity" (how much is being spent i.e. transaction volume) is high per the "quality" (how many users are spending the funds i.e. active addresses).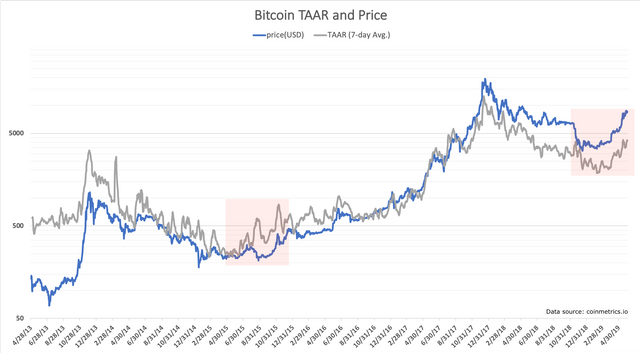 The president of Brazil, Jair Bolsonaro, has stated that he does not know what bitcoin (BTC) is, and endorsed the suspension of a project that would create a crypto for indigenous people to use, Cointelegraph Brazil reported on June 4.


Bolsonaro supported the Minister of Women, Family and Human Rights, Damares Alves in the termination of a project worth 44.9 million Brazilian reals ($11.5 million) between the National Indian Foundation (FUNAI) and the Federal Fluminense University (UFF), which promoted the creation of a cryptocurrency for indigenous people to use. Bolsonaro delivered his comments during an interview with Ratinho's SBT show on June 4.


After saying that the Minister acted properly in blocking the project that "wanted to teach the Indian to use bitcoin," the president was asked by a show participant if he knew what bitcoin was. Bolsonaro replied:


"I do not know what bitcoin is."
📑 Daily Crypto Calendar, June, 6th💰
Airdrop of UOS tokens to EOS holders ends.
Bithumb Global Listing
OKEx Talks 2019 "The Adoption of Cryptocurrency for Business & Daily Life" from 7-10 PM (GMT +3) in Tallinn, Estonia.
Masternodes implemented
WorkFork Online Hackathon begins at 19:00 (GMT+2).
STEEM Trading Update by my friend @cryptopassion
Here is the chart of yesterday :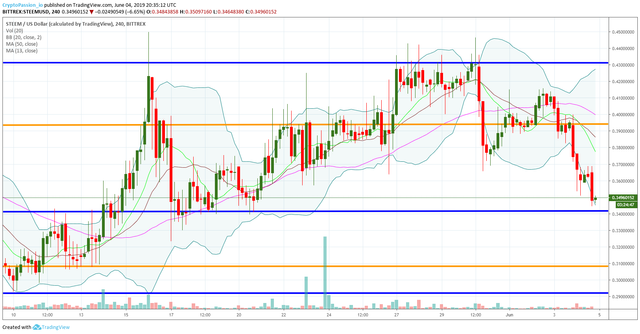 Here is the current chart :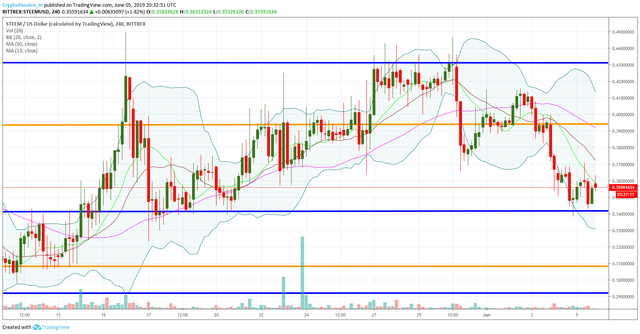 So after the powerfull drop that we experieneced yesterday, we touched and tested the support line at 0.34$ and till now this support is holding us. However, be very carefull, if the BTC is continuing to drop, this support line will be break for sure also on the STEEM. So as I suggested on the BTC, I would advice you to wait to see which will be the next direction because currently this is impossible to know it, just propabilities.
Last Updates
Join this new Free To Play on the STEEM Platform !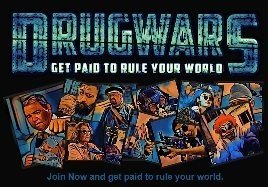 You don't want to miss a Crypto news?
Join SteemFollower and get Upvotes back !
---
Posted from my blog with <a

---
Posted from my blog with SteemPress : https://scrips.io/blog/mr-cryptolemon/%f0%9f%97%9e-daily-crypto-news-june-6th%f0%9f%92%b0/
---