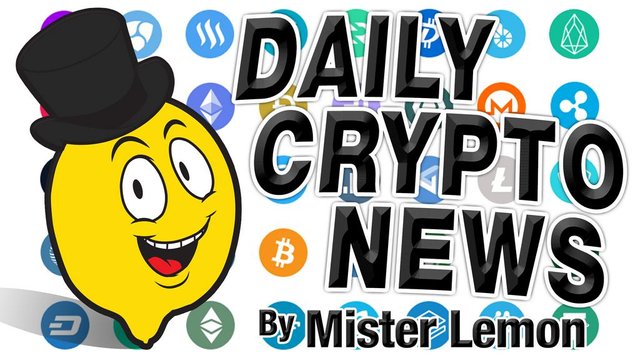 Mark Cuban Confirms Dallas Mavericks Will Accept Bitcoin For Tickets;
Bitcoin Mining Comes To New York As Lawmakers Approve Power Allocation;
Santander to Roll Out Ripple-Powered App in 4 Countries;
Japanese Financial Authority Inspecting 32 Cryptocurrency Exchanges ;
CNBC's Ran Neuner Says Bitcoin Will End 2018 At $50,000
STEEM Trading Update by @cryptopassion
🗞 Mark Cuban Confirms Dallas Mavericks Will Accept Bitcoin For Tickets
Mark Cuban, a billionaire investor and the owner of the NBA's Dallas Mavericks, has confirmed that his organization will begin accepting Bitcoin for tickets starting next season.
Read more & Source: https://themerkle.com/mark-cuban-confirms-dallas-mavericks-will-accept-bitcoin-for-tickets/
🗞 Bitcoin Mining Comes To New York As Lawmakers Approve Power Allocation
Cloud mining service Coinmint has won approval to take over an abandoned smelter for Bitcoin mining operations on Tuesday, Jan. 30.
As local news broadcaster WWNYTV reports Thursday along with local government documentation, lawmakers in upstate New York voted in favor of awarding subsidiary North Country Data Center (NCDC) 15 megawatts of low-cost power.
Read more & Source: https://cointelegraph.com/news/bitcoin-mining-comes-to-new-york-as-lawmakers-approve-power-allocation
🗞 Santander to Roll Out Ripple-Powered App in 4 Countries
Ripple has landed one of its largest clients yet, with Santander Group announcing a mobile app powered by the company's distributed ledger.
The bank had been piloting the app for 18 months with its employees, integrating Apple Pay for payments between £10 and £10,000 ($14 and $14,000), according to Finextra. The app will be rolled out in Spain, Brazil, the U.K. and Poland, according to the company's 2017 earnings presentation.
Read more & Source: https://www.coindesk.com/santander-uk-ripple-payment-app/
🗞 Japanese Financial Authority Inspecting 32 Cryptocurrency Exchanges
The Japanese Financial Services Agency has announced that it is inspecting all 32 cryptocurrency exchanges in Japan. This includes 16 exchanges that have not obtained a license but are currently under review by the agency and those that are already fully licensed.
Read more & Source: https://news.bitcoin.com/japanese-financial-authority-inspecting-cryptocurrency-exchanges/
🗞 CNBC's Ran Neuner Says Bitcoin Will End 2018 At $50,000
Ran Neuner, the host of CNBC's show Cryptotrader and the 28th most influential Blockchain insider according to Richtopia, made a tweet Thursday, Feb. 1 claiming that Bitcoin will end 2018 at the price point of $50,000.
The CNBC channel has been increasingly involved in cryptocurrency reporting over the past few months. On Jan. 8, the cable network aired a step-by-step tutorial on how to buy Ripple using the Poloniex exchange as a platform for the purchase. Host Brian Kelly demonstrated the entire process live on the channel.
Read more & Source: https://cointelegraph.com/news/cnbcs-ran-neuner-says-bitcoin-will-end-2018-at-50000
Daily Crypto Calendar, February, 3rd
Amsterdam Meetup
Trading Conference in Gibraltar World Trade Center starting at 1pm, Hosted by the Crypto Traders community
February 3 - 7, 2018 - San Francisco, CAWorld's Largest Developer Expo + Conference Series
"Join us on Reddit for a Vertcoin Developer AMA"
Photoncoin is organizing it's second airdrop. Once again hosted from the Telegram chat. This airdrop is a link sharing campaign.
Read more & Source: https://steemit.com/bitcoin/@vlemon/daily-crypto-calendar-february-2nd
So yesterday I was predicting you that we will test the support line in red with that chart :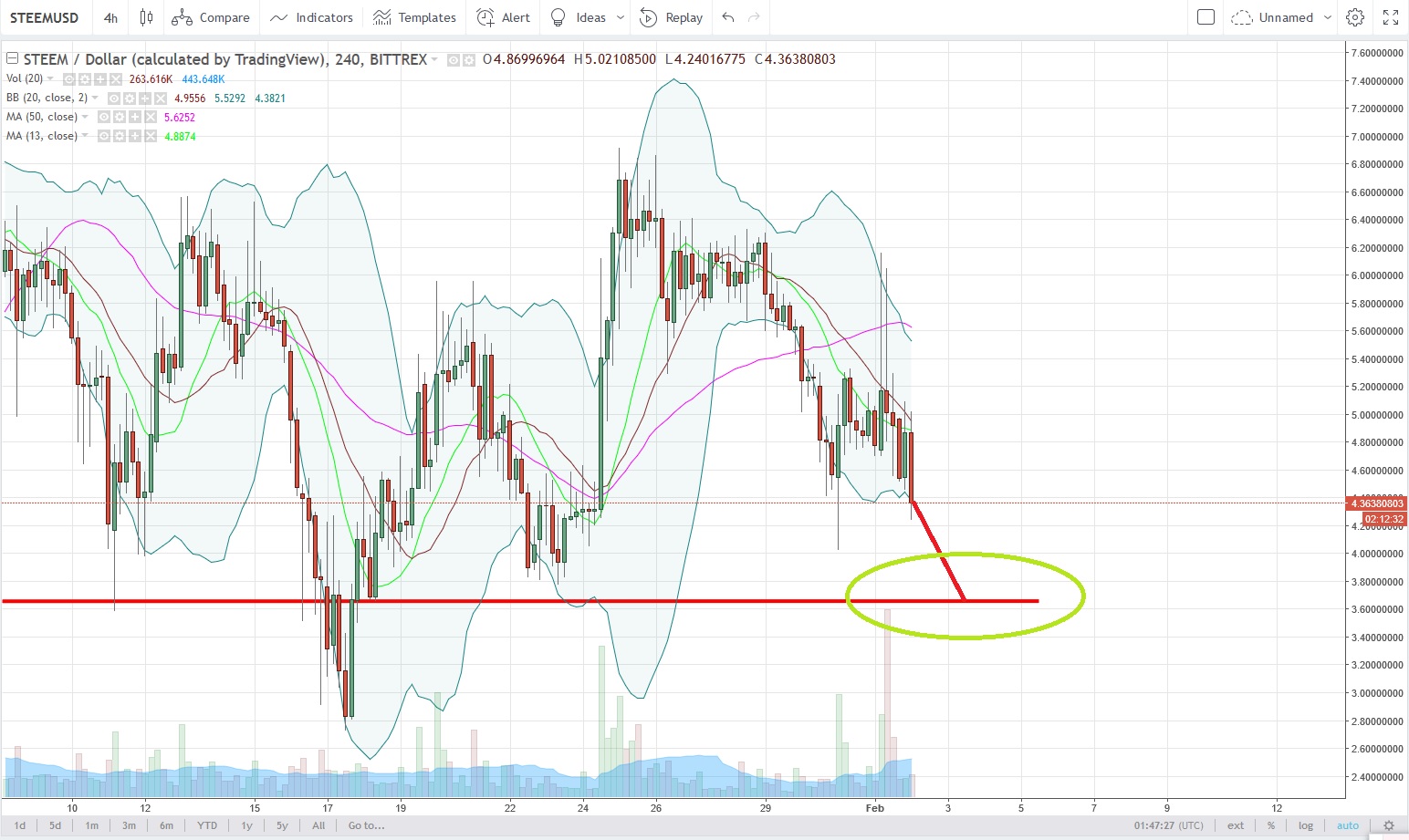 Here is the current chart ;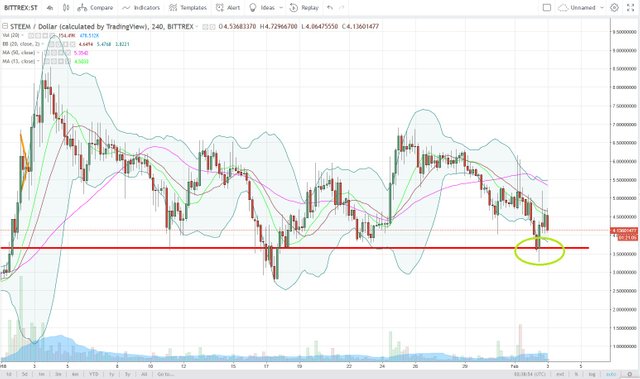 As you can see, my prediction was very accurate :-)
We have now to see the coming hours, it is possible that we test again that support line but we must hold it if we don't want have an acceleration of the drop.
Personnaly, I think this is a good level to start again to buy STEEM because it is a possible Bottom but I let you do your own choices as always. If you decide to buy some STEEM, do it in several times because the market is really nervous and we could see some big moves which can make nice buying opportunities.
You don't want to miss a Crypto news?