How A Single Trader Manipulates The Bitcoin Market: Spoofing With Large Sums & Illegal Methods On Bitfinex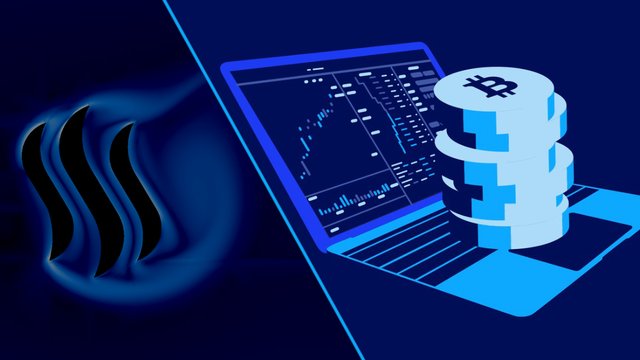 Bitcoin has broken through the $3,000 mark and is reaching new all-time high's.
While experienced daytraders are busy doing their work and profiting from the price volatility, it seems like there are also some who manipulate the Bitcoin price to their own benefit.
One particular trader with extremely large funds in both USD and BTC is "spoofing" the market on Bitfinex, manipulating other traders so that the price changes to his own liking!
Nobody knows who it is or if it's even an individual or a group of people - but the anonymous trader has been nicknamed "Spoofy"
What is Spoofing?
Definition:
"Bidding or offering with the intent to cancel the bid or offer before execution"
Basically, this is how it works: "Spoofy" holds a large amount of coins.
He places a large buy order just below other buy orders, or a large sell order just above other sell orders.
Other traders will see his order, and immediately think that the market price will be affected once his order gets through.
And we're talking about really large funds here - when you see that someone is about to sell 2500 BTC, you assume the price is going to crash, and in return you might panic sell your coins.
But then Spoofy takes action: Once the price approaches his order, he cancels it!
So he tricked all the other traders into thinking the price was going to change due to his large order, while actually not performing any trades at all.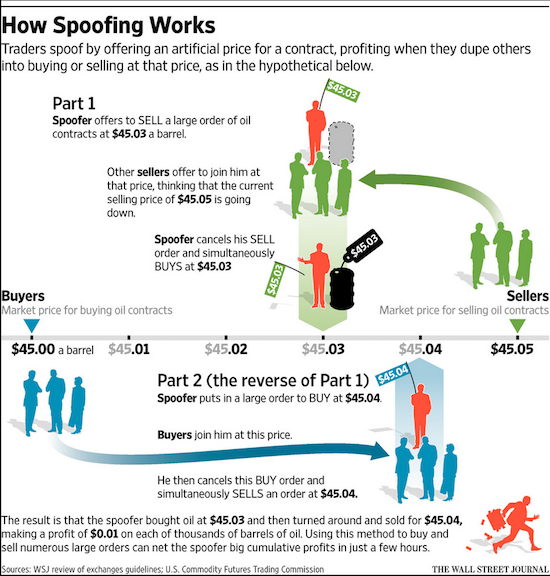 "Spoofy" and his large funds on Bitfinex
The spoofing effect wouldn't be as bad if the manipulation wasn't so extreme.
"Spoofy" regularly places orders over $50 million - he seems to be very liquid, and also managed to get this huge sum on to bitfinex.
Earlier this year, Bitfinex stopped their cooperation with Wells Fargo - meaning that there is no way to deposit fiat currency into the exchange platform.
But Spoofy holds large amounts of BTC and USD - and he might actually be one of the only traders who does manage sums like these on Bitfinex.
Other manipulation methods
Spoofy also uses wash trading as one of his tactics to manipulate the BTC price.
A wash trade is a form of market manipulation in which an investor simultaneously sells and buys the same financial instruments to create misleading, artificial activity in the marketplace.
This means that "Spoofy" basically trades with himself - he is either selling into his own buy orders or vice versa.
Since he owns such large amounts of both cryptocurrencies and fiat, this is no problem for him.
Of course, these manipulation methods are officially illegal.
But since Bitcoin markets are almost always unregulated, Spoofy can easily get away with this behaviour.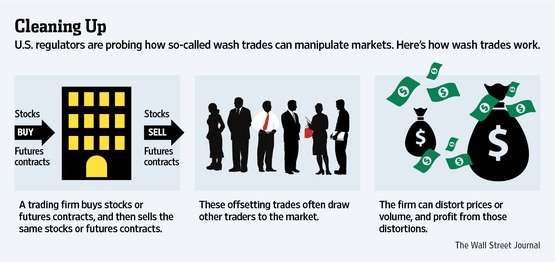 "Spoofy" and the Bitcoin Cash distribution
During the Bitcoin Split on August 1, many exchanges offered free Bitcoin Cash to their customers.
Bitfinex also did this, but with a different method:
Please note that if there are more shorts than longs at the fork event, this coefficient will be less than one.
(Shorts are orders profiting from a falling market, while longs are trades with the intention of profiting from a rising market.)
In other terms, you could easily wash trade your own shorts to profit and get some free BCH.
And that's exactly what "Spoofy" did - he wash traded 24,000 BTC in shorts.
In order to do this you would need 24,000 BTC, as well as the equivalent in USD - which "Spoofy" clearly did.
Multiple people were noticing his behaviour and were reporting it to Bitfinex - which resulted in an official statement from them:
After the methodology announcement on July 27th, several accounts began large-scale manipulation tactics in an attempt to obtain BCH tokens at the expense of exchange longs and lenders on the platform, causing the distribution coefficient to artificially plummet.
We have determined that this kind of manipulation — including wash trading and self-funding shorts — is in violation of Bitfinex's terms of service.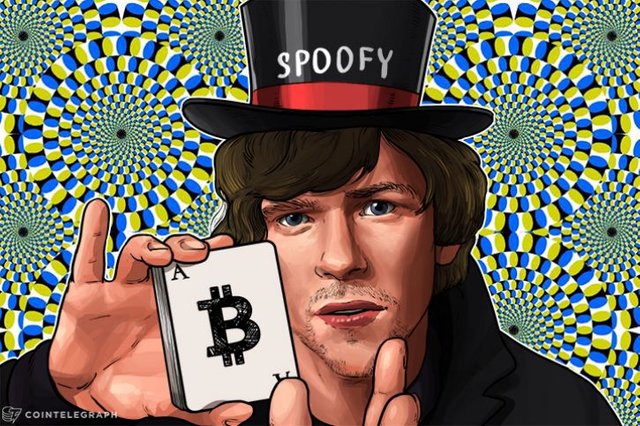 Conclusion
Someone on Bitfinex is manipulating the Bitcoin price by placing abnormally large orders, and then cancelling them just before they'd drop.
This affects the other traders' behaviour, because they assume the large order will affect the BTC price.
In this medium post you can see countless screenshots and proof that "Spoofy" actually did all of this on purpose.
We still don't know who "Spoofy" is, (the medium author suggests that he might even be part of Bitfinex himself), but he has access to an extremely large amount of funds in both crypto- and fiat currency.
It's important for regular traders to know that this sort of behaviour is happening!
Images: 1, 2, 3, 4, Sources: 1, 2, 3, 4, 5
---
- Instagram -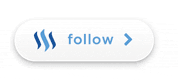 © Sirwinchester