Hi everyone. This will be the first article out of a four-part series on the Electrum Bitcoin Wallet. Electrum has grown to be my absolute favorite Bitcoin wallet over the years, because of its amazing combination of security, usability, efficiency, and simply how well it works.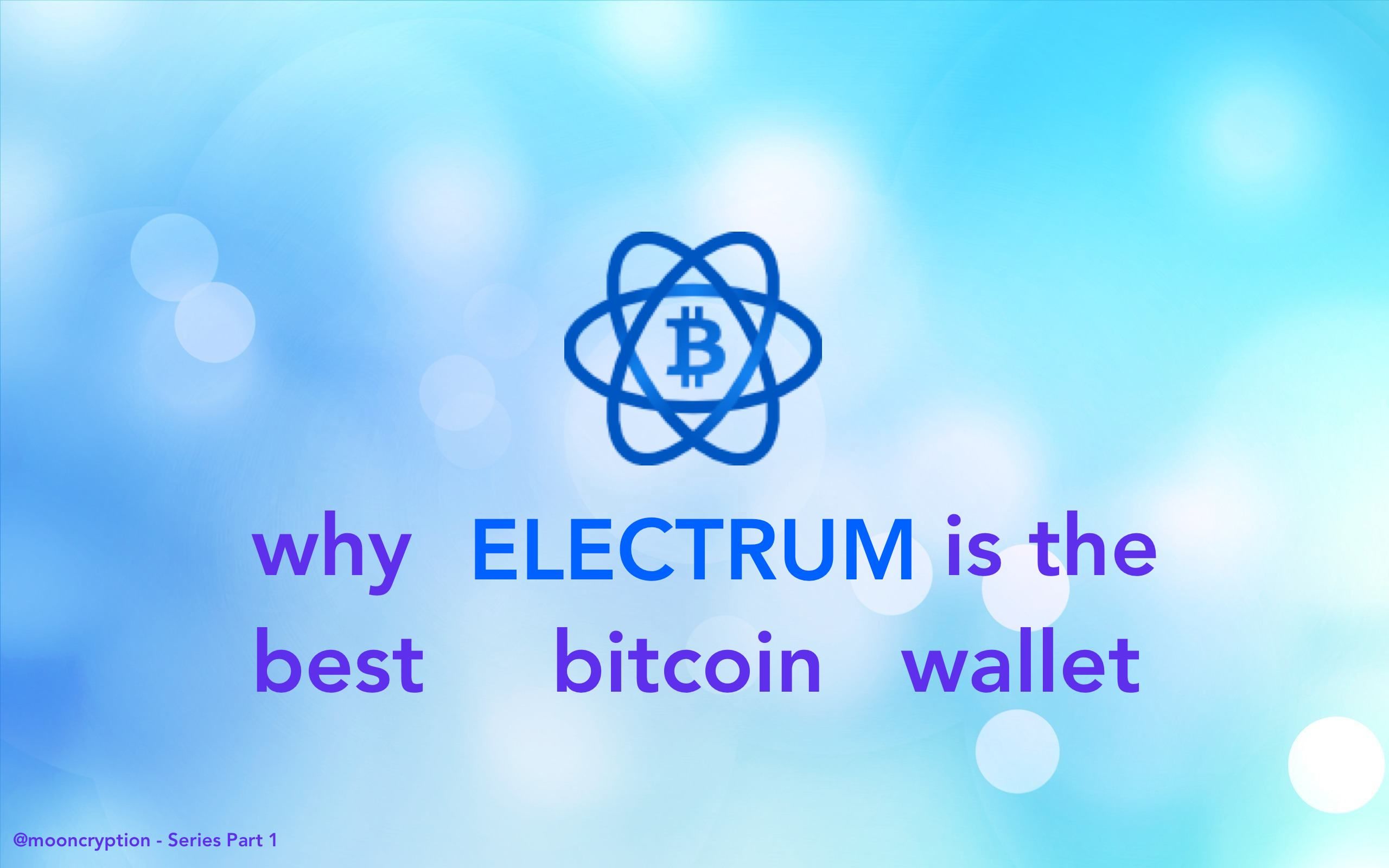 This series will come in four parts (this is the first):
Part 1 - "Why Electrum is the King" - An explanation of the wallet, its features, and why I believe it's one of the best Bitcoin wallets out there.

Part 2 - "Creating a Standard Wallet" - A step-by-step walkthrough of creating your own standard wallet (the most popular and most easy-to-use wallet type, yet also very secure).

Part 3 - "Exploring other Wallet Types (Two-Factor, Multi-Sig)" - Walkthroughs of creating wallets of other types, such as 2FA (two-factor authentication) and MultiSig (requiring multiple keys to sign off on transactions).

Part 4 - "Hidden Gems and Settings" - This final section of the series will focus on mostly everything that wasn't covered in the previous parts, and will also cover how to use Electrum's Settings to your advantage.
Let's dive in.
Safety and Security
There's a lot to cover when talking about Bitcoin security, so we'll split this up into a few sections.
Electrum vs Online Wallets and Exchanges
Electrum is much safer than online wallets and exchanges because of two reasons:
Local Storage: Your private keys are encrypted and stay on your computer.
Not Locked In: You always have access to your private keys and you can easily, at any time, export your keys to another Bitcoin client.
If you store your bitcoins on an exchange, you don't actually own the bitcoins. Instead, you own an account on the exchange where the exchange promises to you that whenever you want, it will let you withdraw your bitcoins. But that isn't a verified or binding promise— if the exchange is fake or is a scam, they can easily, at any time, run away with your bitcoins, or if they get closed or run out of money, the same thing could happen.
Similarly with an online wallet, you are trusting a third-party service or some far-away overseas servers with your private keys.
Your private keys are the "password" to your bitcoins; you could even simplify that as "your private keys are your bitcoins." If they aren't safe or you don't have access to them, then someone else might. Electrum lets you keep all your keys locally on your computer and allows you to encrypt them.
Cold Storage
When storing Bitcoins, there are two terms to describe the "warmth" of a wallet, which basically describes how connected the wallet is to the Internet or to the world. A hot wallet is directly connected to the Internet, which is convenient and easy to use, yet not the safest option (malware, spyware, etc have a possibility of infecting your computer).
A cold wallet or cold storage refers to a wallet that is completely disconnected from the Internet or the rest of the world. Electrum allows you to store some or all of your bitcoins in cold storage (offering maximum security) while providing an easy and convenient way to interact with your wallet.
This is an overview of how Electrum cold storage works:
Set up your cold storage wallet from a clean computer that is completely disconnected from the Internet. Send your bitcoins to the address on the cold storage computer.
Create a watching-only wallet on a computer connected to the Internet. This is an Electrum wallet with no private keys; it simply watches the amount of bitcoins on a wallet and can relay transactions to the Internet if given them.
When you want to send bitcoins out of your cold wallet: Create a transaction with Electrum on your offline computer, and copy it to a USB connected to the computer.
Connect the USB to your online computer (with the watching-only wallet) and drag the transaction into Electrum so it can be relayed on the blockchain.
This security setup offers little to no margin or no room for malware or corruption from the Internet to infect your wallet in any way, and is highly regarded as the most secure way to set up a wallet.
Multi-Sig Wallets and 2FA
Electrum supports both multi-sig wallets and two-factor authentication.
Multi-sig wallets allow a wallet to be secured by a combination of private keys. A certain number or threshold of the keys is required to send a transaction. For example, a 2-of-3 multi-sig wallet requires 2 of the 3 keys to send bitcoins, and a 5-of-7 wallet requires 5 out of the 7 keys. This can be used to create a "group wallet" requiring the consent of enough group members before spending money, but can also be used for just one individual to secure your wallet.
Two-factor authentication wallets are just like multi-sig wallets, except for the fact that instead of asking another group member to approve your transaction or signing with another key, you provide an authentication code (just like from Google Authenticator or a one-time password) in order to push your transaction.
Hardware Wallets
Electrum also works brilliantly with hardware wallets like the Ledger Nano S and Trezor. Electrum is built specifically to work well with such wallets, and using them in a combination with Electrum allows for maximum usability and security.
Ease-of-use and Convenience
Electrum is also very convenient and easy to use, and its interface is simple to understand and interact with, and works well for everyone from professional traders to crypto newbies.
Speed and Instant Connection
Electrum is much faster than Core wallets or wallets that download the entire blockchain, and also takes up much less space.
Rather than downloading or syncing the whole blockchain (tens to hundreds of gigabytes), Electrum connects to decentralized servers run by many people to pull blockchain data. Also, instead of simply trusting the data, it verifies the data using a method called SPV, where headers and payment information are cross-checked with the data to ensure accuracy. This means that Electrum is ready almost instantly and syncs very quickly.
Forgiveness and Recovery
Unlike some wallets, Electrum allows you to write down or safely store a recovery seed, which is a string of many random words put together. Even if your computer burns down or your hard disk is erased, you can always use this recovery seed to fully recover all of your bitcoins. If you store your seed wisely in a safe location, it's a very good way to keep up a backup in case something goes wrong.
Simple Interface
Electrum's interface is very simple to use. It's split into multiple tabs depending on what you want to do (e.g. "History", "Send", "Receive") and is void of clutter and distractions: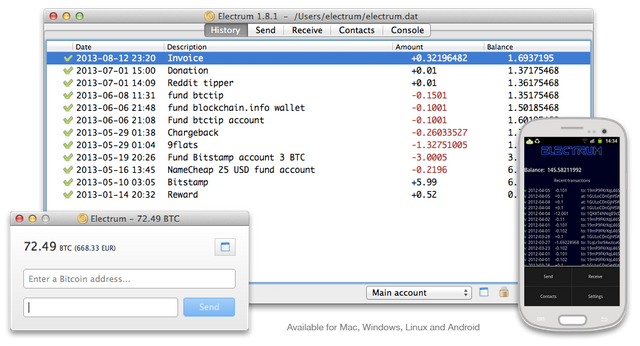 And so, for these reasons, I truly believe that Electrum is the most convenient yet also the most secure Bitcoin wallet out there. You can learn more about it at their website, electrum.org if you want.
Thanks for reading,
— @mooncryption
image sources: 1 - Electrum.org Logo, edited by me; 2 - Electrum.org
disclaimer: This post was not sponsored in any way by Electrum or their developers. I've been using Electrum for a while and I've been thrilled with the user experience, so I felt I should share it with you guys :) The next parts of this series are coming out very soon (in the next few days)!