Time: 8.07 A.M. / GM+2 / 8th June 2018 – Fri.
Recapitulation
Bitcoin market did not show any strong move, to continue fluctuating within tight ranges. The current situation is quite curious in terms of the price action because we are seeing a move up on low volume followed by depreciation. The reason why we believe, the current environment is The Late Stage of a short-term up correction within a medium-term decline.
Technical
In our previous post / 616 / we had forecast the trading range will be between 7.050K and 7.996K. The intraday high was 7.756K and the low was 7.624K.

The recent move up, is a Correction Within Larger Decline. No important bullish indications, though, we still think that a move up can't be ruled out, so he bearish trend remain active Without Any Change.

At press time, bitcoin is trading around 7.650K after testing 7.756K area and most likely the upside move progress took an end, so the chances is valid to achieve more decline.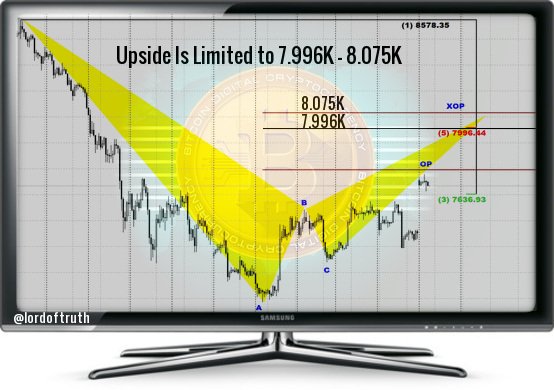 The 2 weekly bearish stop grabbers suggest drop below 6.519K, to test 5.878K reaching 4.300 area.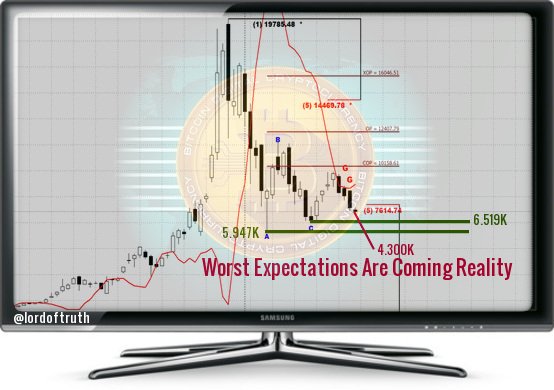 The Same Destination point of the above Butterfly "Buy". The potential bullish reversal location.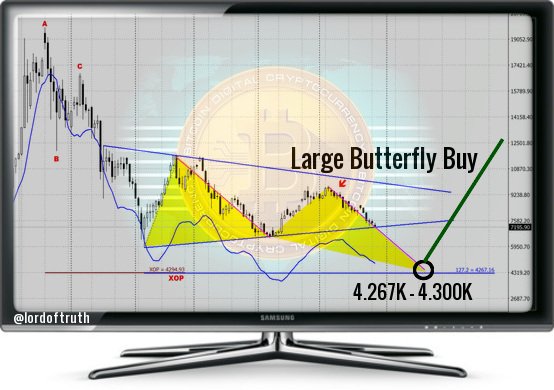 Sentiment
The decline most likely will resume and the Situation Still Bearish, as long as the price below 7.996K - 8.075K Area. So we might see a stronger move to the downside in the next 2 weeks.

Note; Aggressive Traders opened a short position at 7.750K with SL above 7.996K.
Based on the above
We suggest / Bearish Trend / for today.

Support 1: 7050.000 level.
Resistance1 : 7996.00 level.
Support 2: 6519.000 level.
Resistance2 : 8075.000 level.
Expected trading for today:
is between 7050.00 and 7996.00.
Expected trend for today :
Bearish.
Medium Term:
Neutral.
Long Term:
Bullish.
The low of 2018:
5947.00 !!! / 4300.00 Expected.
The high of 2018 (BitcoinTrader's Year):
14469.00 / Expected.
The low of 2019: ???
The high of 2019 (Bitcoin Holder's Year):
36000.00 level / Expected.
YOU SHOULD NOT TAKE ANY MATERIAL POSTED ON THIS BLOG AS RECOMMENDATIONS. TO BUY OR SELL BITCOIN OR ANY OTHER INVESTMENT VEHICLE LISTED.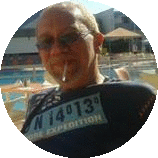 Writing a series means playing a long game,
investing considerable time and effort up front in
hopes of considerable returns down the road.
I'm so proud of my little blog, and so grateful to all of you
for support to keep it going.

If You are New in Trading  --> Read Trading Education Center / Volume I.
What You Know About --> Fibonacci Retracement in Trending Market.
If You Like To Read About Syrian War --> Click Here!