We have just witnessed a beautiful short squeeze. BTC has broken out of a short term downtrend.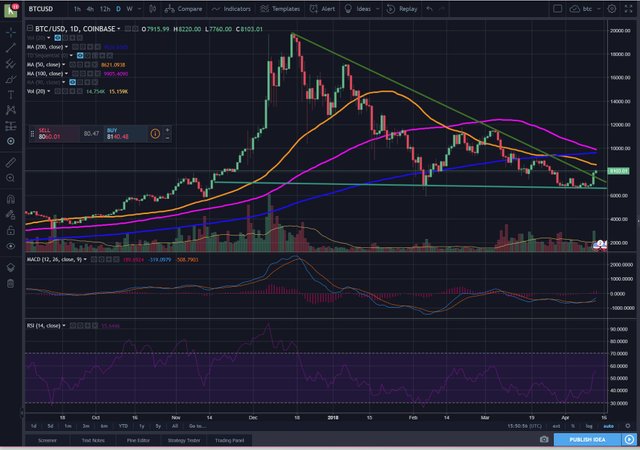 Other currencies look similar. For example ETH also just broke out of a short term downtrend as well. And so look many other alt coins including Steem btw.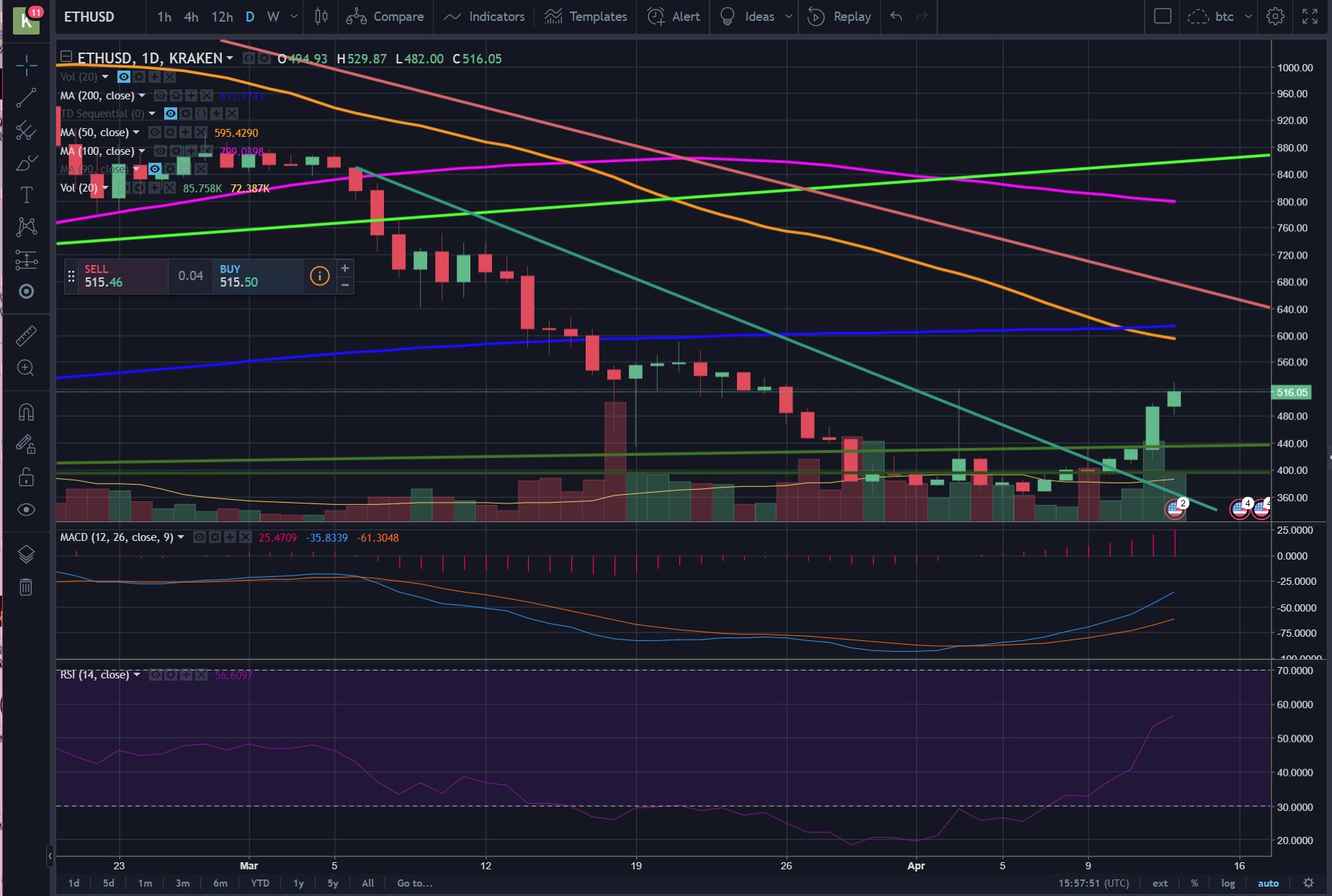 The bear market is over right?
Some people are ready to call this the end of the bear market, like Pantera Capital. My answer to this question is a clear:
Well no. But it may be.
The problem with any market is that we never really know, but I do see two main sceanrios.
Bull Scenario
There are a few things that are really bullish about what just happen. We went from 20k to 6.5k. That is a little less than 70%. We built a bottom really quickly at 6.5 and bounced off it twice.
There is lots of momentum and lots of "Big Money" on the sideline ready to enter the market.
Given this I see a possibility that the bear market is over and we are now going to rally after breaking the downtrend, break thru the 12k resistance and then 20k and then moon.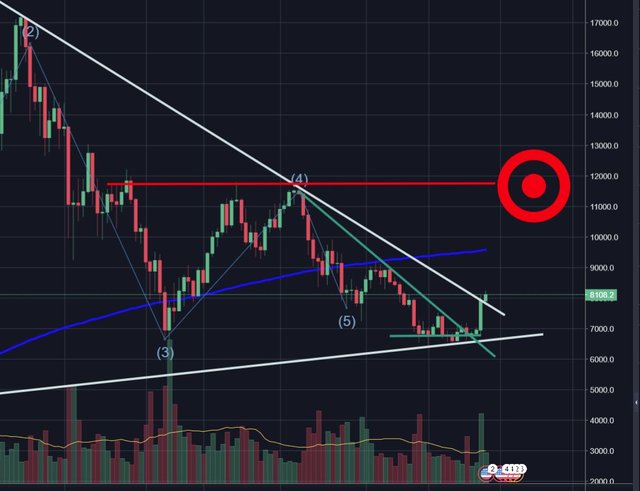 The bear Scenario
On the other hand this just like we had it happen in 2014. We are seeing a trap forming.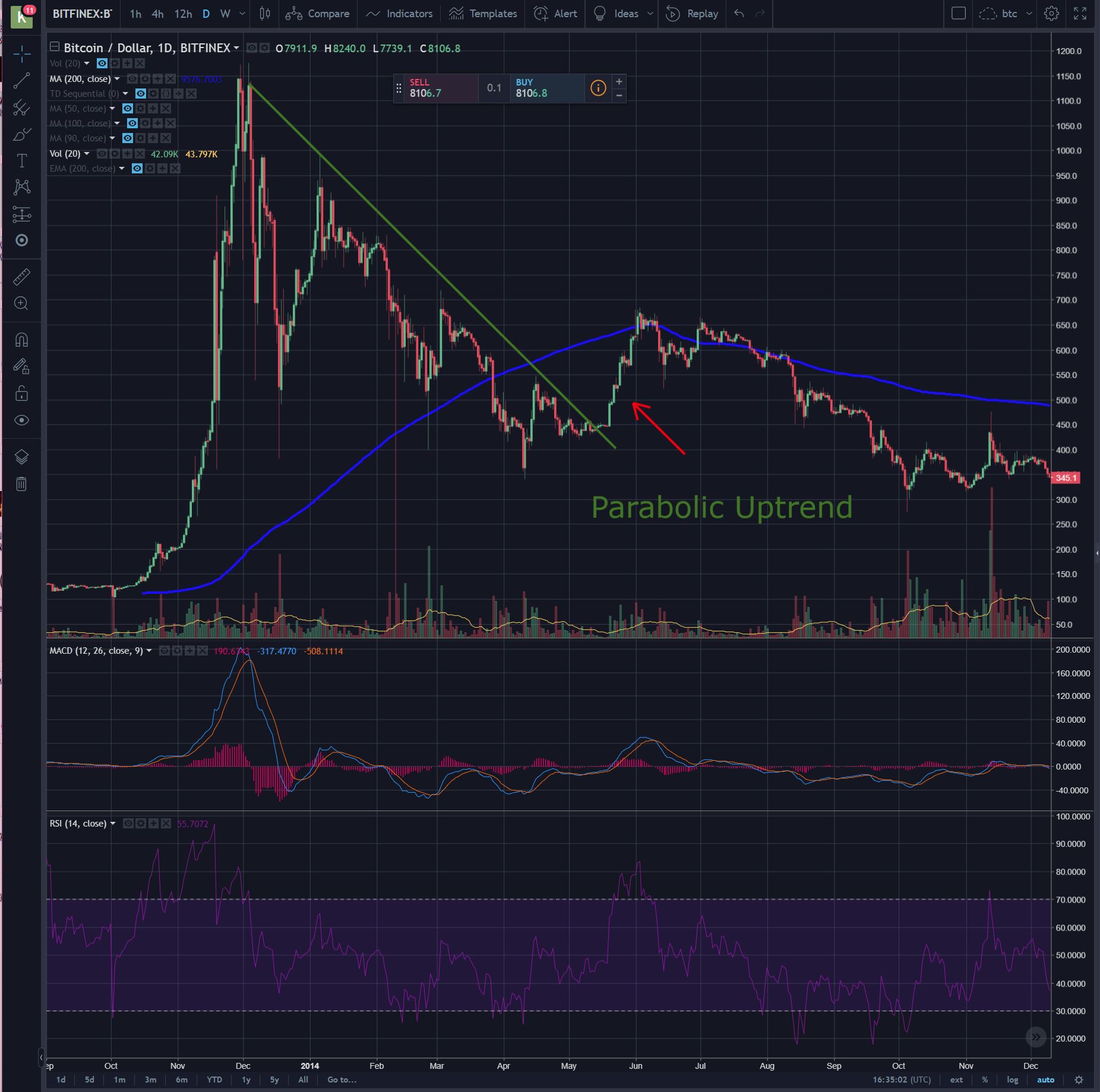 So just because we have super strong rally over the last few hours and even if we get up all the way to 12k, does not mean we are in for further crashes all the way down to 6k, 3k, 2.5k or 1.3k. These are all possible targets that still may get hit before we get back towards 20k, which we won't see anymore this year.
So who is going to win
To be honest it feels very much like 2014 to me. I was in that market and it was very painful. And it feels like that again. I personally don't trust that all is peachy now. I remember the pain and we have seen nothing like that yet.
However fundamentally we are also very strong, much stronger than in 2014. Interestingly the price is about 10x higher than at the same time in 2014. I do however believe that awareness, infrastructure and everything else has grown way more than 10x. As such it feels like prices are not too crazy and in fact cheap. I.e. think about how many of your friends owned crypto currency back then vs today. Is the multiplier more than 10? This can very quickly turn things around and move the market up like crazy very quickly.
But I believe that the market cycles tends do its things independently from fundamentals in the short term. As such while the space is growing it is possible that we are still experiencing a bear market that will bring us down much further.
So what to do when I sold all my BTC and have cash now
The thing is we must play this game in a way that we do not bet on only one particular outcome as we would most likely be wrong when predicting the same.
Instead we need to have a strategy that works in various cases.
As such I would not want to be out of btc completely at this time. I would want to be in but be cautious. I very clearly see the short term strength of the market and the bull scenario is in play, supported by strong fundamentals. I expect a run towards 9k and then 12k. This I would like to be part of. So right now, given we just broke a downtrend is actually a decent place to pick up some btc.
I would then want to be very careful around 12k, maybe sell at that point and also be very reactive if we fall off 9k as well.
Then again, if we break thru the resistance band around the 12k mark I would also be long again.
I am a general optimist and bull
In general I believe in the technology and think that long term we are going to go very far. As such I tend to lean towards the bull case and am most worried about missing the runs. In other words if BTC hits 30k and I would sit on cash that would be a much worse outcome then bitcoin at 2k and sitting on a bunch of bitcoins in my book. But that is a personal preference. If security is important to you, that view probably does not make much sense. In general losing the same amount of money hurts much more and gaining the same feels good. Much much more.
The thing is, to me it is soo much more likely to gain 10x then lose 1x. And as a result some of the pain has to just be acceptable.
So what to do:
As such I would want to be in this market at this time. Looking to exit around 12k and re-enter above that or when we hit the next bottom.
Likewise if I am already long I would look for short positions or sell opportunity around 12k and potentially 9k.
Bounty: 5 Steem for your game plan
What would you do if you had sold all your coins and are sitting on cash today. What is your ling term objective and how are you going to get there.
Support our witness
Thank you very much for your attention and we hope you will vote for us as witness!
In order to do so you can go to:
https://steemit.com/~witnesses
And enter the "steem-bounty" account into the text field and click vote.


Or use steem-connect to vote directly for us as Steem witness!