What was the confirmation, you ask? Look below to the magical yellow highlighted rectangle for the answer!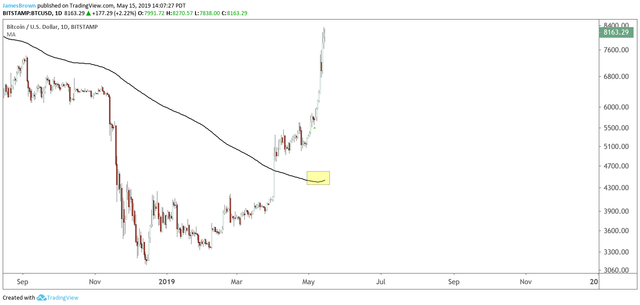 https://www.tradingview.com/x/FIdLCiae/
I rest my case. Thanks for your time :)
....
Just kidding, I'm aware (somewhat) that I haven't provided enough information for you to have any clue what my neurotic mind is getting so giddy over (neither does it, join the crowd).
Man, do I have a funny story for you,
...
...erm...right, well...anyway, the black line on that chart (way up there above all the red ink) represents a very important value - the 200 day average price of bitcoin (BTC). If you look really closely at that image (click on the link for less eye strain), you'll notice that this 200 day Simple Moving Average (200 SMA) has started to ascend!
So what?
More like "so why?", if you'll excuse my criticism.
The why is simple. Because, while the majority of market participants are concerned mostly (typically only) with where price has gone in the last few days compared to where it was like a week ago, the smart fellers (commonly referred to as "smart money" among the aristocrats and "professional traders") are far more concerned with where the price average is heading, particularly longer look-back averages like the 100 and 200 day(s). While the former crowd might define a bull-market as merely an uptrend in price over consecutive days, perhaps on the order of many days to a few weeks, the latter tend to be wiser to the importance of having "confirmation" from a long look-back moving average like the 200 SMA.
In fact, many of the richest and smartest among that smart money group will not even consider buying a stock or asset UNTIL the 200 SMA (or some other relatively high look-back average) turns positive, because they're well aware of the real (statistically significant) predictive power they hold in regards to signaling where price is likely to head in the future, typically on the order of the next couple of quarters (6 months) to years. Yes, something as simple as what direction the 200 SMA is heading can be enough to determine whether billions of dollars in extra investments come into an asset.
Seeing as an ascending 200 SMA is perhaps THE BULLISH SIGNAL, of ALL bullish signals, both as it comes to moving average confirmations and just bullish confirmations, in general, there's very good reason to believe that "big money" (high net worth investors and investing institutions) is now on alert, looking for logical prices to enter on BTC, if they aren't already in on it.
Now, on to the "so what?"
First, I'll provide you a more zoomed out look at that same chart (logarithmic chart, btw), with the same 200 SMA, for a little more perspective: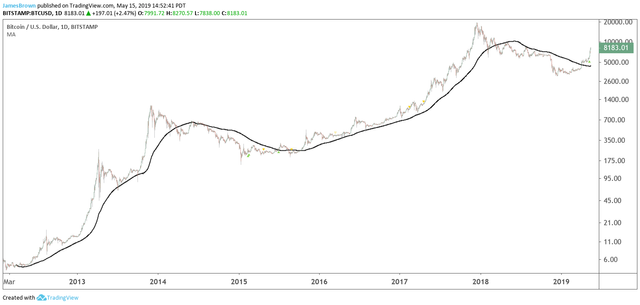 https://www.tradingview.com/x/SPJAv94z/
Smart money happens to also be the big money players, the guys who can move markets many percent on a single buy order. It's no coincidence that the big bursts in price appreciation happen at moments when the 200 SMA turns over from negative (descending) to positive (ascending), as has already happened twice until this occurrence (now three times), and doubly when price nears an ascending 200 SMA (that is smart money "buying the dips"). These are the guys that you want to be on your side and they are now, many of them, perhaps most of them, likely to be on the side of the bulls. Hopefully, that's your team at the moment.
Exciting times fro pro-bitcoiners!
Oh, and also
Even if I have correctly predicted that big money is now bullish on BTC, it doesn't necessarily mean that BTC won't experience dips in price in the short-term. In fact, I'd expect a relatively large correction from the current price before they'd consider making big buys, as the historical data (that the smart money analyzes to the point of losing most of their hairs, no doubt) indicates that assets which appreciate to the degree that BTC has in the past few weeks essentially must give back a large percentage of those profits, particularly with as little pull-back as has happened during the majority of this uptrend, so the odds rest firmly on the side that they'll get a good dip in the not-so-distant future to buy in at a much more attractive price point (my guess would be at least as low as the $6K's, but it's tough to say without having some indication of where the short-term top will be).
The 200 SMA holds value here, too, as big institutional buyers and the like tend to see more and more value in a potential long (buy) position, the closer it approaches this moving average (assuming that it's ascending). As alluded earlier, this is their "buy the dip" in an uptrend opportunity, and I feel like many of them, likely more than most of us would suspect, are going to jump on it.
The next few months might very well mark the last time that we'll ever see BTC's price below $8K, or $9 to $20K for that matter!
Also, also
I am NOT a financial advisor. Don't be a weak, mindless fool. Take responsibility for your own trading and/or investment decisions. Thanks and have a good day :)