SUMMARY
On BitcoinLive; daily Crypto updates are made available while also, on demand analysis requests are fast filled. Join us as we have now opened up monthly and quarterly subscriptions. Use this link: https://bitcoin.live?aid=110. Below is an excerpt of a recent Bitcoin analysis.
The Benner cycle was explained in detail on this Steemit post. It explained in detail the 8, 9, 10 year cycle highs as shown in the below chart:


The video posted on BitcoinLive has tons more detail and this chart is only an excerpt. The long term trendline of Bitcoin couples well with the soon to begin 9 year Benner Cycle bull market climb which is projected to start at end of 2018. Peak to peak; 2017 to 2026 equals 9 years. The below chart uses a Semi-Log chart and extrapolates the annual price points. The year 2026; the end year of the 9 year bull market shows $15,422,090. From $20k high to $15 Mil; how different is this following the exact same trendline from $0.42 to $20k? These dollar values are measured on the trendline and is more likely that actual prices will be ABOVE the trendline. At what price do you think STEEM and SBD will be in 2 years or 9 years? Precisely! Be Long Term GREEDY!!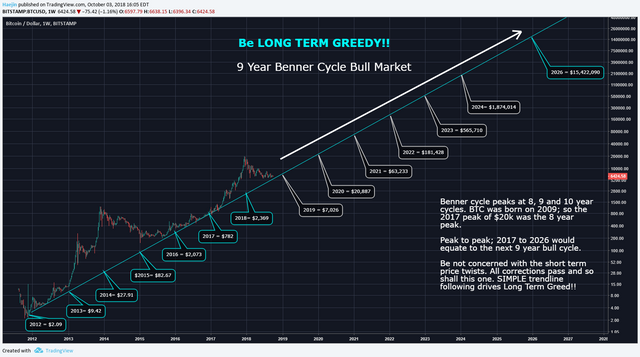 Fractals and Elliott Waves and Cycles ALL JIVE: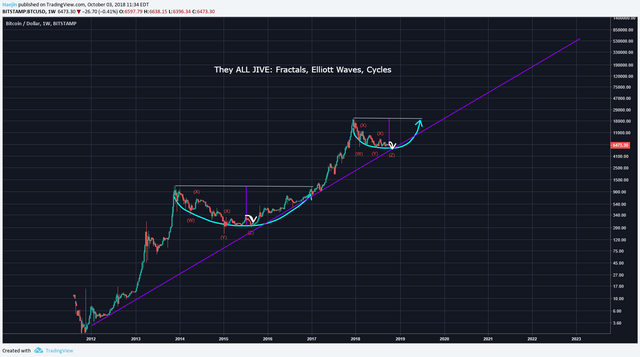 Legal Disclaimer: I am not a financial advisor nor is any content in this article presented as financial advice. The information provided in this blog post and any other posts that I make and any accompanying material is for informational purposes only. It should not be considered financial or investment advice of any kind. One should consult with a financial or investment professional to determine what may be best for your individual needs. Plain English: This is only my opinion, make of it what you wish. What does this mean? It means it's not advice nor recommendation to either buy or sell anything! It's only meant for use as informative or entertainment purposes.