The TRUTH about Roger Ver, Bitcoin and BCH (and why you and your $ should stay away)
Most of this post is me organizing known events, statements and actions with links/pictures/articles that will help you to dig deeper into a certain topic. I may express my opinion on something, but I wrote this to give you information, what you do with that info is up to you.
I will continue adding more references and links.
Thank you all for taking the time to read this, please share.
If you have been around crypto for even a couple months, then you have likely heard the name Roger Ver at some point. He is currently the face of BCH (Bitcoin Cash/Bcash). Previously, he had been the face of Bitcoin XT and Bitcoin Classic.
Chances are, however, that you have no idea of just what a masterful con-man he is. He keeps trying to come up with sophisticated ways to trick you into making bad trades for his personal gain.
I do not generally 'bash' people online, but when someone is attempting to bring down Bitcoin at the financial expense of almost everyone involved in crypto, it becomes a no-brainer to spotlight exactly what is going on.
This is a long con and one that he has attempted before, but this time around he has really connected some networking dots with some of the deepest pockets.
These include John McAfee, Calvin Ayre, Erik Voorhees, Jihan Wu and Brian Armstrong (Coinbase).
Before we get into all that, it is really important for us to understand Roger Ver and his intentions, so let us take a minute to go over the history of Roger Ver.
He was born in San Jose, California.
2000 Runs for California State Assembly as a Libertarian
2002 He plead guilty to selling and mailing explosives, he was sentenced to 10 months in Federal prison.
"The sentence was handed down by U.S. District Court Judge Jeremy Fogel following a guilty plea on one count of dealing in explosives without a license in violation of Title 18, United States Code, Section 842(a)(1); one count of illegally storing explosives in violation of Title 18, United States Code, Section 842(j); and one count of mailing injurious articles in violation Title 18, United States Code, Section 1716."
"According to the information and plea agreement, Mr. Ver sold explosive devices described as "Pest Control Report 2000" on the online auction site eBay. He purchased approximately 49 pounds of the devices from a supplier in South Carolina, and sold at least 14 pounds of the devices to bidders on eBay. While engaging in the business of selling explosive devices, Mr. Ver stored the explosives in a residential apartment building and mailed the devices via the United States Mail in a manner contrary to Postal Service regulations. Judge Fogel sentenced the Defendant to 10 months in federal prison, a fine of $2,000, as well as a three-year period of supervised release. The Defendant will begin serving the sentence on August 2, 2002."
https://www.justice.gov/archive/criminal/cybercrime/press-releases/2002/verPlea.htm
2005 moved to Japan
2013 Seven months before Mt.Gox collapsed with 750,000 Bitcoins he read from a script in Mt. Gox headquarters saying everything was fine.
https://www.youtube.com/watch?time_continue=9&v=UP1YsMlrfF0
2014 He denounced his United States citizenship.
2014 He acquired Bitcoin.com (he also has 'control' of reddit/btc, a quick browse of the thread subject titles will give you a glimpse into the brainwashing attempts, any positive threads about the REAL Bitcoin are promptly removed. https://www.reddit.com/r/btc/ )
Both are used as a way to legitimize his manipulation.
2014 Roger Ver holds between 400,000-450,000 bitcoins, acquired from his buisness that accepted bitcoin payments.
2015 Roger Ver's first attempt to co-opt Bitcoin is when he started Bitcoin XT, using blocksize arguments to try to trick people. It failed.

2016 Roger Ver's next attempt to manipulate the crypto market for personal gain with Bitcoin Classic. Fails.
2017 Roger Ver forks Bitcoin, creating BCH, this time with a much more complex plan. He joins forces with Calvin Ayre, currently with U.S. warrants out for his arrest. Calvin, has run a poker/gambling website, and someone I have been familiar with for a long time. They have been 'plotting the death of Bitcoin'.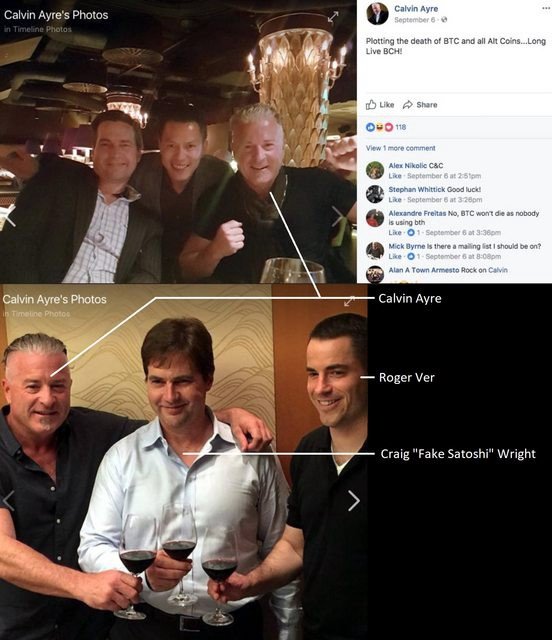 (photo credit: Hacker Noon)
Roger Ver's known Reddit username is MemoryDealers. Here is a quoted post of his from 4 months a go.
"I've been talking with two other very large holding friends about a joint effort.
I think the next steps are:
1: Full Bitcoin Cash support by the Bitcoin.com Wallet. (Support coming very soon)
2: Mining profitability being similar. (This will happen after about 600 more blocks)
After those two things happen, it will become much easier for whales to feel safe about pushing the price / mining profitability around a bit."
This is him setting everything up to manipulate us. He manipulated mining profitability, he manipulated demand all ultimately trying to manipulate perception.
Here is a link to a detailed post about that, https://steemit.com/bitcoin/@daut44/roger-ver-planning-to-collude-with-two-whales-to-pump-bch
Roger Ver and the Owner of Coinbase Brian Armstrong are friends. Make no mistake, Brian is on board with Roger in coming up with ways to make money off of all the people forced to use his company, Coinbase, to buy crypto.
On Twitter:
@brian_armstrong
"I'd like to upgrade to code which will increase the block size in December, following Scaling Bitcoin conf w/ others"
4:12 PM - Oct 12, 2015
@brian_armstrong
Coinbase is now running BitcoinXT (BIP101) in production as an experiment, blog post w more details coming soon 4:07 PM - Dec 26, 2015
The whole situation with the BCH listing on coinbase was planned for months, but the hustle started years ago, the above talking about Roger Ver's Bitcoin fork at the time, called Bitcoin XT. This should make you sick. They have been working together since at least 2015 in tricking you into making choices off of misinformation. No doubt in my mind Roger Ver got the best of Brian Armstrong, as he is not directly attached to anything, and Brian is now facing a shit storm created from the obvious insider trading that went on, and he may not come out unscathed when all is said and done.
Pic at the top of the thread shows Brian's feelings toward BCH. A quick google search will show you more.
https://www.reddit.com/r/btc/comments/7ckcan/coinbase_ceo_dropping_some_not_so_subtle_hints/
Roger Ver also owns Bitcoin.com and is savagely misleading the public into thinking Bitcoin Cash is Bitcoin(this is why he hates it being called Bcash, because it can not stand on it's own legs).
Roger admits on the video below that there is nothing wrong with pumping up prices to draw miners in, but the issue with it is that it is he is only doing it to manipulate Bitcoin prices, so he can trick the public into buying and selling.
He is a big investor in hitBTC/antpool, and those miners are the ones that you see supporting BCH everywhere, being aggressive and spreading lies(like Russia and the 2016 U.S. election all over again).
Forbes Magazine: "The last wild card is how Bitcoin Cash could affect this fork. It has 8MB blocks, no SegWit, and two of the most notorious big blockers, Ver, one of the richest Bitcoin hodlers, and Jihan Wu, the CEO of mining manufacturer Bitmain and pool operator Antpool, already promoting it."
https://www.forbes.com/sites/laurashin/2017/10/23/will-this-battle-for-the-soul-of-bitcoin-destroy-it/
When BCH forked from BTC, Roger and the miners planned to act like no one was going to mine BCH, they did this so they could buy up everyone who started dumping because they thought the project was a no-go. This is how he filled his war chests, when the miners started mining, and everyone started buying back in, he was there to dump the shares on them.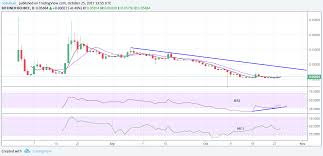 (Note on the graph the initial movement lower, that was the preplanned FUD of Antpool not mining BCH when the fork occured. Next, where it bottoms out, this is where Roger Ver & Antpool accumulated massive amounts of $BCH. Then, the price shoots up as Antpool turns it power towards $BCH. At this point, all the cheaply bought shares, are sold back to the investors/suckers. TENS OF MILLIONS OF DOLLARS WE'RE PROFITED IN THAT MOVE. Then we see a long gradual decline, as the remainder of the coins are sold off and other investors start to lose interest in the project, because unless they are in the inner circle, they did not know the process would repeat with the coinbase announcement. Which it did.)
It was also planned between Roger Ver and Brian Armstrong that BCH would not be 'listed' right away after the fork on Coinbase. This was to create uncertainty. In the days/weeks leading up to the fork, Coinbase manipulated its customers several times with contradictory statements, some sent hours a part. All part of the plan.
"I received an email at 3:34pm today (same day) from Coinbase saying this:
Bitcoin Segwit2x
The Bitcoin Segwit2x fork is projected to take place on November 16th and will result in two bitcoin blockchains. Following the fork, Coinbase will continue referring to the current bitcoin blockchain as Bitcoin and the forked blockchain as Bitcoin2x.
This blog post is not a clarification, it's a contradiction to a customer communication you sent 3 hours earlier. Both have influenced the market, the first to the positive and the second to the negative. They both have "informed" (more like misinformed) your customers' investment decisions.
What is going on with your management? Who's in control of the communications?" Response on Coinbase blog post by a Coinbase customer. https://blog.coinbase.com/clarification-on-the-upcoming-segwit2x-fork-d3c0f545c3e0
https://twitter.com/brian_armstrong/status/922994512384761856
Prior to the coinbase $BCH listing announcement, there was a massive increase in volume and buys, and the price was pushed up significantly.
The following day, Roger on CNBC tells the World:
"VER: I THINK INSIDER TRADING IS A NON-CRIME. IF YOU LOOK AT IT, LET'S SAY A BUNCH OF PEOPLE HAD TRADED IN ADVANCE, THEN THE PRICE WOULDN'T HAVE BEEN SO VOLATILE, AND THE PRICE WOULD ALREADY MUCH MORE CLOSELY REFLECT THE PRICE AFTER THE NEWS BECAME PUBLIC. NO, I DON'T THINK THAT SHOULD BE AN EXCUSE FOR ADDITIONAL REGULATION ON THE BITCOIN EXCHANGES. "
https://www.cnbc.com/2017/12/20/cnbc-transcript-bitcoin-com-ceo-roger-ver--bitcoin-jesus--talks-bitcoin-cash-with-cnbcs-fast-money-today.html
Brian Armstrong came out publicly and said he will be investigating this and he also tweeted that he told all of his employees to not make any trades with $BCH for weeks leading up to the announcement.
I would not be surprised if that is true and no Coinbase employees contributed to the volume and price increase of $BCH. Instead, it was his buddy Roger Ver and Antpool miners who were the culprits.
Almost for sure verified by Roger Ver himself as he tweeted the next day a couple quotes from economists saying insider trading is a good thing and we should want it. Pure insanity in my opinion.
https://twitter.com/rogerkver/status/943635857126445056
#CNBC also was used in the plan, as Roger Ver used his guest appearances and got the host on board, as detailed by this write-up.
http://bitcoinist.com/cnbc-collusion-roger-ver-bcash/
This was all planned from BEFORE the fork ever happened. From his previous failed attempts, he knew exactly how to manipulate the masses, by using his buddy Brian Armstrong, his influence at Antpool mining and his network of websites.
Roger Ver does not have to pay schills, and I believe he hasn't, because the schills were created by the Antpool miners having a significant financial interest in it suceeding.
This is a recent video of Roger Ver 'debating' John Carvalho about the real Bitcoin. It is long but necessary for EVERY person to watch so you understand what is going on in the crypto world. Notice everytime he gets asked a question that he knows will be bad for his con, he quickly changes the subject, or gets loud and berates. In this regard, he acts very much like President Trump, changing the subject, gas-lighting and repeating the same lies. I am sure he suffers from NPD (Narcissistic Personality Disorder). Like PTSD, a traumatic event causes rewired brains in people with NPD. Everyone with NPD exhibit most of the same responses to similar situations.
Here is a NPD picture which goes into detail of the 'signs and symptoms'.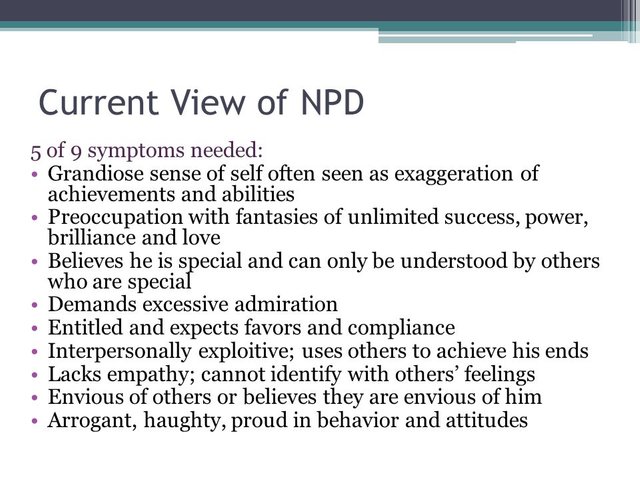 (photo credit: SlidePlayer)
So as you watch this, knowing now that he may not even be capable of empathy or feeling bad for doing something wrong to you, do not just listen to what he is saying, watch how he is saying it and then wonder why.
Dig deeper, learn more and protect your money from the exact type of person Bitcoin was created to keep us away from!
I hope you find this informative.
As I find more relevant articles/links, I will share them here:
https://decentralize.today/roger-ver-lies-f5333e152858
https://twitter.com/notgrubles/status/842826844311375872
"Yes. I mine whichever version of Bitcoin is most profitable and then convert them into Bitcoin Cash because it is the most useful version." Roger Ver on Reddit (MemoryDealer) on 12/7/17
https://www.reddit.com/r/Bitcoincash/comments/7i6cmi/is_roger_ver_mining_btc_now/
"The only reason why Bcash was created was to reinstate Asic Boost because Segwit disabled it. Asic Boost gave the Chinese Bitmain company a competitive advantage in Mining Hardware.
That is the only reason why bcash exist."
https://www.reddit.com/r/Bitcoin/comments/7kxhsc/roger_ver_is_in_the_pockets_of_chinese_hardware/
https://deeponion.org/community/threads/here-is-the-truth-about-the-bitcoin-cash-pump-and-the-segwit2x-cancellation.9142/
"Roger Ver and Brian Armstrong criticise censorship on Reddit" http://www.coinfox.info/news/6058-rodzher-ver-i-brajen-armstrong-kritikuyut-tsenzuru-na-reddit-2
"MGT Capital Investments, a New York-based investment firm led by John McAfee.........Beyond claims of its expansion and processing turnover, MGT quickly garnered attention following launch of the mining operation by appointing two prominent figures from the Bitcoin space in Erik Voorhees and Roger Ver. Just under a month ago, Vorhees joined MGT in an advisory role while Ver got on board as the Advisory Board Chairman."
https://www.ccn.com/john-mcafee-led-mgt-capital-mining-90-bitcoins-month/
Follow me on twitter @gank for more crypto insights.