Hello friends.
Some people know me here as a photo spammer :), but my photo collection is already finished, although soon I hope there will be amazing photos from my trip to the jungle, but so far I have not realized it and decided to make something useful and did a script for scan BTC addresses with big amounts
I wondered how the whales who have thousands of BTC in the wallets behave,
how do they react when BTC market falls?
After all, many of them have not lost, but multiplied their capital over the years, so it will be logical to act as they do
Now I want to share with you my observations of BTC wallets of huge BTC whales.
For this, we scaning the blockchain to find BTC addresses with big amounts, then remove the known cold storage addresses of exchanges. So far I've only found Bitfinex and Binance in public access. Perhaps you know some more cold storage addresses of big BTC markets, welcome to the comments.
Let's first look at the weekly statistics for 1000+ BTC holders. Green columns are mean wallets fill, and tomato - withdrawals. The number in the column is total amount of transactions in BTC per day.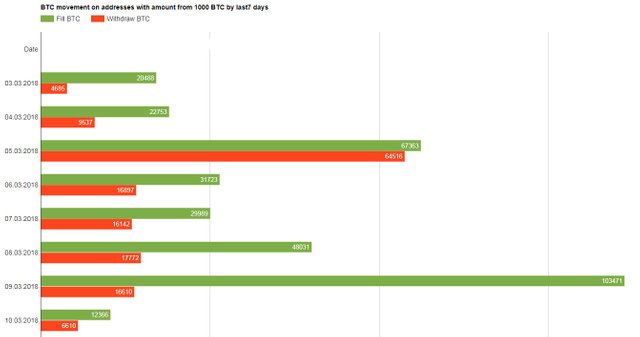 Here the volume of trading on 5 and 9 March was distinctly more than in other days.
Ok, but how did huge whales (10,000+ BTC capital) behave in such moments?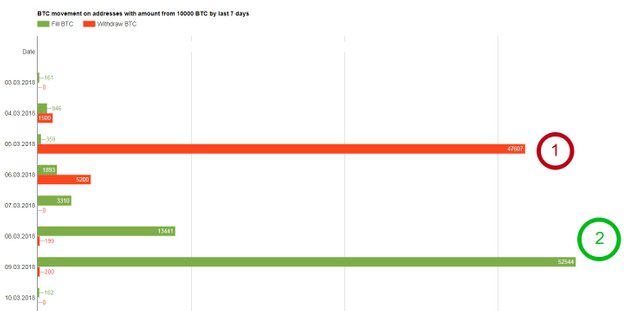 Here the picture is more clear, at
point 1
(March 5) they sold, and
point 2
(March 9) they bought or as some people say "sheared hamsters" when the price dramaticaly fell. Surely, many of them received signals and began to actively sell.
Let's see the chart of the Bitfinex exchange.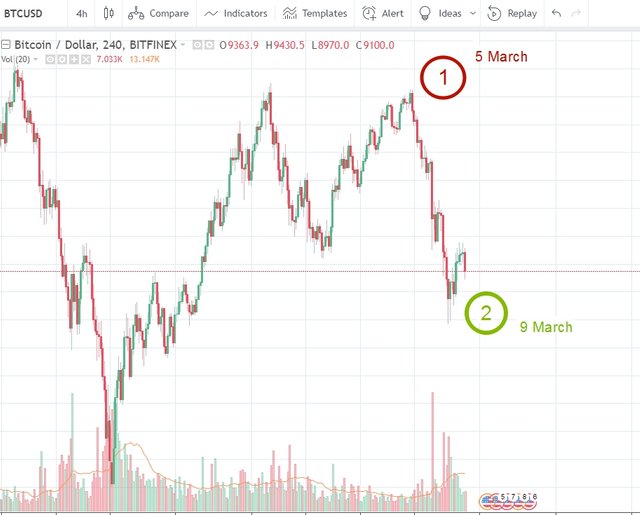 The price of BTC rose slightly,
but volumes
of trades on March 9 ($ 8,704,190,000) were 27% higher than March 5 (6,468,540,000 $), this suggests that many people in the panic continued to drain thousands of BTC, while whales at the time were buying. Perhaps they know something and continue to buy a lot, when market is totaly falling?
Let's see what happens in the cold storage addresses of Bitfinex and Binance exchanges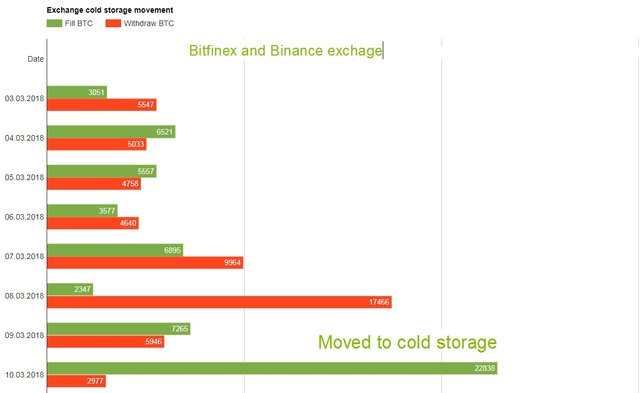 I noticed that the exchanges are beginning to transfer large volumes to their cold wallets, thereby removing BTC from the market and increasing demand, it can positively affect the price of BTC. Or, perhaps, they want to move BTC from hot wallets away from hackers, these entities have become very active last time.
In my opinion, it's good to plan selling when the BTC mass withdrawal occurs from whale accounts. For confirmation, you can read hot news (primary in Twitter) and watch the stacks in the big volume exchanges.
I have to repeat, this is my opinion and I do not take into account many factors. For example, not all BTC coin going to trades, and some transactions are involved in mutual settlements. Also, big players can place pending orders wich can handle in 1-2 days and crash the market. But I'm still interested in the next stage, I plan to trace all big transactions to exchanges and identify the most promising addresses, which in retrospect show the greatest profit.
Stay in touch.