Hi all!
Got my Skyminer running for 2 months! You can see my build in this 2 posts:
https://steemit.com/cryptocurrency/@cryptoraspberry/quick-look-into-skyminer-on-a-raspberry-pi-1b
https://steemit.com/crypto/@cryptoraspberry/skyminer-node2-headless-pi-installation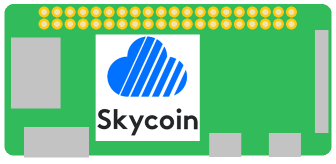 I already got paid for 2 months (January and February).
This are the rewards:
| Rewards | Skycoin ($1.13) | Dollar |
| --- | --- | --- |
| January | 5.734 | $6.48 |
| February | 5.793 | $6.54 |
| Total | 11.527 | $13.02 |
So i only invest in 2 Raspberry Pi's to achieve the rewards. For me there was no real investment because i had the Pi's already lying around. Whit this great rewards i hoped that i had more Pi's lying around! It is a nice amount of coins and in dollars also very good. I gonna read more about Skycoin and there Skyminers because when this goes on the whole year i really want more nodes! In the 2 months the nodes where running without any problems. I never have to do something.
Sometimes i check the web interface to see they are still running.
This 2 nodes gives me more profit than all my staking Pi's together. The best part is that you don't have to invest in coins before you can get rewards!
Do you have a Skyminer node? So no are you planning?!