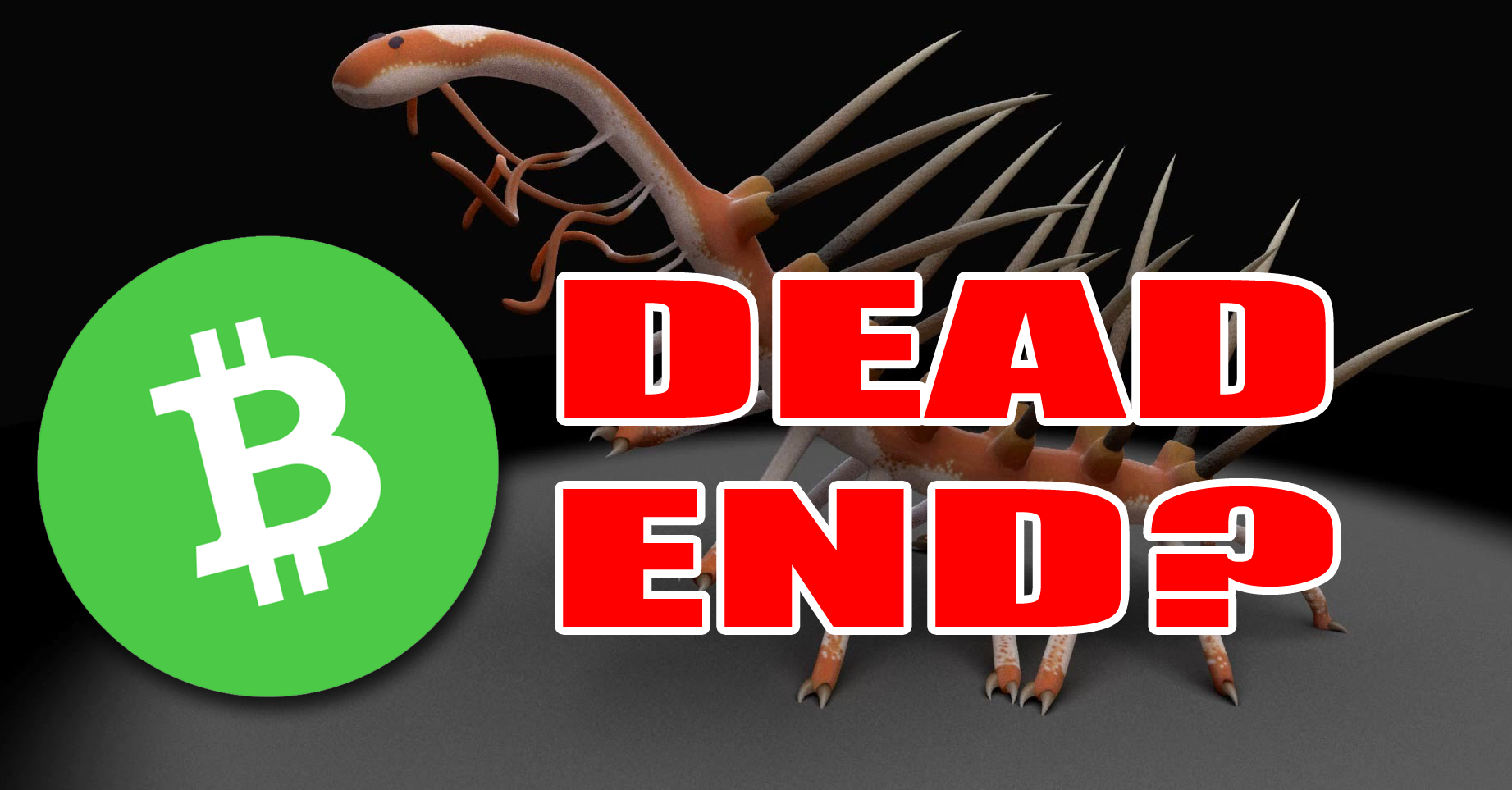 Hello my fellow Steemians and Crypto Investors,
As you likely heard by now Bitcoin Cash will be forking again on May 15. There will be several changes introduced but the most notable one will be an increase of the maximum blocksize to 32 Megabytes.
In the meantime, the Lightning Network, Bitcoin's second layer scalability solution, continues to grow and mature
These developments beg the question: Which of these solutions will win in the long run? Billions, possibly trillions of dollars of investors' money, some of those yours, are depending on the answer to this question.
Crypto is evolutionary
I very much like Andreas Antonopoulos's way of thinking about crypto developments. He compares them to biological evolution, which makes a lot of sense because, after all, crypto developers are human, essentially biological machines that continuously try to improve on their creations by branching out different solutions to the problems the real world throws at them.
Most of these solutions die out, never make it in the real world (see this process in action at Github), but the good ones remain, they get attacked and become stronger, just like it has been happening with biological evolution for billions of years on earth.
Is Bitcoin Cash (Big Block solution) an evolutionary dead-end?
I believe so and here's the simple, fundamental reason why:
Handling 24,000 transactions per second, like the Visa network does today, through a big blocks solution would require huge 3.4 Gigabyte blocks to be transmitted over slow internet connections, such as those behind China's firewall, or in the rural locations close to cheap electricity where most mining happens, in much less than 10 minutes. That's simply not possible...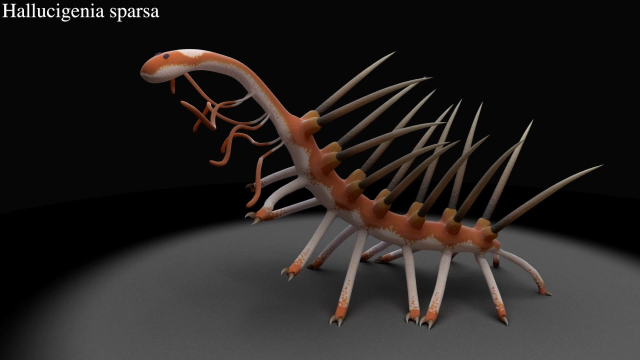 Hallucigenia, an evolutionary dead end. A prehistoric worm with a shape so incredible that scientists named it after an acid induced hallucination. It played in interesting part in the history of life on earth but it's no longer around...
See the problem? The blockchain would become so bloated and big that only big companies would be able to store it and transmit blocks in time via superfast and ultra-expensive fiber optic connections. For this, they would need very costly, highly centralized datacenters, easy to take down by governments or other bad actors. Mining from space, one of Bitcoin's greatest survival strengths, would also become impossible with such big blocks.
Why I believe second layer solutions such as Lightning Network are the answer
It has already happened before! Remember when the internet was running out of ip addresses and many reputable computer scientists were predicting it couldn't possibly scale? Well, Network Address Translation (NAT), a second layer solution you are using on your home router right now, came to the rescue.
Also, the fact that most of the other big blockchains, such as Ethereum, Litecoin and even Ripple, are introducing similar solutions, rather than increasing their block sizes, tells me Second Layer is the future.
Andreas M. Antonopoulos speaking about another evolutionary battle happening in Crypto: Bitcoins vs Ethereum - The Lion and the Shark: Divergent Evolution in Cryptocurrency
I would love to be proven wrong and learn!
I've been wrong so many times in my life I couldn't possibly count them! Every time I have learned a lot from those mistakes. Maybe there's something I'm not seeing in this equation and you can prove me wrong.
I would love that to be the case so that we all learn. Please do share your arguments on favor of Bitcoin Cash in the comments below. I would love to hear them.
Hope you like and resteem this post! Also, please share your experiences with LN.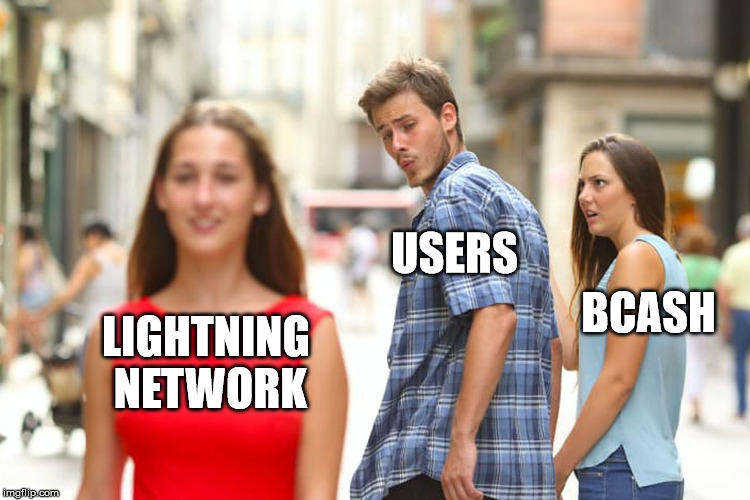 Meme generated at imgflip.com/memegenerator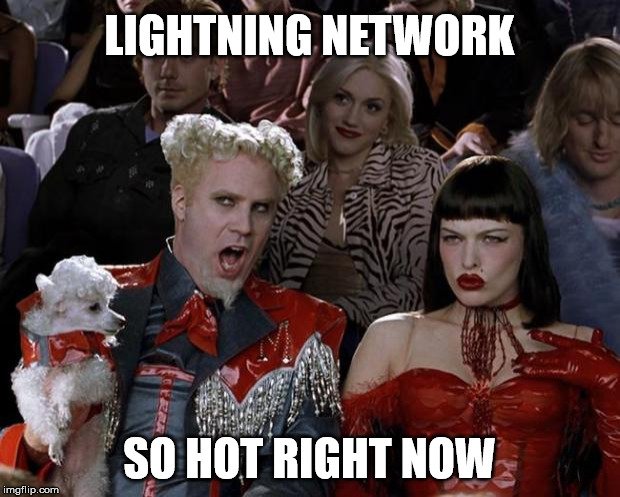 Meme generated at imgflip.com/memegenerator

So, where do you stand on this debate? Do you believe in Second Layer or Big Blocks? Why?
Feel free to share your thoughts on this post with the Steemit community in the comments below!

What have you been doing this crypto winter?
Accumulating patiently like a professional hodler.

Panic selling like a hopeless noob.
If you answered 1, go ahead and download Crypto Millionaire from the link below. This app will help you diversify in a smart way, especially right now that' it's such a good time to buy the millionth of supply of top coins on the cheap.
If you answered 2, sell everything and become a pimp. It's the only way you will be able to keep selling bottoms, haha!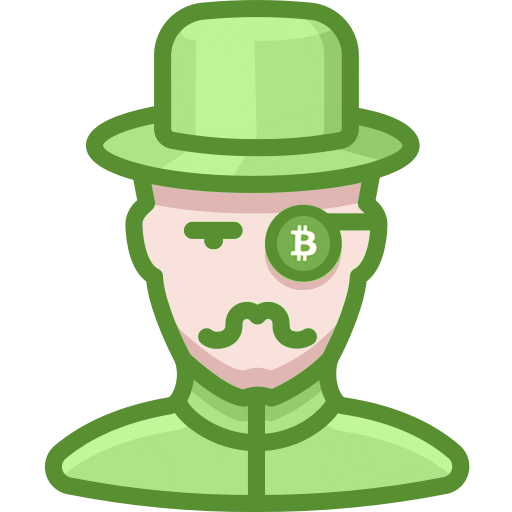 INVEST SMARTLY!
DOWNLOAD CRYPTO MILLIONAIRE from Google Play

CHECK OUT MY PREVIOUS POSTS:
How I'm using Bitcoin's Lightning Network in the real (third) world!
My first experience ever with BITCOINS's LIGHTNING NETWORK – PAINS and GLORY!
Record volumes on Bitcoin Futures, Google Trends spike and AlfaQuotes 87% buy signal
Discover your Crypto Portfolio Score and back it up with latest Crypto Millionaire updates
New Portfolio Diversification Score for Crypto Millionaire!
These new Crypto Millionaire filters will help you find the best ranked value coins
How to bring normies to Steemit in three easy steps
Quantum Doom for Crypto? It's all FUD and here's why
WOW! Crypto investing app hits #4 trending on Google Play Finance! Just below Paypal and Zelle!
"It's Been Dismal" - Gold Coin Sales Slump As 'Bugs' Bounce To Bitcoin
Why China (or governments) can't stop crypto
The case for a million dollar coin! - Cryptocurrency wallet users vs Facebook users. Where are we now?
Don't forget to tell the community what you think of this post in the comments below.
Follow me for updates news and commentary on "sane" crypto investing.
Happy crypto investing!


72