An Interview to Mr. Giancarlo (CFO of Bitfinex and Tether)
An Interview to Mr. Giancarlo (CFO of Bitfinex and Tether)
2018/01/21
LaoMao and his colleagues wrote this interview report.
This Report would be published on LaoMao`s Column on wechat.
Preface
I`m LaoMao (Old Cat), once suspected the proof of reservation of the USDT, and
wrote an article titled "USDT, The Castle on the Sand Dunes?" .I said that
BigONE would not list USDT.
Because of the big price volatility in the market, tradersdemand for fiat currency is also growing. But in BigONE, the only cryptocurrency pegged on fiat currency is BitCNY, whose liquidity depends on the BTSs. It resulted that traders
in the market can`t hedge against fluctuations. This is a huge challenge that we
are facing.
Although many friends have recommended USDT to me before, no substantive
progress has been made due to the lack of information for decision and due to
various negative rumors.
When it comes to January 18th, 2018, I was in Kyoto, and I received a phone call
from Zhao Dong. He said Bitfinex and Tether's CFO, Mr. Giancarlo came to
Japan. There was a party, He hoped me to participate. I hurried back from Kyoto
on the same day, met with them at the party at night. However, due to the large
number of people involved in the night, I just chat with him on a few general
topics, finally we ask each other`s contact information.
To have a deeper understanding of USDT's proof of reservation, I ask
Mr. Giancarlo another talk and he readily agreed. We set the time and arrived
at his hotel. In the hotel lobby bar, we started a deep communication.
Interview:
Time: January 19, 2018 at 2 pm
Location: Park Hyatt Tokyo 41st floor lobby
Giancarlo, a straightforward Italian, started to talk with us, lasting more than 20
minutes with a description of their team and vision.
Detail as follows:
Bitfinex has about 50 people, and the staff number of customer service team
recently has added to 20 or so, Bitfinex has achieved decentralized management,
with staff distributed around the world;

Tether team is not work for making more money. As early bitcoin investors,
they have a sense of responsibility and mission, that the industry should unite to
jointly fight against the monopoly of the traditional financial forces on resources;

Banks from America is trying to block them by various means. They also look
for opportunities for cooperation around the world. To avoid
duress on banks which Tether deposit reservation to, Tether may stop USDT
which peg on US dollar and insteadly start Euro tether, Japan Yen Tether or
other currencies` tether. Due to South Korea's attitude on policy changing
repeatedly, bankers and regulators communicate not very well, the possibility
of building a won tether is very small;

Most of the bankers they met are mostly old men who are totally unable to
understand what is happening in the world. In his opinion, there will be only two
kinds of banks in the future, one is a dead bank and the other is a bank friendly
with fintech, like blockchain.
After that, as a second-hand reporter, I also asked several questions:
Q1: (LaoMao)How do you think about Basecoin?
Mr. Giancarlo: About Basecoin project itself, I do not comment, but their way
for Business Development sound foolish, they come to us to seek
cooperation. They did not start to talk about cooperation, but started an attack
on the USDT itself. Maybe they do not know, USDT is not their competitor. Our
common opponent should be the traditional financial system.
Q2:(LaoMao) How do you expect the future marketcap of a fiat cryptocurrency?
Mr. Giancarlo: As the blockchain asset marketcap is now close to 1 trillion
dollars, I make a forecast that the cap will be over 10 trillion, the demand for
risking off, for arbitration, and for fiat cryptocurrency will always exist. No
matter how the proportion change between fiat cryptocurrency and token of
high volatility. The marketcap of a fiat cryptocurrency will far exceed the current
marketcap.
Q3:(LaoMao): Can you explain the relationship between Tether and Bitfinex?
Mr. Giancarlo: Bitfinex currently holds less than 10% of Tether's stock shares.
Tether's shares have been purchased by multiple platforms. Therefore, Tether
itself does not belong to any platform and is an independent third-party
company.
Q4:(Lao Mao): Including me, there are various doubts about USDT before. What do you think about such voices?
Mr. Giancarlo: Because of Banker's coercion, we have no way of completely
disclosing our bank accounts. I hope you can help us deliver the right message to
everyone and I will invite you to review Our account balances, you will be able to
check our reality and safety.
(This interview was done by me, my assistant and my colleague Mint.)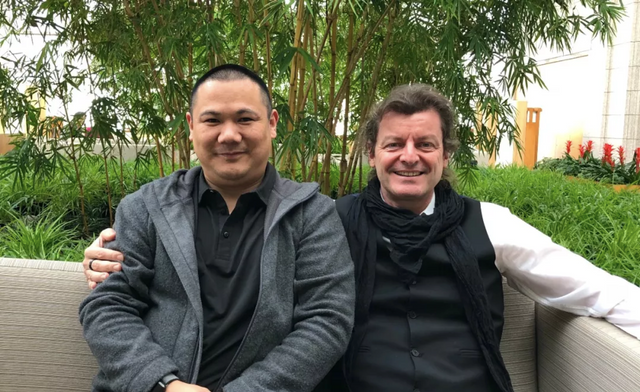 The Gentleman on the right side is Mr. Giancarlo.
After checking the account balances, Zhao Dong broadcast a message on
Wechat.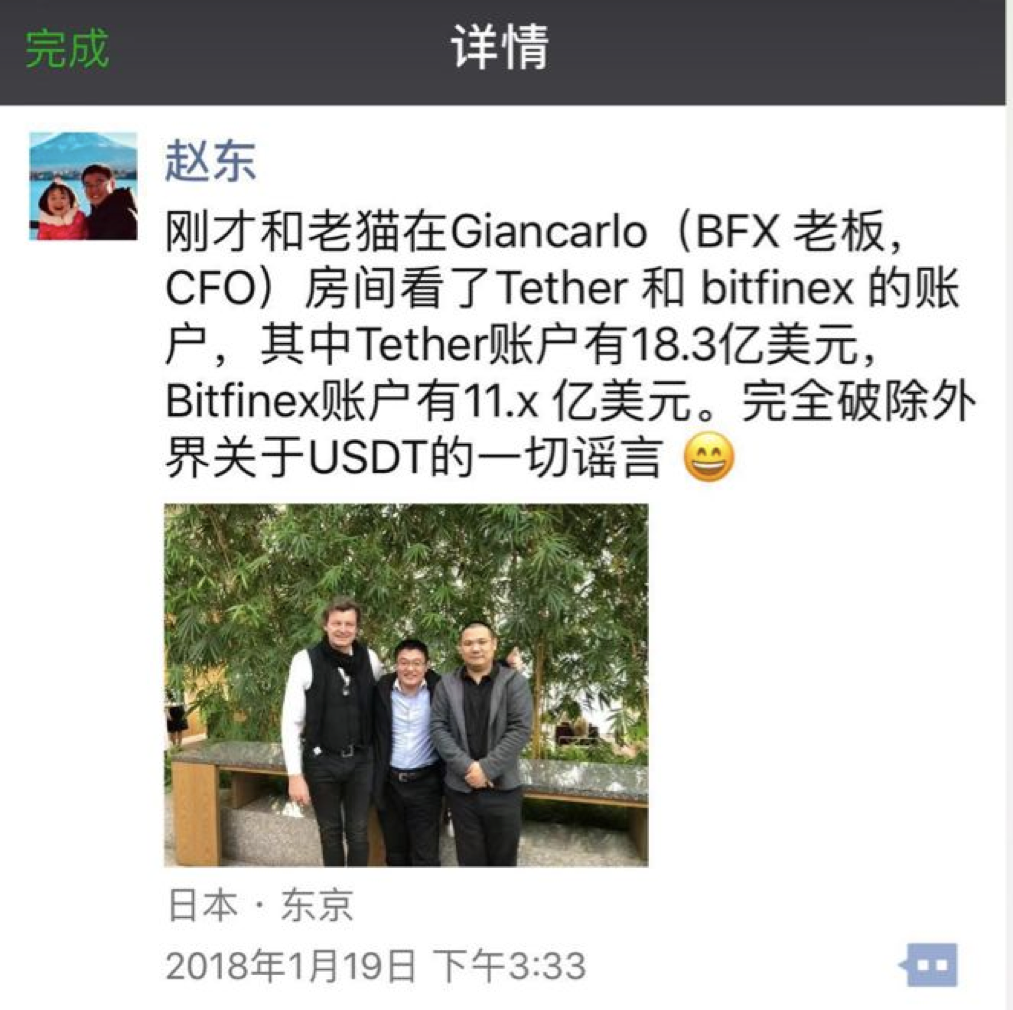 The message written on the broadcast from Zhao Dong:
I just met Mr. Giancarlo (Boss of Bitfinex, CFO) with LaoMao in his workroom.
I checked the balances of account of Tether and Bitfinex. The balance in the Tether`s account is about 1.83 billion USD. The Balance in the Bitfinex is about 1.1x billion USD. The rumors of USDT are all wrong.
Tokyo, Japan
3:33 PM on January 19th, 2018
the picture in the broadcast is as below: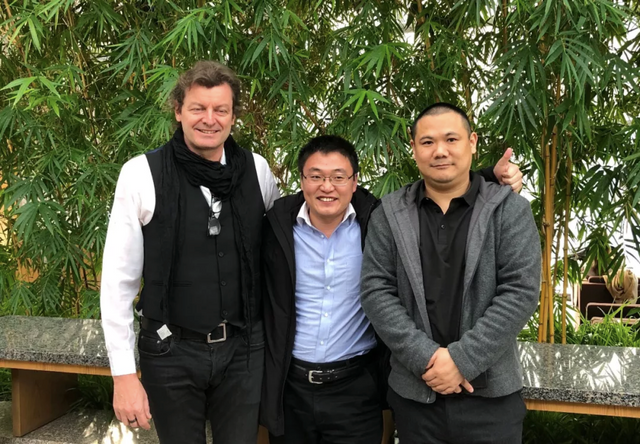 In fact, Zhao and I not only check assets of Tether but also fully understood the operating principles of the Tether system. Even all historical transactions and the fund transfer can be checked in Tether's system at a glance.
So, we trust Tether and USDT.
BigONE list USDT as soon as possible.
Special Note: I do not currently own any USDT, and does not have any
personal interests. The above interviews is to express the correct communication between the two sides as much as possible.