I know what they'll say, that it was my fault. I was just leaning over the railing, like every guy on my floor does, because Claudia has her desk down there and she has the biggest...voice....that resonates so ....sweetly. How was I to know they'd just waxed the railing - and when you lean over, well, a lot, you kind of go over the railing - which would have been okay, but since it was slippery-like I had to reach out for the first thing I saw which was, remarkably, the main tube for the gunky shit that our company makes and since the tube is so weakly made it kind of, well, mostly, broke - all over everywhere. So - CELEBRATE ! - we have a couple of days off.
That means it's time to break out the good stuff! This is a bottle from Stone Breweries, made here in the County of San Diego...North County...in a city called Escondido. (Eric Clapton made an album a few years ago with JJ Cale called "The Road From Escondido", since JJ Cale lives in Escondido and he and Eric are buddies.)
Typical Stone, the bottle has its own personality, which with the name : WOOT STOUT , it deserves: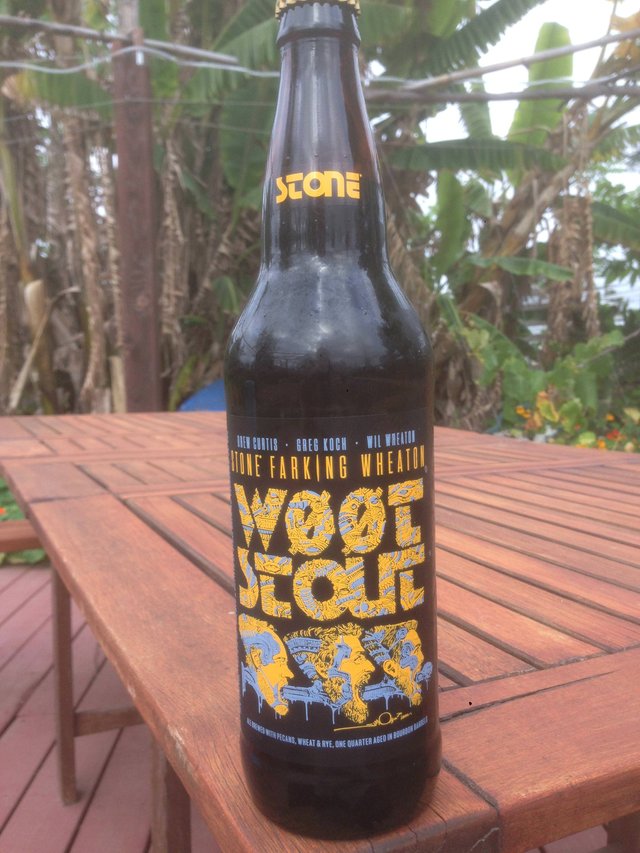 It is a "brewed for the first time in four years" brew. The bottom of the bottle says: "Ale brewed with pecans, wheat and rye, one quarter aged in bourbon barrels." The pour was very revealing, I could sense the odor of pecans and malt and bourbon. Of course there was a whiff of alcohol - it's only 13% alc, so it shouldn't be an issue.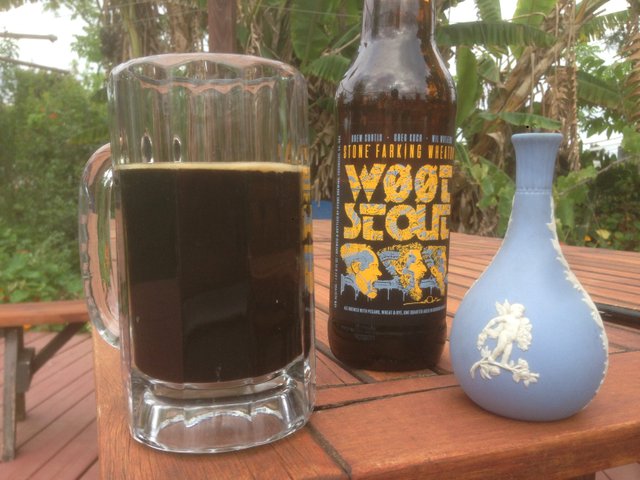 It poured a beautiful dark molasses color with almost no head. After trying to take a couple of pictures, I couldn't wait any longer and took a deep drink. It was solid, man. I could really feel it as a tasteful drink. There was no real bitterness with a light, wheat, rye aftertaste that only stayed around briefly. But, I gotta say, with that 13% it had a slight port feel to it.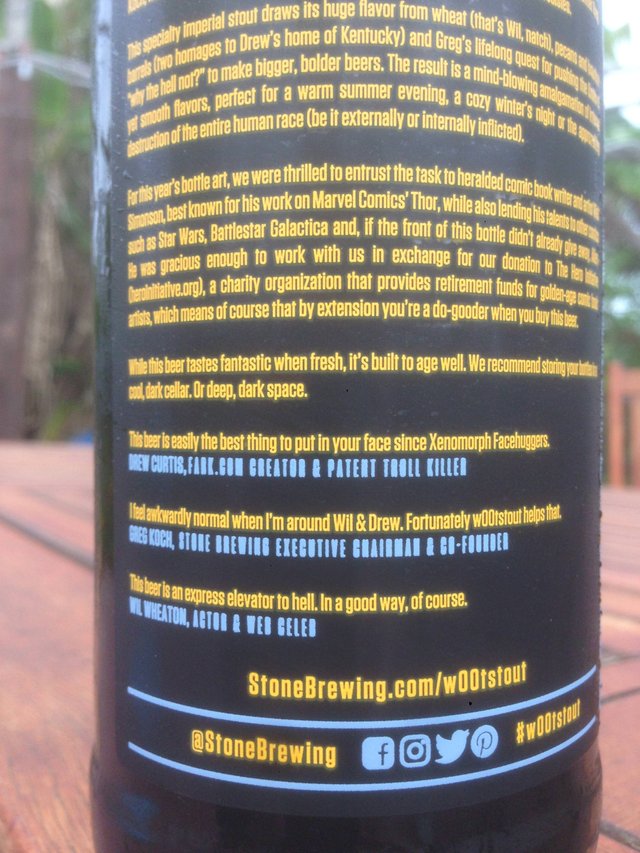 It's really a very cultured beer - you just have to read the bottle (which in usual Stone tradition is very illuminating in its own right). Which, by the way, is why I added a piece of Wedgewood pottery we had hanging around, you know, to add more class. I mean, it is the Wil Weaton - the actor from Star Trek - The Next Generation. And the guy who painted the label is an artist from Marvel Comics. (Not the best picture of the rear label, but give reading it a try. And again, check out the front label...it's Alien inspired, since he does the comic for that too.)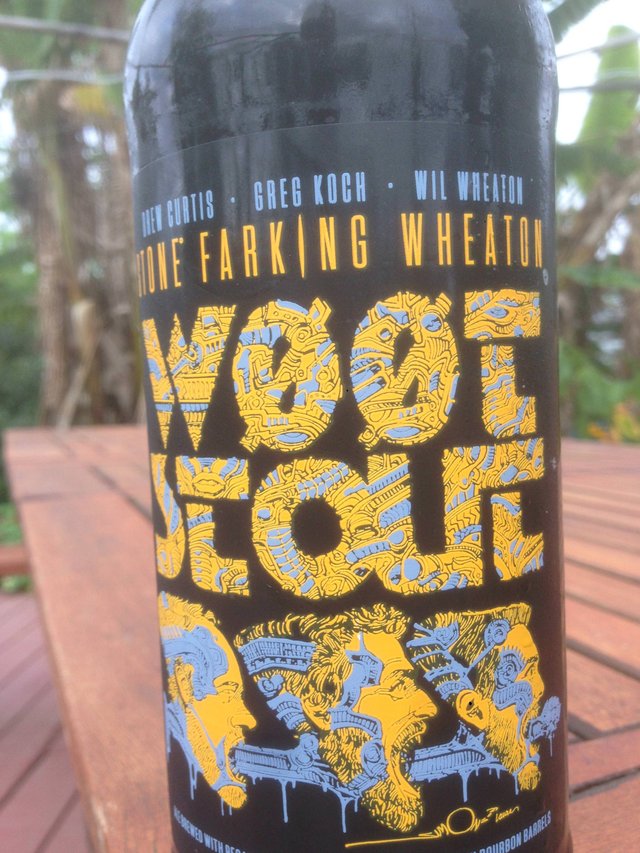 The web site has more educational information, such as the usual suggestions for dinner with this stout:
Appetizers, Soups, Entrees, Cheeses, Deserts, and, yes, even which cigar to smoke with it.
Alright, so maybe I shouldn't have drank the whole bottle before trying to write this review... but, it is good and I did what I could. After all, we're closed for the entire next week...and it's time to CELEBRATE !! And...I may even get my job back.
All hail #BeerSaturday !!