#hello friends,
In my blog for today,I will like to give you the key things to know about body cleansing and makeups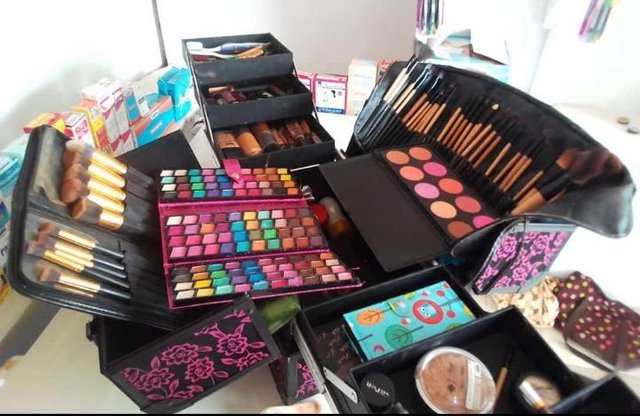 what is a makeup💄💋👑 kit?
A makeup 💄💋👑 is a box 📦 or bag 👜 or purse 👛 you keep your make up equipmens.
Let me introduce you to what you need to have in your kit today......
What Every Beginner Needs to Have in Their Makeup Kit
1..Moisturizer and Primer
As a Great makeup artist we begins with great skincare. Prep the skin with these two products the moisturizer and primer. The duo will ensure a flawless base that keeps makeup in and also last longer
2...Concealer and Foundation
Concealer is used to hide blemishes, dark circles under eyes etc. Whereas foundation is used on your entire face to even out your complexion.
3..Eyebrow Pomade and Spoolie Brush
This creamy product is apply on the brow to make the hair smoothly to create clean, defined brows the brush used is called the SPOOLIE BRUSH..
4..Eyeliner and Mascara
Eyeliner is a product that is used to define your eyes. ... You can define your eyes using liquid eyeliners, gel eyeliners, pencil eyeliners and they come in different colours. Mascara on the other hand is used on the lashes, upper or lower. They open up the eye.
5...Nude and Red Lipstick
No kit is complete without go-to lip colors and you can also have other lip colors in your box..
6...Brushes and Tools
A makeup brush is a tool used for the application of makeup. When cosmetics are applied using the appropriate brush, they blend better into the skin.
7..Blush and Highlighter
blush is made to be applied directly to the apples of the cheeks and cheekbones.. Highlighter is face makeup that attracts light, creating the illusion of brightness
8..Eyeshadow Palette
shadows usually include shades or colors.. And it's called palette when the shades are more than one
9...Q-Tips and Makeup Wipes
Even pros make mistakes—and dabbing a Q-tip into lotion is their secret for instantly erasing errors. makeup remover wipes, residue is left behind on your skin
For those nights when you're too lazy to wash your face, makeup wipes will be your best friend.
If you have questions about any of the equipments mentioned and explained above, feel free to drop your comments and questions. Also, I will appreciate your votes and resteems holding to your comments as well.
Thanks for reading in my blog
@tracys-jewel