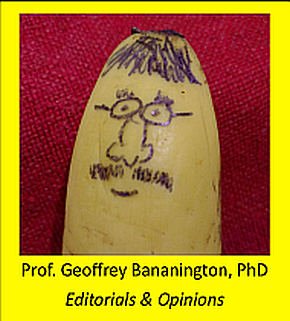 Okay. Let me get this straight.
This banana pudding: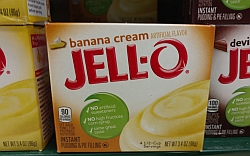 has
absolutely no BANANAS in it!
Here's the list of ingredients from the manufacturer's own website:
INGREDIENTS: SUGAR, DEXTROSE (FROM CORN), MODIFIED CORNSTARCH, CONTAINS LESS THAN 2% OF NATURAL AND ARTIFICIAL FLAVOR, SALT, DISODIUM PHOSPHATE AND TETRASODIUM PYROPHOSPHATE (FOR THICKENING), MONO- AND DIGLYCERIDES (PREVENT FOAMING), YELLOW 5, YELLOW 6, ARTIFICIAL COLOR, BHA (PRESERVATIVE).
source


What the -- ?!?
Are they counting "Yellow 5 and Yellow 6" as banana? Those are dyes to make something look banana-ish. What is this world coming to?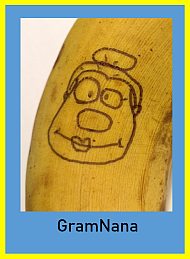 I'm with you, Dearie. Back in my day, we made pudding with the ingredient in the title... Banana pudding had bananas in it. Chocolate pudding had chocolate in it. Vanilla pudding had vanilla in it. Hasty pudding had, er, um...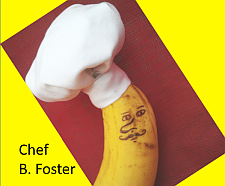 Pardonnez-moi, madame. I will be able to answer zees question about ze Hasty pudding. It ees a... how do you say... a mush made from meal, such as ze cornmeal or wheat. We chefs cook it with ze water or ze milk. I, of course, add especial spices to make ze pudding delectable. Ooh la la!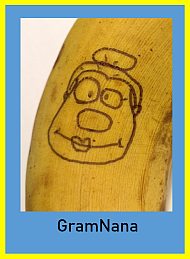 Oh yes, Dearie. I mean, Chef. I mean, Chef Dearie. You reminded me that my sweet great-great-grandmother used to make me Hasty pudding when I was just a wee thing.
But it wasn't very good, and I didn't want to eat it. So I would slip it under the table to her dog, whose name was... what was that dog's name? I've totally forgotten it. Professor Bananington, did you have any pets when you were growing up?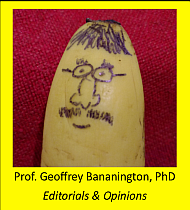 With all due respect, Gramnana, this is MY post, and it's about
banana pudding,
not about childhood pets!
(sheesh)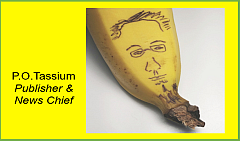 Excuse me, Professor Bananington. As we are about to run out of space for this column, allow me to wrap things up here. I'd like to thank all the contributors to this post on, uh, pudding and pets.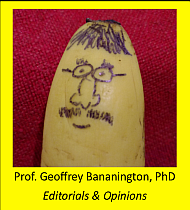 Ahem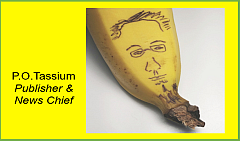 And most particularly to Professor Bananington, for his excellent exposé.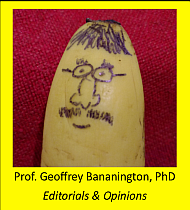 You're welcome.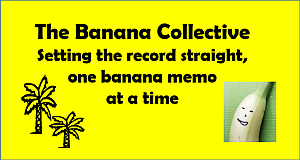 @bananamemos

If you enjoyed this post, please consider re-steeming
so that others can meet
the Banana Collective. Thanks a bunch!

Get to know us! The Banana Collective
Conspiracy Theorist Truther Red Peel talks laundry
Sir Bananington's previous rants about discrimination in the produce section
and the evil villainy of plantains