Autumn Colors in Thuringian Forest
Liebe Naturliebhaber,
heute möchte ich euch in den Thüringer Wald entführen und einen Post ganz ohne Klettern, dafür aber mit tollen Herbstbildern präsentieren.
---
Dear nature lovers,
today I want to share with you the beauty of the Thuringian Forest. Completely without climbing, but with stunning autumn pictures.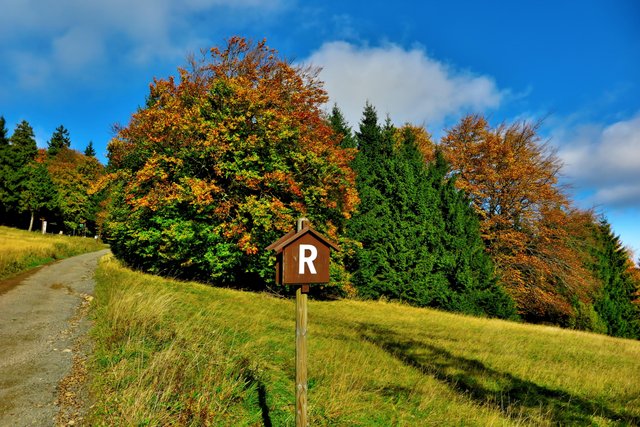 Letztes Wochenende nutzten wir das tolle Wetter für eine ausgiebige Wanderung durch den Thüringer Wald. Wir starteten an unserem Ferienhaus direkt bei der Ebertswiese (dort gibt es mehrere gute Parkmöglichkeiten)
Einige Meter neben der Ebertswiese trifft man auf den Rennsteig. Der Rennsteig ist ein ca. 170 km langer Kammweg. Nordwestlich in Blankenstein startend quert der Rennsteig einmal durch den Thüringer bis nach Hörschel.
---
Last weekend we used the generous weather to do an extensive hike through the Thuringian Forest. We started directly at our holiday house besides the Ebertswiese (there are several good parking possibilities).
A few meters besides the Ebertswiese you meet the Rennsteig. The Rennsteig is a 170 km long ridgeway. Starting in Blakenstein it crosses the Thuringian forest in north eastern direction as far as Hörschel.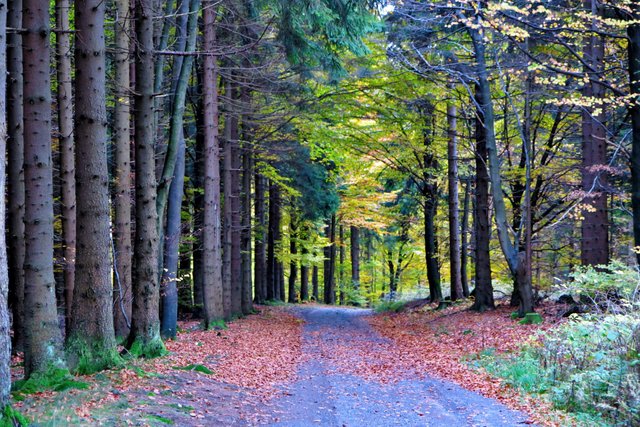 Der Rennsteig führte uns von der Ebertswiese aus zur neuen Ausspanne. Dort angekommen stärkten wir uns für den weiteren Weg mit einer landestypischen Thüringer Rostbratwurst.
Gestärkt gingen wir weiter zum ersten Aussichtspunkt oberhalb der neuen Ausspanne. Dort genossen wir den phantastischen Ausblick über den Thüringer Wald.
---
Starting from Ebertswiese the Rennsteig brought us to Neue Ausspanne where we enjoyed a 'Thüringer Rostbratwurst' the local specialty!
Strengthened we went on the first lookout point. There we enjoyed the fantastic view over the Thuringian Forest.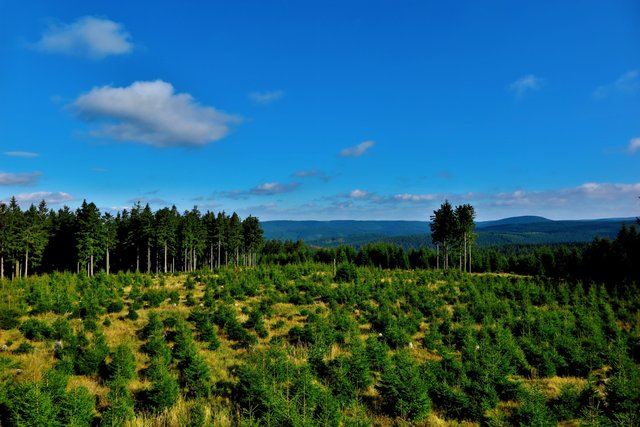 Und schon war es wieder Zeit uns vom Rennsteig zu verabschieden, denn nach Oberhof wäre es noch ein ganzes Stück und ein Rundwanderweg will ja auch wieder am Anfang ankommen.
Durch ein wunderbar herbstliches Tal führte unser Weg uns, vorbei an einem Tagebau nach Nesselhof, welches idyllisch im Tal liegt.
---
It was already time to say good bye to the Rennsteig, because going on to Oberhof would have been a great deal longer and the idea of a circuit is to get back to the start.
Through a beautiful autumn valley our way crossed an open pit on the way to Nesselhof, which lies in a beautiful valley.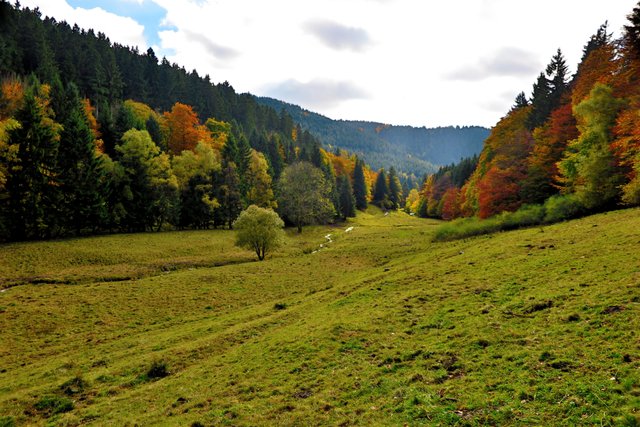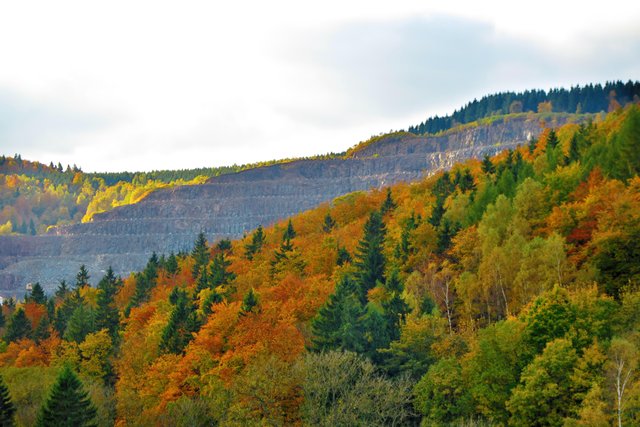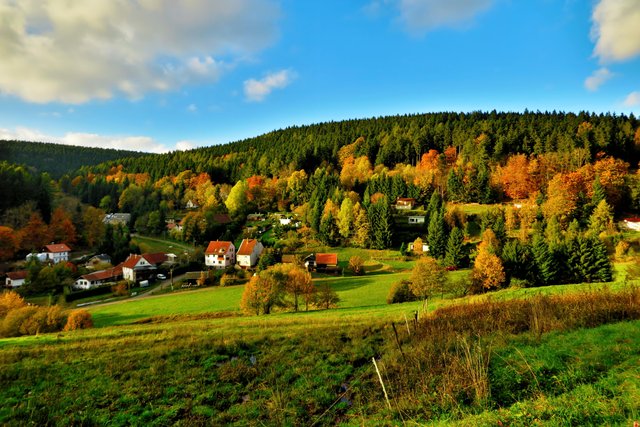 Von Nesselhof aus waren es noch einige steile Kilometer, die uns zurück zur Ebertswiese führten. Bevor wir jedoch zurück zum Ferienhaus gingen nutzen wir das gute Wetter um uns am Bergsee zu erfrischen und noch ein letztes Mal baden zu gehen.
---
A few last steep kilometers brought us back from Nesselhof to Ebertswiese. But before we got back to our holiday house we used the good weather to get a refreshing bath in the mountain lake nearby.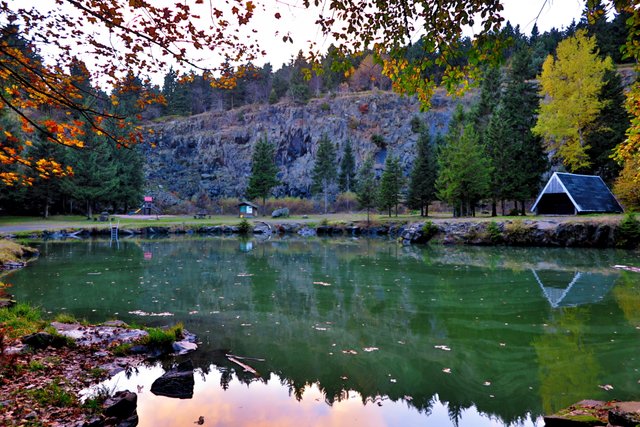 In der Nacht experimentierte Ich dann noch etwas mit dem Fotoapparat und einer Taschenlampe.
---
Before going to bed I experimented with the camera and a torch and took this shot.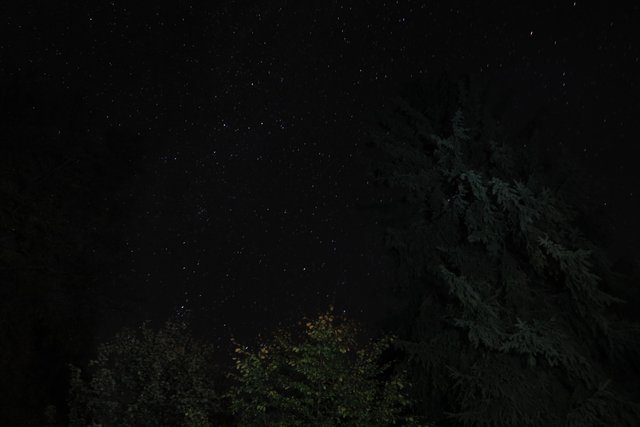 Danke fürs lesen. Ich hoffe euch hat es gefallen!
---
Thank you for reading. I hope you enjoyed it!
!steemitworldmap 50.780484 lat 10.528688 long Autumn Colors in Thuringian Forest D3SCR