Paseo de los Tristes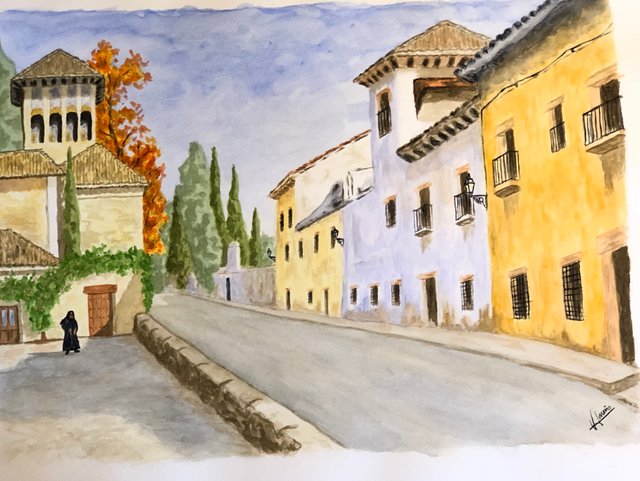 Buen día steemit, esta mañana os traigo una acuarela de El Paseo de los Tristes, está ubicado en Granada en La zona del Darro justo enfrente de La Alhambra y siguiendo llegamos al barrio Del Albaicín.
Good morning steemit, this morning I bring you a watercolor from El Paseo de los Tristes, is located in Granada in the Darro area just in front of La Alhambra and following we arrive at the Del Albaicín neighborhood.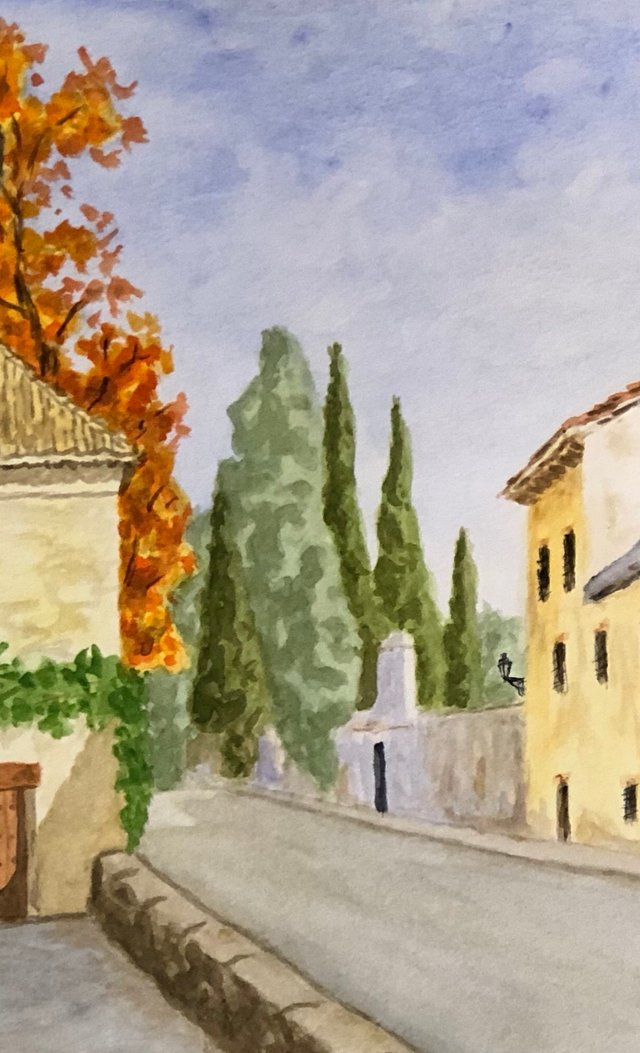 Su construcción se data en el siglo XVII y su nombre real es Paseo del Padre Manjón aunque popularmente se le puso ese nombre, ya que era el camino que seguían todos los cortejos fúnebres hacía el cementerio que está situado a espaldas de La Alhambra con él féretro a cuestas.
Its construction dates back to the seventeenth century and its real name is Paseo del Padre Manjón although it was popularly named, since it was the path followed by all the funeral processions to the cemetery that is located behind the Alhambra with it coffin in tow.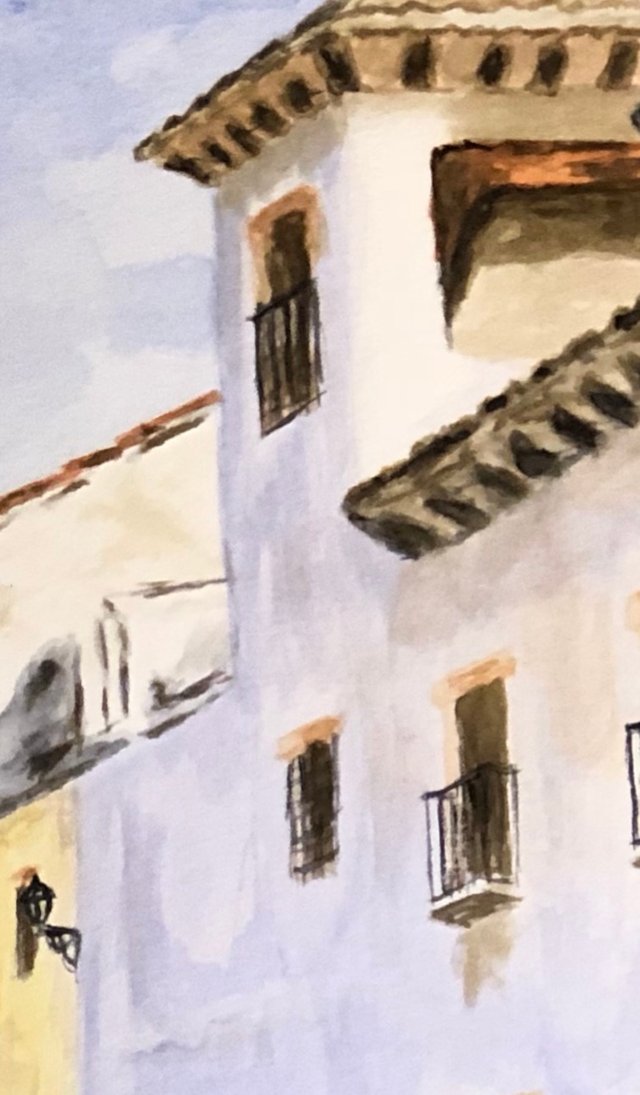 Según la picaresca popular le dieron ese nombre por que los portadores del féretro se ponían tristes al pensar en el camino y la cuesta que les quedaba hasta llegar al cementerio.
According to the popular picaresque they gave it that name because the pall bearers were sad to think about the road and the slope they had left until they reached the cemetery.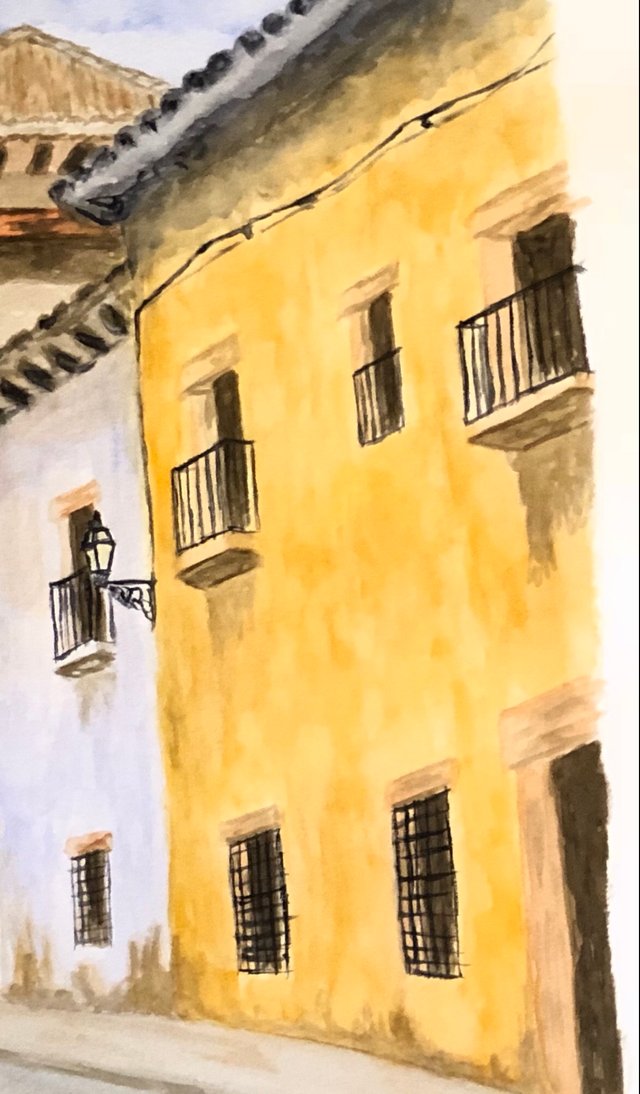 Este paseo ha pasado por numerosas remodelaciones hasta llegar a su estado actual, sin embargo en esta acuarela me base en una ilustración de un calendario de hace unos 23 años que fue cuando la pinté y esa ilustración era del siglo XVIII- XIX muy diferente al día de hoy.
This walk has undergone numerous renovations until reaching its current state, however in this watercolor I base on an illustration of a calendar from about 23 years ago that was when I painted it and that illustration was from the eighteenth to nineteenth century very different to today.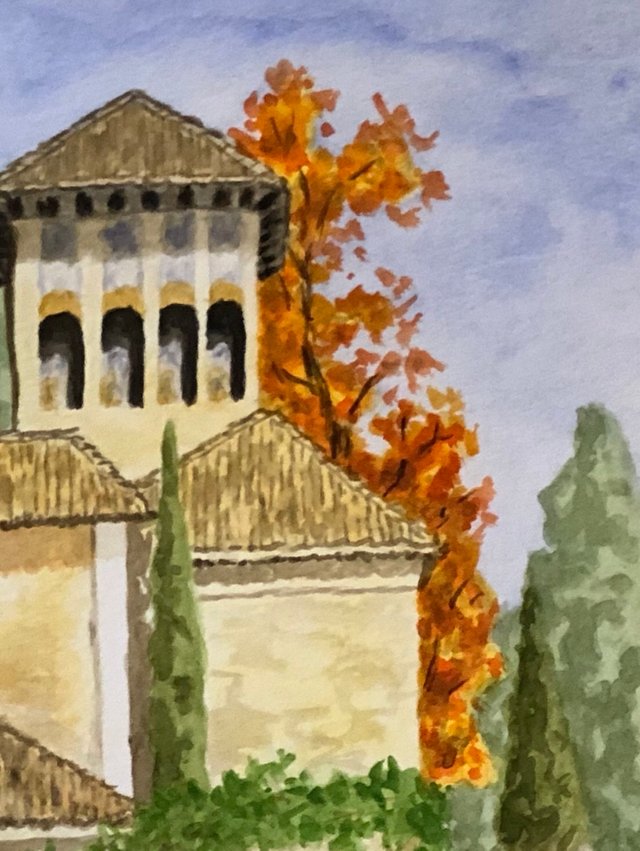 Espero que os haya gustado está pequeña descripción de una parte de la maravillosa Granada.
I hope you liked this little description of a part of the wonderful Granada.
Los materiales que utilice
Acuarelas de pastilla dura Van Gogh
Pinceles de pelo de Marta
Lámina de grano grueso de 350 grms 70X50
Materials using
Hard-tablet watercolors Van Gogh
Marta hair brushes
Coarse-grained blade from 350 grms 70X50
La mayor parte de la información la he conseguido de la página de turismo de Granada
Most of the information I have obtained from the tourist page of Granada.