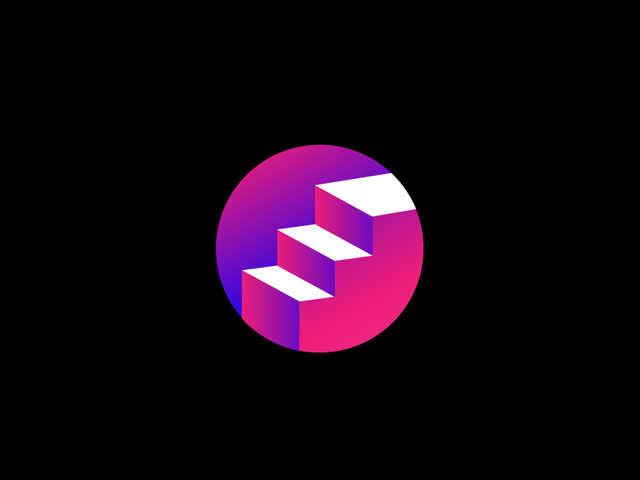 Hey guys,
Long time, no write. I've been taking care of business this week and unfortunately not posting as much on Steemit as I would like, but welcome again to a new episode of my life as a creative professional doing collaborations, mainly open-source, for projects that I truly care about.
The other day I was asked by @gokulnk to create a logo proposal for @steemLadder. I thought this bot is a great idea to boost minnows and set them off for a great journey on Steemit. He explains it a lot better than me, and I quote:
Steemladder is a steemhandle that is run by @gokulnk. Steemladder intends to be the one stop guide for minnows. It welcomes all the new users who write an #introduceyouself post with a welcome message and an upvote on their post. The welcome message contains some relevant links and a link to AMA post where they can post any of their queries.
BTW I made a whopping $0.27 on my intro post, so I would've really appreciated this welcoming bot.
Concept:
Since I had creative freedom and no guidelines for this logo, I went of with a literal representation of a ladder, more precisely, the steps of a staircase. I know ladders and staircases are not the same thing, but the staircase is so much more beautiful, strong and represents the idea of "stepping stones" so well, that I had to go for it.
I wanted to evoke a visual identity that felt:
Young
Mystical (the idea of boosting others expressed by warm and spiritual purple shades).
Simple and suitable for digital media
I didn't include the steemit logo because I felt like combining two logos in one is not great if you want to stand as an independent brand.
Process
I created many iterations of this logo, and I picked a selection of my drafts to show you in the image below. The color palette remained constant.
I didn't want to use someone lifting another person because I think these colors are uplifting on their own.
In terms of typography, I felt a modern sans-serif type worked best with the iconography. I tried Muli, Helvetica Neue, Gotham and the final font chosen was: Montserrat, I just love it. It's available as a Google font here: https://fonts.google.com/specimen/Montserrat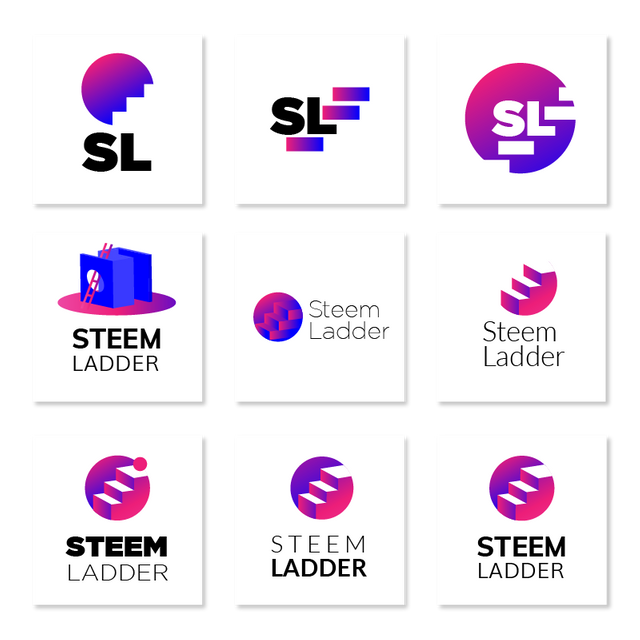 As you can see I was already leaning towards the three step staircase, because I liked more of those iterations than the others.
I also liked the 3D geometric S, with the ladder going through it, conceptually, it was one of my favorites but graphically it just looked like a very complex illustration. I had to let it go :(

How did I select the final proposal?
Well, it's actually not that difficult, a logo has to follow some basic ground rules:
It needs to be simple enough to scale at very little sizes and still be legible, even 16x16px.
It has to be a strong, but simple visual that remains in the memory of the user, mainly by using simple shapes and strong, saturated colors*.
It should be cost-effective, a logo should have the minimum elements necessary for it to be understood and recognized. More elements means more money. How so? It's not the same to print 2 Pantone colors than 7, or cut 2 sheets of vinyls for a storefront than 7 or more. Each color adds to the cost. In digital media, pixels cost nothing and don't obey by these color rules, but it's always good to make a monochrome version for these situations to lower costs (think Mac rainbow-colored apple to Mac white apple).
A logo has to be unique, this means, it shouldn't be derivative work and it should stand on it's own, like a fingerprint in each person, it should undoubtedly represent one brand.
Our brains are wired to see perfectly geometric shapes as more aesthetically pleasing, these shapes remain in our memory more easily than organic shapes with a lot of complexity. Also, our brains love simplicity, because we can't recall too much information at once. For more on the advantages of simplicity in design I highly recommend reading the book "Laws of Simplicity" by John Maeda
Final logo
Taking the previous rules into account I present the final logo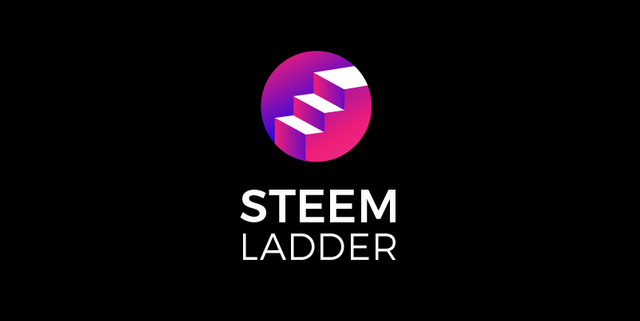 Logo versions
Inevitably, a logo will be printed in different media and over different backgrounds, even with different materials from ink to thread, so logo variations are necessary in these cases. You can see the changes of the logo in dark or light backgrounds, as well as monochromatic versions in black and white for 1 color use.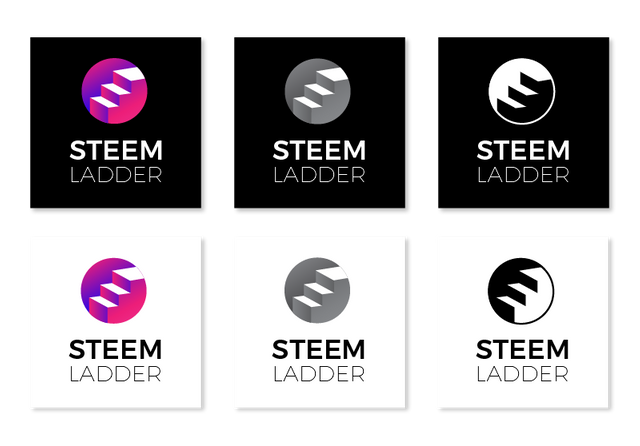 App Icon
The icon in the logo works perfectly as a round app icon, or it can be used over black or white for a rounded square icon.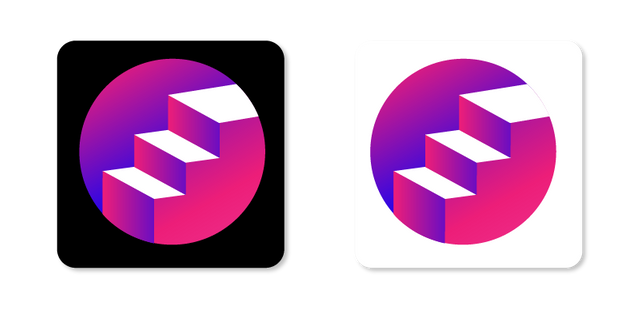 That's it for now. Files will be delivered to @gokulnk if he accepts this proposal leaving a comment below.
What do you guys think? Do you have any favorite? Thanks for sticking this far with me. I'm working on something special for my 500 followers mark, so stay tuned.
If you want to know when I post, follow me on:
Twitter: https://twitter.com/Creativista_
For the occasional pic of my work and life follow me on:
Instagram: http://instagram.com/creativista_