🍉 🍒 🍉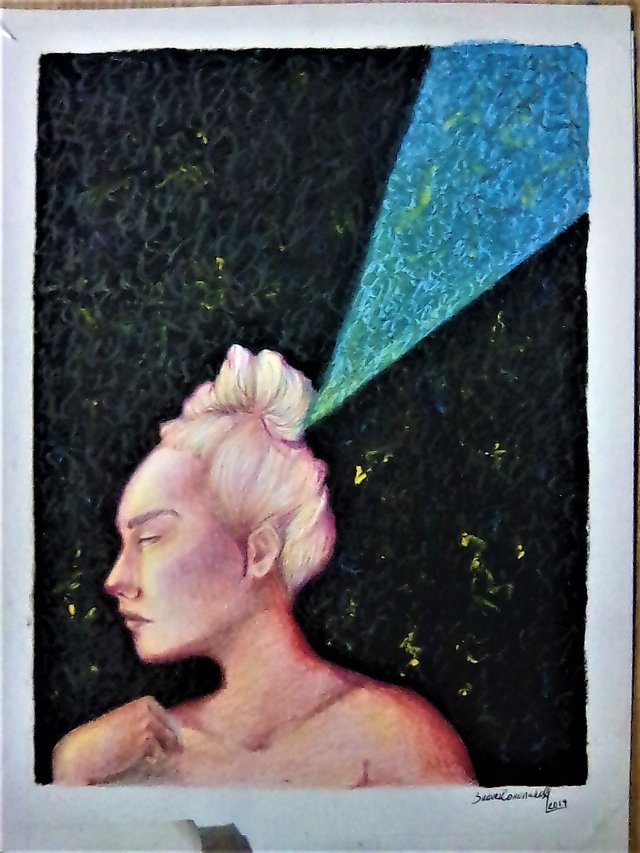 🍉 🍒 🍉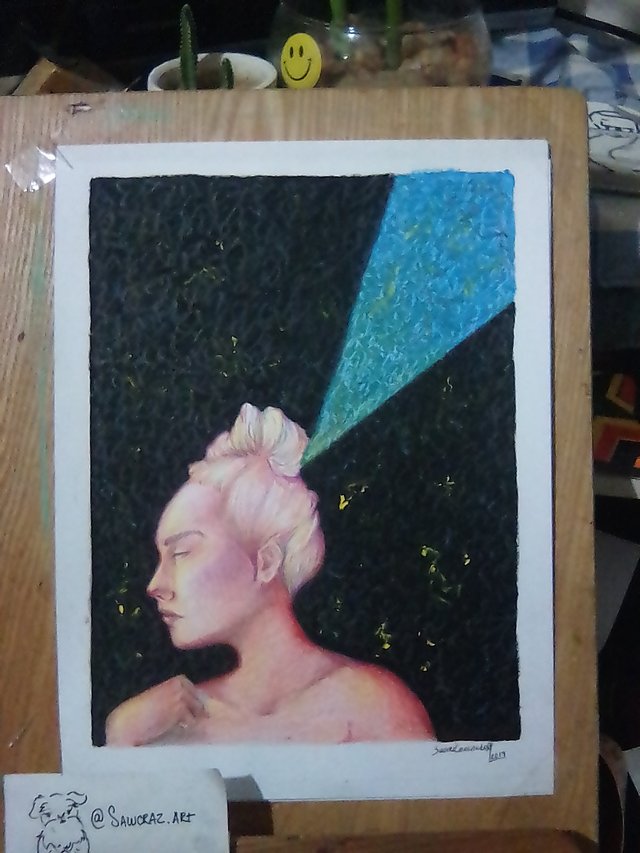 Sometimes, one is inspired by the art of the other. When I'm down I like to see movies, one of my favorites and I've seen it many times is Le fabuleux destin d'Amélie Poulain, it may sound cliché, but, this is a work of art, it comes to me as few do. It turns out that the phrase of the image in B/W rumbled in my mind, opening the way to the creation of this work, entitled in commemoration I prefer to dream. I took as reference a photograph of me, I have been in an introspective reflection these last weeks and I'm happy to finally projected it into my art.
🍉 🍒 🍉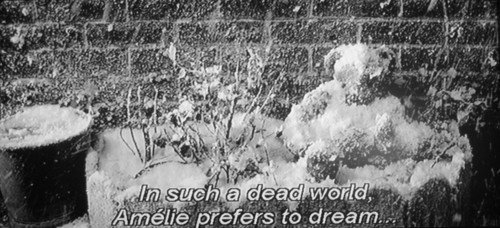 🍉 🍒 🍉
A veces, uno se inspira con el arte del otro. Cuando estoy decaída me gusta ver películas, una de mis favoritas y la he visto muchísimas veces es Le fabuleux destin d'Amélie Poulain, puede sonar cliché, pero, esta es una obra de arte, llega a mi como pocas lo hacen. Resulta que la frase de la imagen en B/N retumbó en mi mente, abriéndole camino a la creación de esta obra, titulada en conmemoración Yo prefiero soñar, a su vez, tome como referencia una fotografía mía, he estado en una reflexión introspectiva estas ultimas semanas y me alegra por fin haberlo proyectado en mi arte
On the other hand, tomorrow I will try to frame it (with a borrowed frame) to see if I can take it to the Barquisimeto museum where they opened a call for artists who are interested in exhibit their works, today I leave one there, and they told me That was 2 per person so ... I really hope everything goes well so I can take this one too.
🍉 🍒 🍉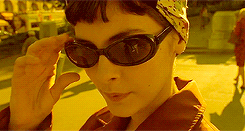 🍉 🍒 🍉
Por otra parte, mañana le intentaré hacer un paspartú para enmarcarla (con un marco prestado) para ver si logro llevarla al museo de Barquisimeto en donde abrieron una convocatoria para los artistas que estén interesados en llevar sus obras, hoy llevé una y me dijeron que eran 2 por persona así que... de verdad espero que todo me salga bien para poder llevar esta también.

🍒 STEPS / PASOS 🍒
I painted the background first because of the contrast it would cause, in that way I could graduate the color figure better.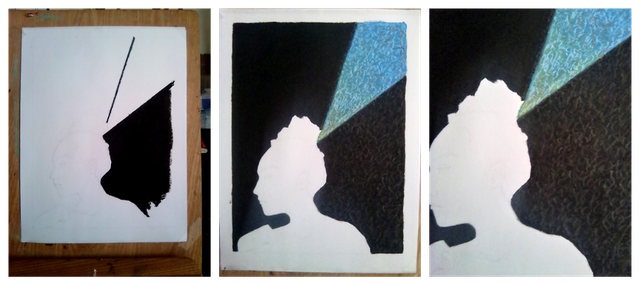 Le pinté el fondo de primero debido al contraste que iba a causar por ser negro, de esa manera pude graduar de una mejor manera la figura.
🍉 🍒 🍉
I also added the irregular lines because I already feel it as part of my language and my signature when working with oil pastel.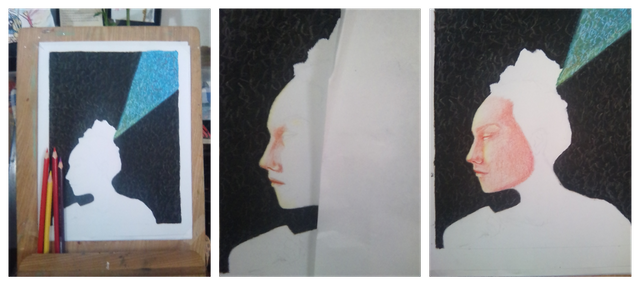 También le agregué las líneas irregulares porque ya lo siento como parte de mi lenguaje y mi firma al trabajar con el óleo pastel.
🍉 🍒 🍉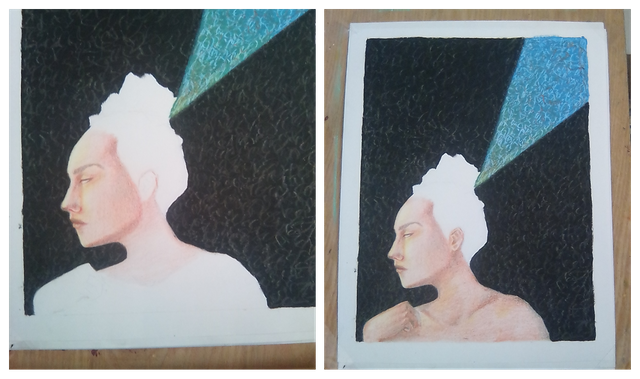 🍉 🍒 🍉
Time: 6h aprox
Format: 24.8x18.5cm
Support: White paper
Materials: Color pencil, pastel oil
Tiempo: 6h aprox
Formato: 24.8x18.5cm
Soporte: Hoja blanca
Materiales: Lápices de colores, óleo pastel

🍒 CLOSE UP / ACERCAMIENTO 🍒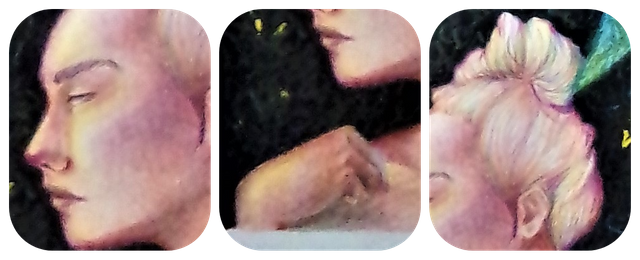 🍉 🍒 🍉🍉 🍒 🍉
---
Repollo is a Project that Works based on MEMBERSHIPS from the users that delegate SP and/or join the Curation TRAIL. Repollo is supported by 2 steemit witnesses, @cervantes y @upheaver, if you upvote them as Steemit Witness you support better rewards for the members of the community.
---
Repollo es un proyecto que funciona con MEMBRESÍAS de usuarios que delegan y se unen a nuestro TRAIL. Repollo es apoyado por dos Witnesses, @cervantes y @upheaver, si tú votas por ellos como Testigos en Steemit Witness apoyas para seguir entregando mejores recompensas.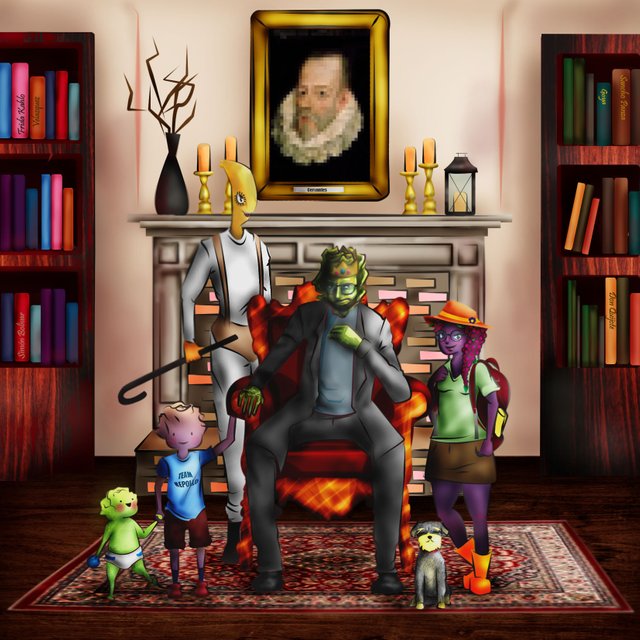 🍀🍇🍀🍀🍇🍀🍀🍇🍀
I hope you like it. A hug for everyone and good vibes 💖
Espero les guste. Un abrazo para todos y buena vibra 💖
🍀🍇🍀🍀🍇🍀🍀🍇🍀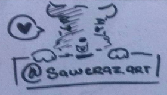 To all of you artists out here at Steemit! Hello~ If you ever are lost and lonesome, please join Steem Artists at our discord chat

We network with fellow artists here on Steemit and we help each other succeed :)
Come and say hi~ ^ __ ^ BNDW community discord channel