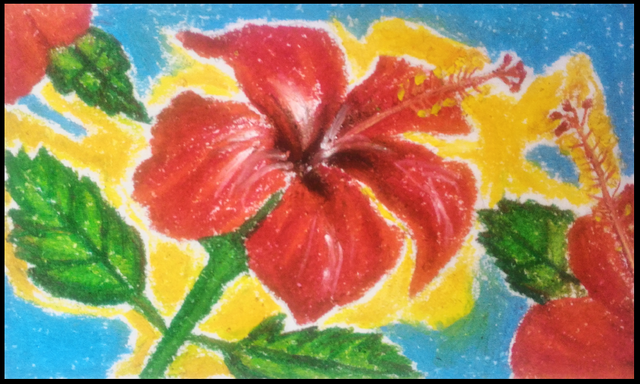 Hi dear Steemians! Today, I'm going to share how I painted hibiscus flowers using oil pastels. Hibiscus is the first flower that I have ever learned to paint because it is the national flower of my country, Malaysia. I have painted another hibiscus flower before and shared the video on my YouTube channel, however I did it on a colouring book where a drawing of hibiscus flower was readily available. Last week, someone requested a video on how to draw it, so I decided to paint one from scratch.
Tools and Materials
Buncho oil pastels
Colour pencils (optional for precision on certain parts)
A good quality artblock that is durable
A mechanical pencil with 2B lead (to draw only so choose based on personal preference)


Step by Step Tutorial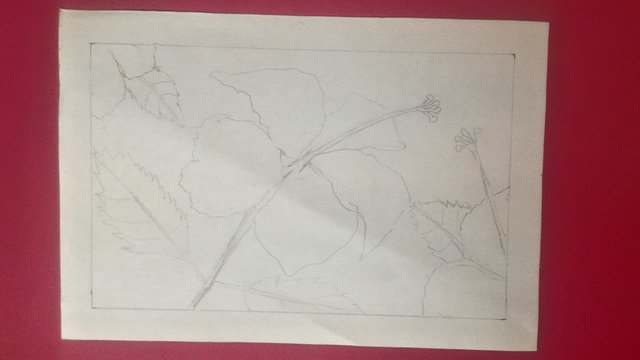 First of all, I drew a hibiscus flower in the center of the paper using my mechanical pencil. I did make a few mistakes while drawing and kept erasing and correcting my drawing until I was happy with it. Initially, I thought of painting just one hibiscus flower, then I changed my mind as it seemed too empty. So, I drew two more flowers but not as whole, only parts of them because I didn't want the primary focus of the artwork to deviate from the main hibiscus flower and didn't want it to look too crowded.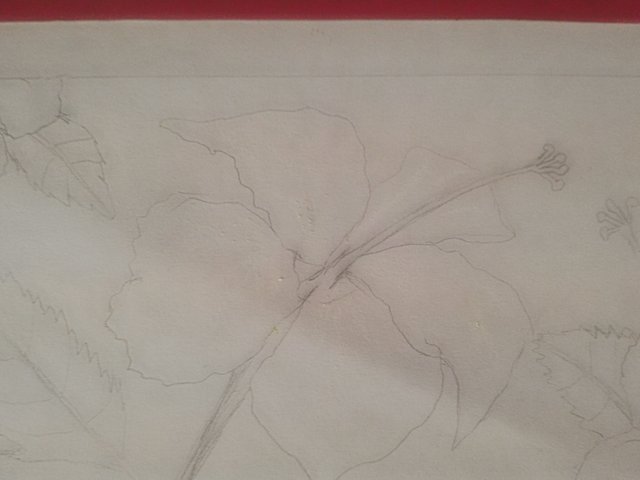 In contrary to the way I usually paint my artwork where I paint the background first, this time I started with the main subject first. I began painting the hibiscus with a white oil pastel first on the parts where I wanted some highlights to be. That way, I get to secure those parts and in case I accidentally paint a different colour on them, I can just scrape it off. I attached the picture although I am not sure whether you can see the white colour. Unfortunately, it is not so visible (or at all).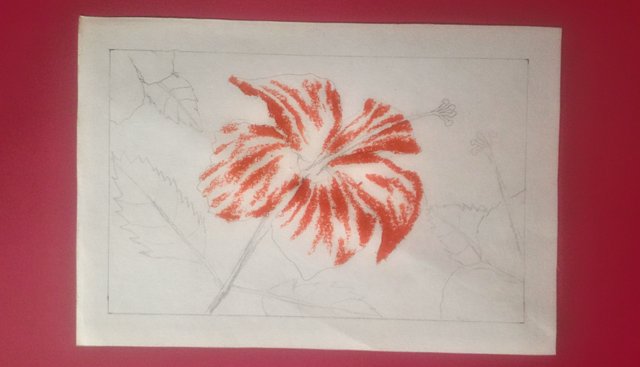 After that, I painted the flower petals with the lightest red that I have. In case you watch me paint later, it looks orange in my video but it is actually bright red in real.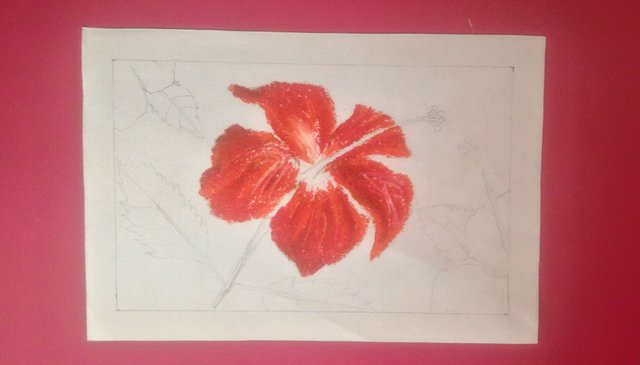 Then, I added a different red which was a few shades darker than the first one on the shadowy areas and areas that I prefer to be slightly darker than the previous shade. I also added some white streaks using the white oil pastel.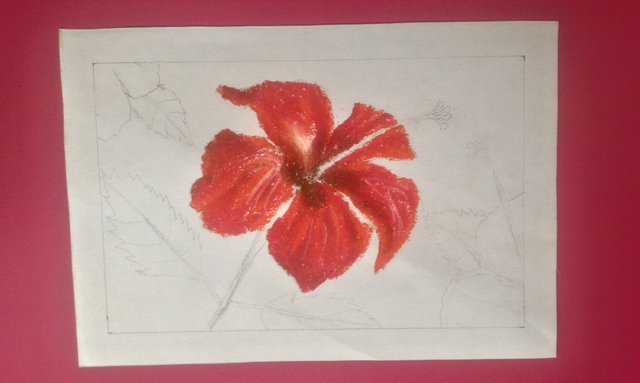 Next, I painted some brown to add more shadows on the shadowy areas.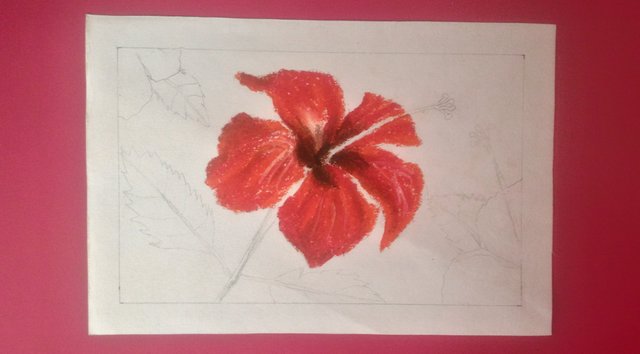 I also used a small amount of black to deepen certain areas so that I can emphasize the shadows even more.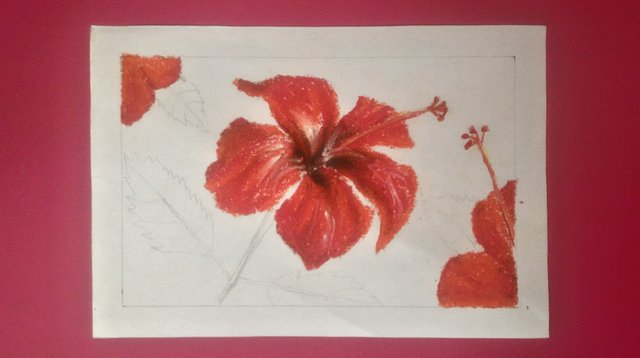 I painted the other two hibiscus flowers as well. I also painted the style part of the flower which is the long stalk in the middle using a red oil pastel. It looked a little flat, so I thought of adding highlights but I couldn't do it in a precise way using oil pastels. Therefore, I used coloured pencils to do it. I just used a light peach colour. You can use white if you don't have the same colour.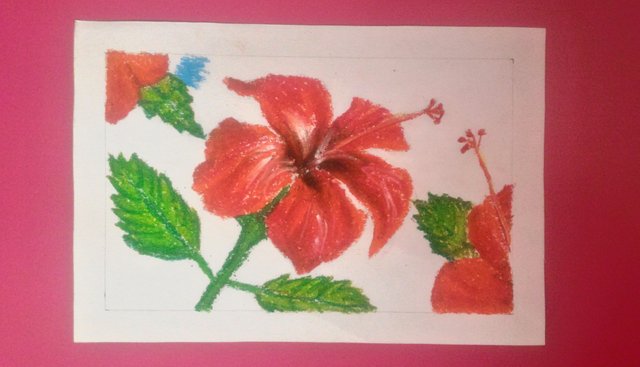 I wasn't sure whether to paint the background first or the leaves first. I tried a little bit of blue on the background but then, I switched to the leaves to complete them first. I started painting the leaves with a light green and added a few other shades of green to add some shadows. The edges of the leaves of hibiscus flowers are in a zig zag shape. So, I used the other end of one of my green oil pastels to line the edges. This trick will be useful to you too in case you need to line precise edges on any other artwork. Generally, oil pastels get blunt as we use them. Hence, the top parts are not suitable for lining the edges. It is best to turn them around and use the other end of the oil pastels. I also added some brown on the leaves to make them look warmer.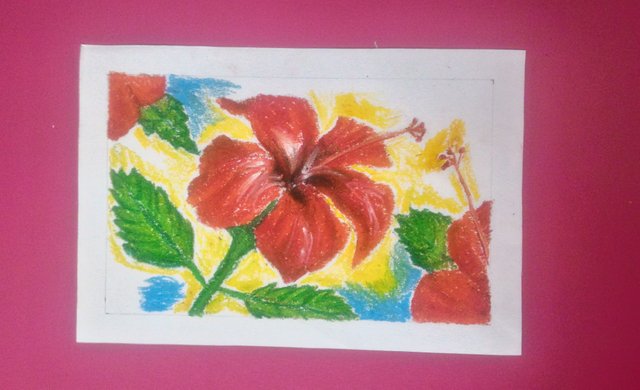 At this point, I wasn't sure on whether to use the blue or yellow for the background. I did think of using blue earlier but then I felt like it was too contrasting for the red and the flower will not stand out as much as I wanted. So, I went on with yellow around the flowers and leaves. Then I added blue on the rest of the white areas. This way, I got the satisfaction of using both colours :D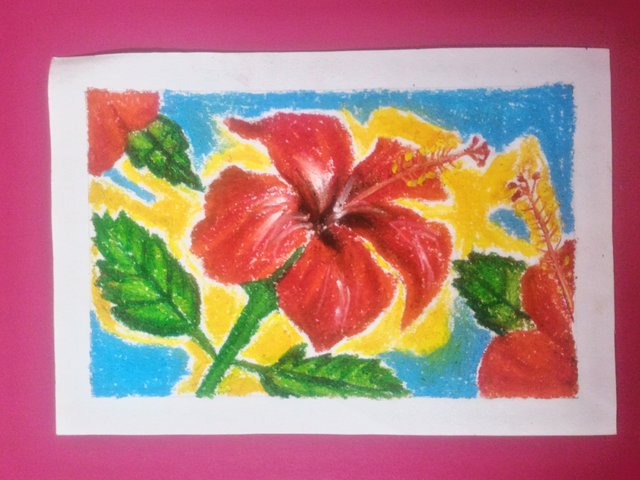 I was done painting the background. I also added some yellow dots on the style of the flower to paint the anther. This is my completed artwork.


This is my video tutorial on how to paint hibiscus flowers with my voiceover. You can watch me paint here. I hope that you enjoyed reading my post. Have a great day/evening ahead!



If you like this post, please upvote and leave your feedback below.

If you would like to see more posts from me, follow me.
Stay tuned! xx






Click the Images to View My Recent Posts:




















My Dtube Channel: Yashny About me: I'm a chill, happy go lucky person. I am a feminist. I love food, art, books, numbers, psychology and occult science. I am in the process of healing and diving into spirituality. I think life is a gift and we should appreciate the little things of life more. Everything that I post is a little piece of my life. I believe that everyone is carrying their own cross, so don't judge anyone and be kind!

♥♥♥♥♥♥♥♥♥♥♥♥♥♥♥♥♥♥♥♥♥♥♥♥♥♥♥♥♥♥♥♥♥♥♥

Thank you for your support and encouragement
♥♥♥♥♥♥♥♥♥♥♥♥♥♥♥♥♥♥♥♥♥♥♥♥♥♥♥♥♥♥♥♥♥♥♥