Dear Steemians,
---
i hope you know about who we are, since we released our Introduce-Yourself-Post. We talked about the vision of UniqueCosmos and our intention to reach the next milestone just in time. While we were finetuning the algorithm, we found a similar favorits, possible candidates for our premiere-print.
Now it's time to ask YOU about your opinion. What do you think about the UniqueCosmos-Artworks, you can see in the collage? Which one is your favorit? Write your thoughts about this in the commentsection. Would be great if you support our doing!
Liebe Steemians,
---
nachdem wir uns in unserem Introduce-Yourself-Post vorgestellt haben und ihr hoffentlich einen ersten Eindruck von unserer Vision mitnehmen konntet, geht es ohne große Pause direkt weiter. UniqueCosmos hat mit dem Finetuning des Algorithmus einige Favoriten für den ersten Premiere-Druck herausgefiltert.
Nun möchten wir uns nach eurer Meinung fragen! Was sagt ihr zu den UniqueCosmos-Artworks, die ihr in der Collage seht? Was ist euer Favorit? Schreibt uns eure Gedanken dazu doch bitte in die Kommentare. Wir setzen auf eure Unterstützung!
---
UniqueCosmos - Collage
---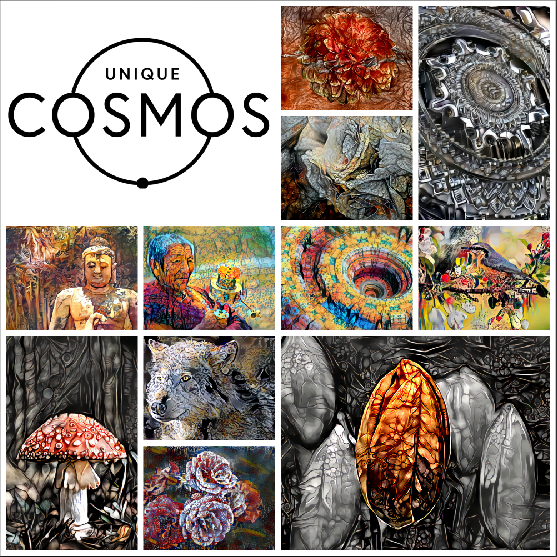 ---
UniqueCosmos is looking for photographers!
---
To continue with our progress, we are looking for hidden gems in the digital world of beautiful pieces. Better to say we are looking for the people, who are recording this photos. UniqueCosmos is hunting creatives, that would like to work with us and provide their snapshots for our Doing. Would you allow us to turn modern art out of your holiday photos?
Feel free to contact us if you think you are a creative photographer and want to see your work edited into digital and modern artworks. Also link your friends, if they fit to what we are looking for. Thanks fort he support!
UniqueCosmos sucht Fotografen!
__
Um unser Schaffen voranzutreiben suchen wir die Schmuckstücke unter den digitalen Schnappschüssen, besser gesagt die Menschen, die diese aufnehmen. UniqueCosmos sucht Kreative, die gerne mit uns zusammen arbeiten möchten und uns ihre Aufnahmen für unser Werken zur Verfügung stellen. Kurz gesagt, Menschen die uns aus ihren Urlaubsfotos moderne Kunstwerke kreieren lassen.
Aus diesem Grund bitten wir euch Kontakt zu uns aufzunehmen, insofern ihr kreatives Talent und einen ein Händchen für gute Aufnahmen besitzt. Auch wenn ihr Bekannte oder Kollegen kennt, auf die diese Eigenschaften zutreffen -> zögert nicht und verlinkt sie unter diesem Post beziehungsweise sendet ihnen einen Link.
---
We hope there will be some interessted artists and want to send best greetings into this genius social-network! Make your Unique Cosmos -!
---
In der Hoffnung einige Interessierte aufzuwecken schicken wir beste Grüße in dieses geniale Social-Network! Erschaffe deinen Unique Cosmos -!
---
---

@UniqueCosmos -