Do you believe in Miracles?
"Any sufficiently advanced technology is indistinguishable from magic", says one of Arthur C. Clarke's famous laws.
For me, that often raises the question, of what is behind something that is too big for me to comprehend. And as I get older, the world around me seems to become even more miraculous. Of course, we are all used to modern technology and how it brings things into our lives, past generations would have undoubtedly perceived as magic. But what about all the "natural" magic around us? Sure, science can explain by now much of what we can see and beyond. But will science in the end give us all the answers?
When I gave a physicist a tour through my Temple of the Secrets many years ago, he told me, that when you do fundamental research like he did, you eventually get to the point, where religion, philosophy and science (physics) meet! Fascinating!
For me, one big miracle that happens every year is spring. After a usually dark and wet time of German winter, all of a sudden, nature seems to almost explode in abundance. Lush life, beauty and opulence everywhere. Of course, we understand, why all that happens. But I like the thought of enjoying it as magic and it eventually sparked the idea for my "Flower Bomber".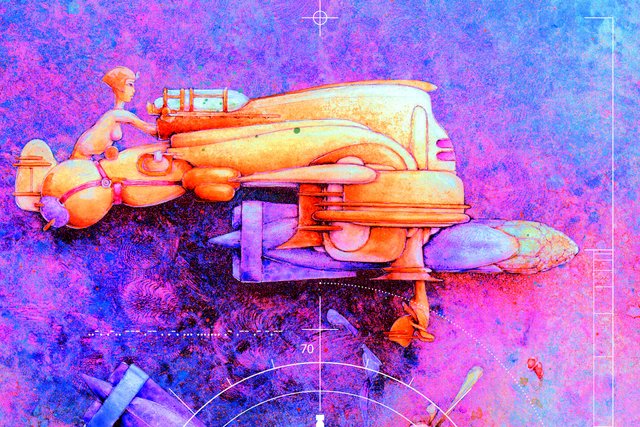 The original painting on reverse side of glass was in fact called "Spring", adding a modern day twist to the idea of a cherub flying across the sky, spreading blossoms from his cornucopia. There is also a bit of a "flowerpower" feeling and that generations idea of "make love, not war"...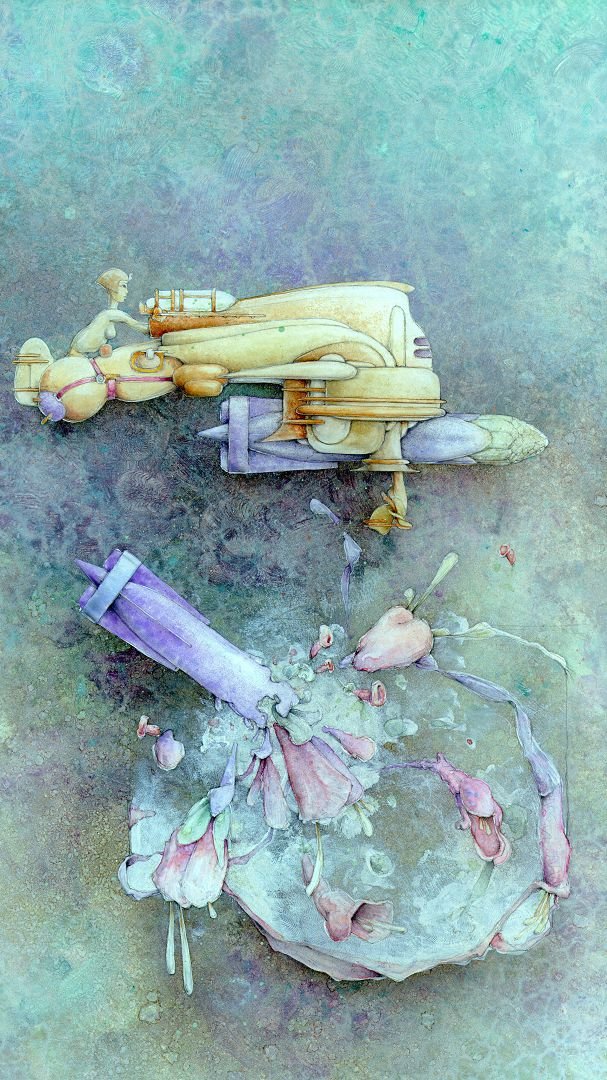 With the digital based on that, I wanted to create a more comic book like look without loosing the rich textures of the painting. Therefore I imported the picture into Photoshop and with a series of adjustments and complex overlays with different blending modes, I got closer and closer to the bright palette I was looking for.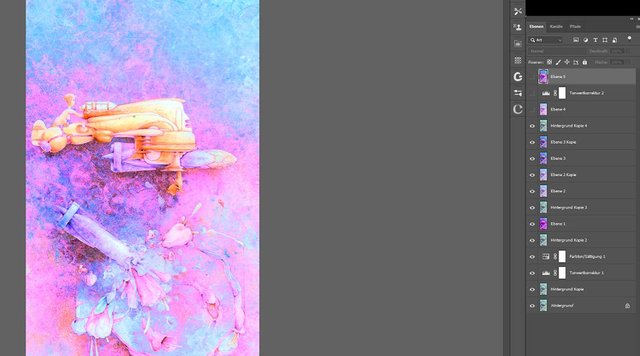 In Illustrator I added a HUD like overlay with some "text" and my signature.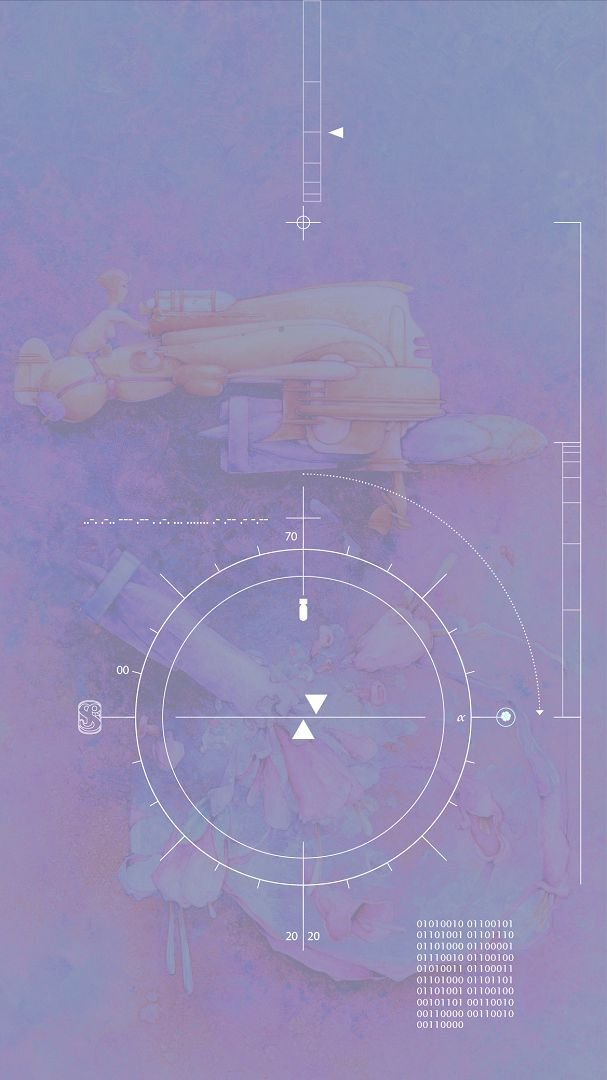 Finally I brought it all baked together back into Photoshop, made some final adjustments and was ready to tokenize the file: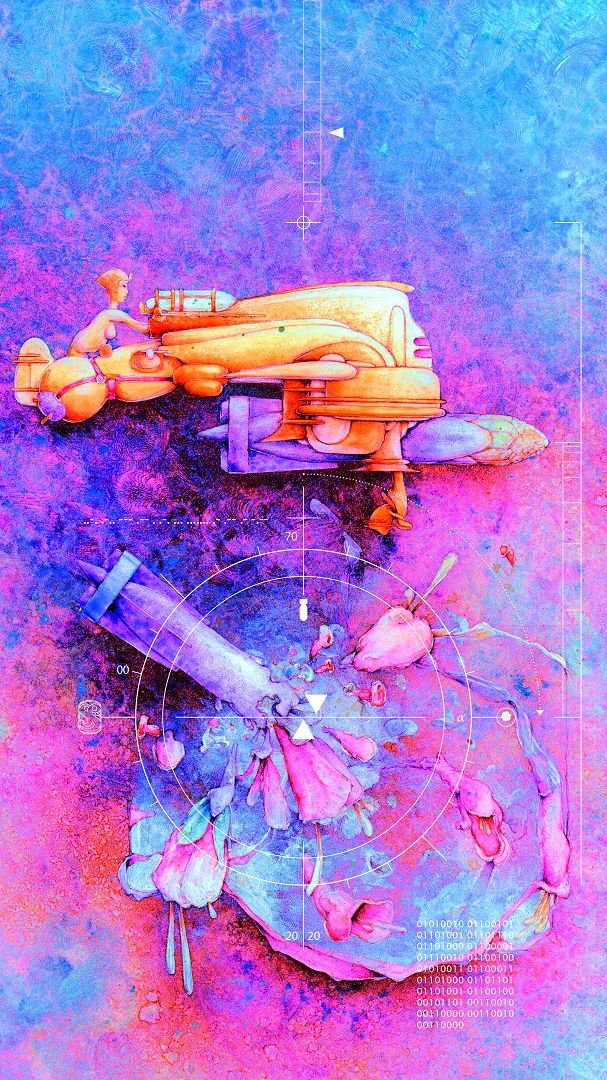 ---
Since file size is limited for tokenization, I'm always faced with the decision, if I want to go for resolution or movement. An animated gif obviously has to have a much smaller pixel size to fit. This time I wanted all the details to come out bright and clear and opted for a high resolution of 2337x4156px and png for best quality.
"Flower Bomber", tokenized at https://makersplace.com/reinhardschmid/flower-bomber-1-of-1-19457
---
I enjoy reading your comments!
❤
If you like my work, of course I appreciate your upvotes and resteems


All photos/scans by me of my own artwork. Original painting done in my special technique as introduced in What is Hinterglas?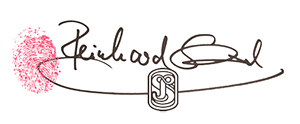 See more of my work on BeScouted
---
My tokenized collectible art at
---
---
Cross posted to my cent account