Drawing a dog
Hi guys!
For today, I have prepared for you my latest work, a drawing of a stafford. My friend wanted from me to draw him his dog. He did not have any desire for the background, but he wanted to the dog in the focus of painting. It made me a little annoyed, since I like people tell me what they want, but in the end I decided to come up with my own background. Given that he told me that he had an orange wall in the room, I decided to have orange sky in order to connect the sky with the wall color and the dog remained in the foreground. Before I show you the procedure, I want to say something about this type of dog. These are mostly some of the information that he gave me, since he has been asking a lot about this type of dog and I am not a great connoisseur of them.
Stafford was a dog formed as a mixture of terrier and bulldog, which changed the names over time. For the first time, this dog appeared in the nineteenth century in Great Britain and he is today very well known and sought after among dog lovers.
Previously, this type of dog was used in dog battles, however, in the mid-nineteenth century these battles were forbidden, so this type of dog became part of the family. They are known as brave and loyal dogs, who love the ones who feed them.
What is especially funny to me and what I heard, is that in the First World War, this type of dog received the rank of sergeant in the army, since he kept spies and saved many lives. Some were also celebrated as actors in films.
In the twentieth century, this type of dog spread to all continents in the world and was recognized in the federation. My friend also told me that this kind of dog can be very smoother and that he likes children. When I saw him for the first time, I could not believe it because he seemed angry to me. Over time, I realized that it all depends on the one who cultivates the animal, that is, his relationship with the dog is friendly, therefore the dog is not angry on him. I also saw their beautiful pictures, when a dog kisses him, he plays with him, which was very strange to me, because I first thought that I would be afraid of this dog. Although it looks dangerous, when a man sees a little better, this dog is a child in the soul. It is very useful, since it keeps the house, the property and at the same time he is very quiet.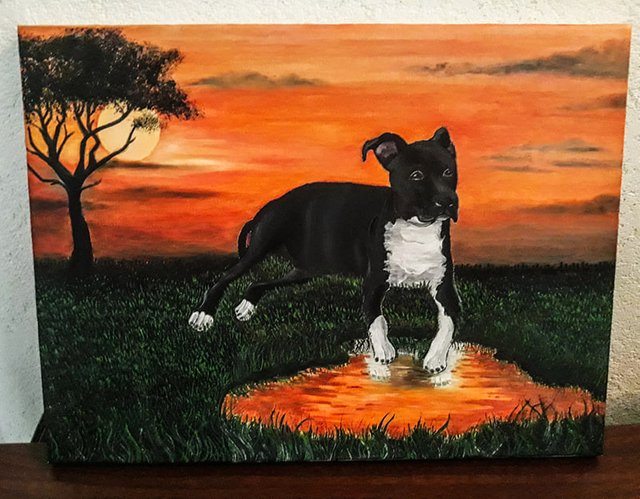 Here are some basic information about this dog that he told me and below is my drawing, or the process of my drawing. I hope you'll like it.
The drawing is made with oil on canvas, the size is 40 * 30 cm, and the initial steps are made with a pen....