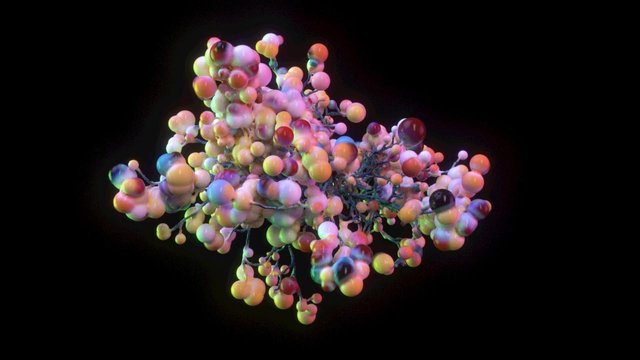 Tonight I was going to create a post titled "The UX Report - 8.19.2019". I thought it might be helpful to make a post describing my user experience on some of the main Steem platforms. Talk about what feels good, what doesn't feel good, what I'd like to do that I currently can't and generally make some suggestions to improve the UX on some of these dapps or frontends, or whatever.
Then I thought, I'll make some artwork to go with the post. That ended up being a deep rabbit hole as I stumbled across something I've never done before that I thought looked pretty cool, so this post is going to be about that instead.
I don't know about you, but I want to eat this thing. It looks yummy. I thought the animation looked like a timelapse of some sort of alien candy plant growing.
Skip this section if you don't care about the technical mumbo jumbo...
In previous versions of Octane it had the feature to transfer particle point color to VDB meshes, but it was buggy as all hell and if you touched it you were basically begging Octane to crash. Well it looks like in the latest version they fixed that and it all works really nicely now.
So to make this I used x-particles. The xpBranch object is what's controlling the branching and I have an xpScale affecting the particle radius and having them shrink over time. The particle color is mapped randomly across a custom gradient.
I added both the emitter object and an xpTrails object as sources for the OVDB mesher and used the "transfer point color" option to create a vertex color tag that I then used as the color source for the shader. I mixed this with another gradient mapped via a dirt node to color the branch areas.

If you're wondering why I'm going into this level of details it's because I want to start to share some content off Steem, to bring people back to Steem. This sort of breakdown is a good candidate for that.
I'll save the UX report for another day. See you all in the next post.