Pisces, The Dreamy Portal of the Universe (Part 1)
If you were born Feb 19th - March 20th,
Congratulations, you're a Pisces and it's your birthday!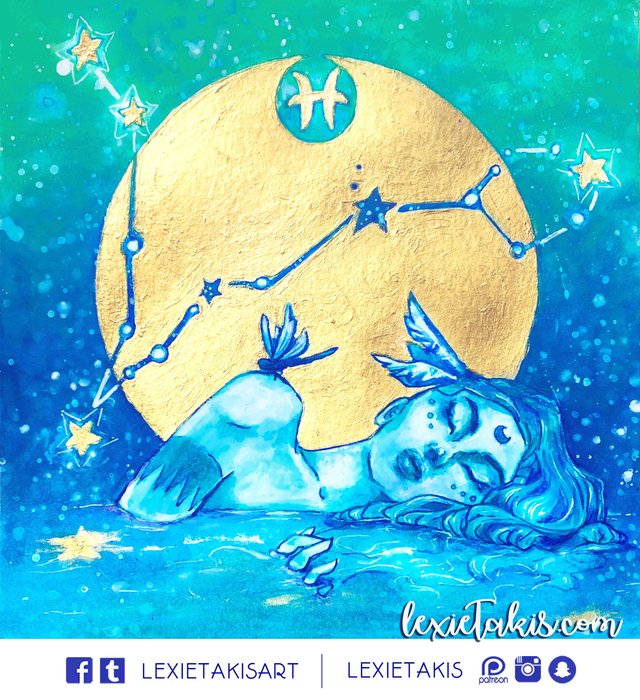 If you are a Pisces sun, moon or rising, this post is for you :)
If you do not know what your moon or rising sign is, look up your natal chart with this handy reference!
Pisces, the Dreamy Portal of the universe.
"In her awake hours, when the day seems harsh and callous, seeking escape, she passes by spirits on the streets and they exchange a knowing look. The otherworldly ones recognize her by her energy- how tired and quiet it is now.. and invite her to the afterglow in the spirit realm.

At night, when she escapes to her secret pond, she emerges from the portal barefooted, and walks through the hidden gardens and reflecting pools of the otherworld. There, her ethereal friends await her.

Occasionally a scattered lost soul stumbles upon her and tearfully asks, "Is this death..?" She wipes their tears away with a heartfelt embrace and reassured warmly, "Dear, there is no such thing." The watery glistening wisdom in her eyes attract every spirit to be their true essence in her presence.
A reverence for all that exists, and the meaning of it all runs deep within her free dancing soul.
She knows while her body sleeps, her spirit is truly alive amongst the stars. "

-Lexie Takis, Poetic description of Pisces, 2017



Common Traits of a Pisces (Sun, Moon or Rising):
The Beginning and the End:
Representing the elderly, the waning moon, sleepy nights and the portal into the next dimension, Pisces is seen as the last stretch of road before returning to ether and the spirit realm. As she has one foot in the netherworlds and one foot in the waking world, she has seen and heard it all. Where Scorpio is seen as the gatekeeper of death and rebirth, they are strengthened by the process of death, renewal, and what it means to fight in the name of the transformation of what you will become.
Pisces, on the other hand, has seen the other side, accepted it, has been humbled by it, and submitted to all of it. If she hasn't yet, she is learning to let go, take on the empathy and sympathy of all other forms of life, and explore what it means to die, but not be ended. The other side has life too, and the transition is not to be feared. Pisces have been rebirthed through all the 12 signs of the zodiac, and when she re-emerges as Aries again, there will be a child-like joy that replaces the sleepy elder-like wisdom and in that joy she will find what it means to be excited by life and its possibilities again.
Rose- Colored Wisdom:
Having seen and done it all through the 12 signs, Pisces carries the intrinsic wisdom of a long journey. Pisces' peaceful, laid-back trust in the Universe is what makes it so easy to let go and trust that everything is already perfect. Neptune, this sign's ruling planet, makes it easy to see the connectivity of it all, the full circle, and colors the dreamy tint of many Piscean lenses. Yes, this view is what can lead to those infamous 'rose-colored glasses,' but it is a beautiful way to look at the world. They seem to easily be open to everything without resistance or fear. They are relaxed and ready to accept whatever comes their way. When they are unstressed and are in a relaxed atmosphere, they shine and inspire those around them.
Sensitive, Tolerant, and the Life of the Martyr:
By nature, many Pisces are patient, well-intentioned, and empathetic. They see growth in other human beings, animal life, plant life, and identify with the emotional vulnerability that comes with it. Cancer nurtures the heart and emotional body, Virgo often nourishes and services the person, while Pisces nurtures the spirit. Pisces has seen a lot of hardship, burden, and handicap in the long time they have been around, and recognizes the struggle in others. It is not uncommon to see others come to them for spiritual support, comfort, and religious-affiliated things. Sometimes, if an artist, they provide the impetus for healing through their work.
Unfortunately, too much acceptance and empathy can lead to toxic influences being brought into their emotional lives. Sometimes open to a fault, Pisces are prone to glossing over or ignoring problems as if everything will be eventually resolved. Their faith is pure, but they can become too permissive of other's bad vibes. In extreme cases, Pisces will throw themselves at another's feet or ideals, becoming a martyr. They will sacrifice themselves for you, for their faith, or whatever they believe in.
But regardless of that, it's almost as if being so close to death, they see the best reasons for being alive are to heal others, and give of themselves, selflessly.
It is for certain that they do that with all the spiritual beauty in their hearts.



■ ■ ■ ■ ■

Stay tuned for my part 2!
I will talk in depth about the other defining traits of the sign and Pisces' greatest STRENGTH and inner divine medium, their intuition. If you like this post, my art, or my vision, please give me a follow! If you would like to talk, comment or offer your input, I would love to hear it! (As long as it is constructive in one form or another :)
My
social media
is linked below.
Thank you for all the support!
Art and article by me, Lexie Takis