Pisces, The Dreamy Portal of the Universe (Part II)
Hello Dear Pisces!
        If you were born
Feb 19th - March 20th it's your birthday!
        If you are a Pisces
sun, moon or rising,
this post is for you :)         
If you do not know what your moon or rising sign is, look up your natal chart with         this handy reference!
        Welcome to part II of your article.
        ✨
Part I can be found here
✨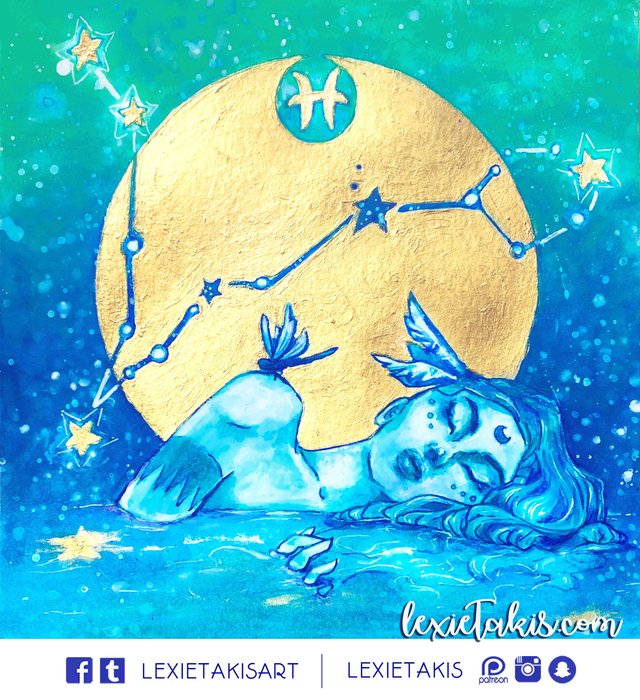 Welcome to Part II!
        I would like to thank you all for making my first Pisces post so warmly-appreciated! If you haven't read it, please do so! There is also a nice poetic description waiting for you there as well.
In this post I would like to expand on the traits of Pisces energy, as well as talk in depth of the symbolism and my process in creating "Pisces Sky" (the artwork above).
Common Traits of a Pisces (Sun, Moon or Rising) Continued:
An Addictive Escape:
            Pisces are well-known to indulge. Their ruling planets, Jupiter, the planet of expansion, and Neptune, the planet of illusion, both make it hard to know when to quit! They are most sensitive to drugs and alcohol but not necessarily the most prone to abuse. Some Pisces can barely have a drink or two before their sensitive channels open too far and invite all types of energy in- good and bad. In moderation, however, these controlled substances can open up a lot of psychic channels which create the experience of seeing, hearing, and feeling energy in a spectrum of curious bliss. Psychedelic themes seem to whirl, nature dances choreographically, colors have a euphonious melody, and time seems mythic... The intense experience of the dream-reality is intoxicating and borders are blurry. Dependency in relationships can be another pitfall in the watery undertows of Pisces. They can become so enchanted by something, it literally takes them away. Like the Little Mermaid, they dissolve into sea foam.
The Ethereal Artist:
            Oh, Pisces what a visionary you are! She floats away into the clouds of Neptune with all her daydreams, where she meets inspiration- she feels that all she loves and desires is all present within her sphere. From here she can get her wildest muses, drift with her ideas and collaborate with the spirit world. Pisces knows that while reality is harsh, the imaginary world is not. It is where inspiration thrives and dreams can come true. Dreams keep the faith alive as she gets in touch with other worlds.
Multifaceted Chameleon:
            Comprised of nebulous water, shape shifting comes second nature to these merpeople. Replace their fins with legs, and they're able to flow through water and air. They are a fractal mask of a million identities. Blurred into the collective consciousness, they can see everyone and become a piece of each. She floats along to the current, having never a solid identity, but a liquid one; sometimes she causes her own undoing through living out a chaotic string of selves. Using this weakness as a strength, Pisces is meant to embrace the creed of not finding herself but creating herself. As she tries on these different facades, Pisces discovers that you can be absolutely whoever you want to be. The boundless connection to humanity means that you feel a little bit of everyone in you. A refreshing metamorphosis.
Strength of Intuition:
            In order for Pisces' true strength to emerge, their self-confidence must truly flourish. They must trust their hidden eye, their intuition, and messages it gives. That is where Pisces' true power lies. They speak to our psyches, they can sense an otherworldly presence, and even see and feel visions. Claraudience, clairvoyance, and clairsentience are all common forms of their psychic attunement.
            The energy-experience of Pisces manifests sort of like walking through a dream; when Pisces rules their sun, the planet of the self, finding themselves can become a very hazy, confusing experience. Because of this, Pisces not only tries on masks to find out who they "really are," but also uses the power of intuition to navigate and guide them through their hard times.
             Pisces out of all signs enjoys and responds to pets and animals the most. They love the comfort, affection, love, and the ever-enduring emotional protection that these beings give unconditionally; that hug that can come whenever and forever, from the companion that never judges, has a listening ear, represents something higher and peaceful... because animals are non verbal, Pisces can develop a form of telepathy with them- love is communicated with feeling.
About the Art:
            While composing "Pisces Sky" I meditated on the true focus and energy-feeling of Pisces. The art itself is lush with symbolism, which I am pleased to bring into this article as some final thoughts.
Symbolism:
             The overall tone and color of this piece represents the dreamy calm tranquility that Pisces brings into the world. Blues and greens are the color of the water sign Pisces, which reflect that sense of peacefulness. The woman asleep represents the dream-realm Pisces usually operate in, and the pool symbolizes the portal between reality and Pisces' ethereal world. Pisces is usually seen and associated with fish, being a water sign, but I decided to take a different spin on the animal symbolism. The dragonfly, a mystical ephemeral creature with their gossamer wings, serves as a motif for the spirit world. Pisces is easily touched by intuitive themes and these insects reflect those sparks of insight- much like the way that their translucent, stained-glass-like wings reflect the glimmer of light on a full moon.
             Behind the woman and her insect companion, is the constellation for Pisces, reflected in the midnight sky. While composing this piece, I wanted to emulate the starry celestial sacred space of Pisces, in which she meditates and dreams in. I chose to depict the subject in the piece as a Native American woman for overall inclusivity purposes throughout the whole series, and to represent a culture that considers itself close to the earth, animal-kind, and all the energies that pass through it. The spiritual emphasis is accentuated in both the Native American identity and the Pisces energy itself.
(*If I have appropriated the respected culture in anyway please give me a notice and I will correct accordingly! )
Thank you all for allowing me to write this review of my art and symbolism. I hope the journey was enjoyable!



■ ■ ■ ■ ■

Stay tuned for Aries: The Fiery Trailblazer (Part I)!
I will talk in depth about the other defining traits of the sign and Aries' greatest STRENGTH and their inner divine child. If you like this post, my art, or my vision, please give me a follow! If you would like to talk, comment or offer your input, I would love to hear it! (As long as it is constructive in one form or another :)
My
social media
is linked below.
Thank you for all the support!
Art and article by me, Lexie Takis