Introduction: Sloan is a slum dweller residing in Old City, which is designated to be the waste disposal facility of the New City. The New City is controlled by the all-powerful and all-pervasive corporation, Eternal Yggdrasil Enterprise.
---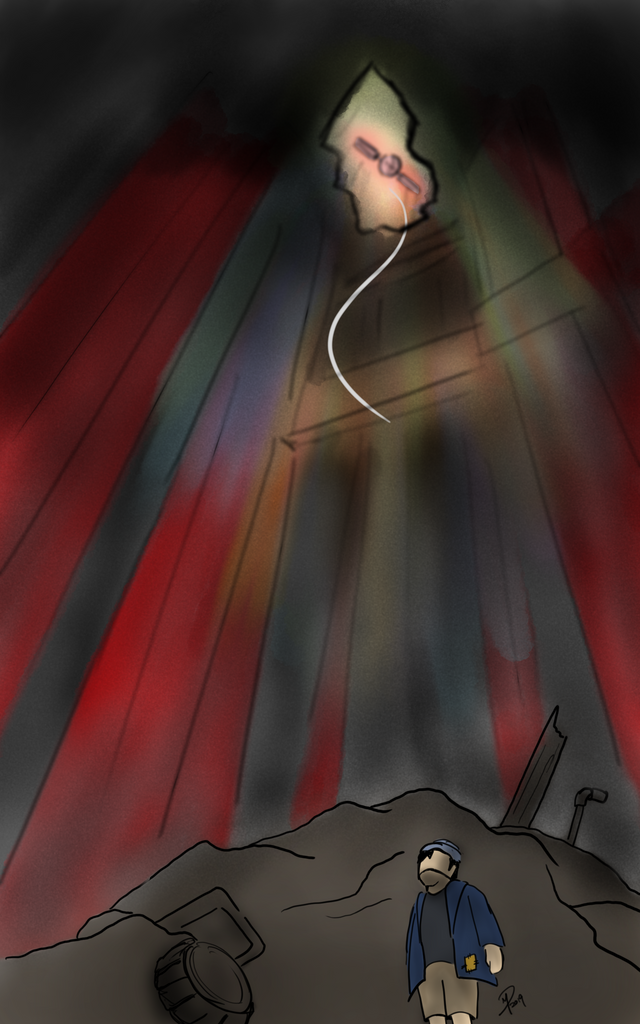 Something, or someone? Sloan brushed away his irrational fears whilst panting heavily from the run.
He should be invisible in the eyes of the Eternal Yggdrasil Enterprise (E.Y.E.) surveillance bot: Old City slum dwellers were not ID code-tagged as alive.
Sloan gasped, suddenly realising that he had put the AI chip into his pocket earlier.
Better to be safe than sorry. Sloan braked and took cover under the scratched and bent hoods of Toyotas.
Then there was a decrescendo and the siren became a whir and the whirring got softer and softer. The bot was returning to the E.Y.E. headquarters.
Sloan stared at its ascent, transfixed by the dreadful red halo.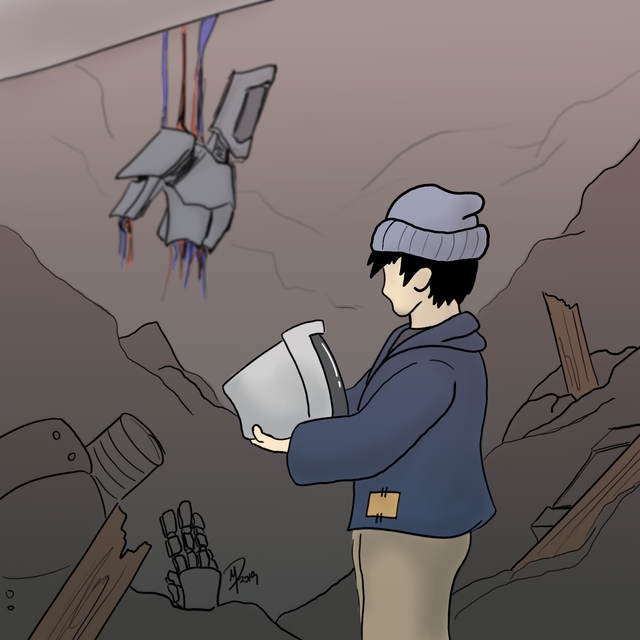 Will he discard the AI chip or keep it?
Inspiration struck Sloan. He ran excitedly to his makeshift bookshelf in that hovel of a home on Avenue 20. Maybe he could learn how to construct an AI bot from scratch.
(Books, or germ-pages according to official E.Y.E. dogma, were strictly prohibited. However, like Old City slum dwellers, their existence was disregarded.)
Sloan pulled out a thick hardcover "How to Build a Robot from Junkyard Materials" and thumbed through the first chapter.
It was not long before he went back to dumpster diving for the bot's head. Eventually he found a slightly bulky monitor screen. Sloan nodded to himself approvingly.
"Large and brainy."

Previously, on Sloan & Arty: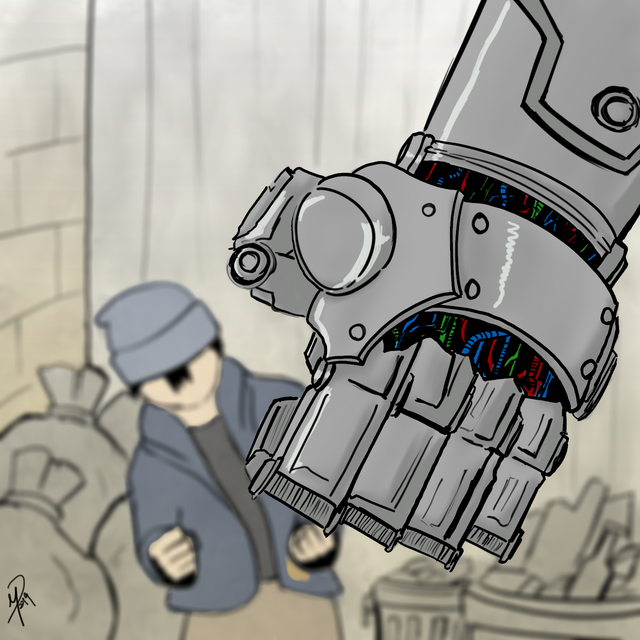 Into a pile of rusting machinery parts fell Sloan. Hard.
"Scurry off, midget, or we'll beat ya to a pulp!"
Still reeling from heavy punches, Sloan bit his tongue to stop the tears from flowing. "Give me some time."
The Avenue 33 gang shook their robotic arm fists at him menacingly. "Yeah, because you're so useless you can't even run," sneered the group of five older youths as they sauntered away.
He just lay there in the darkness. Whilst snatching breaths through bruised ribs, Sloan thought that as from the dung heap he came, so to the dung heap he returned.
The dung heap was where he was born and lived his life; it was all that he had ever known.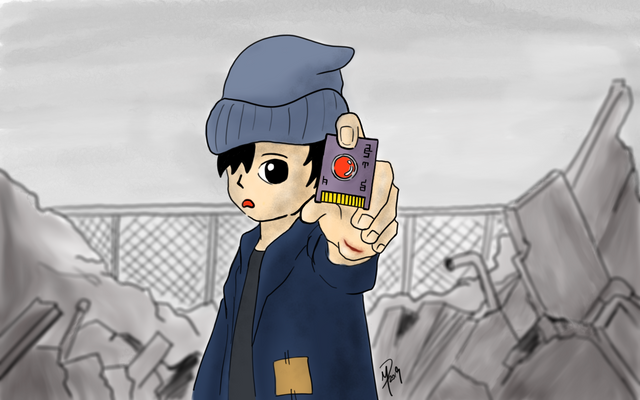 Sloan gingerly pushed himself up with his palms when suddenly, his right palm dug into something sharp.
"Ow!" He yelped in pain and withdrew his arm, only to see an AI chip. His curious streak impelled him to pick it up.
Abandoned AI chips from the New City was very commonly found but this chip was shiny, glistening with strange symbols. It pulsated a life of its own.
It might fetch a good price, Sloan thought to himself as he pocketed the AI chip. In the past there were days where he spent every waking hour rummaging through trash and yet finding nothing. Today, he got lucky.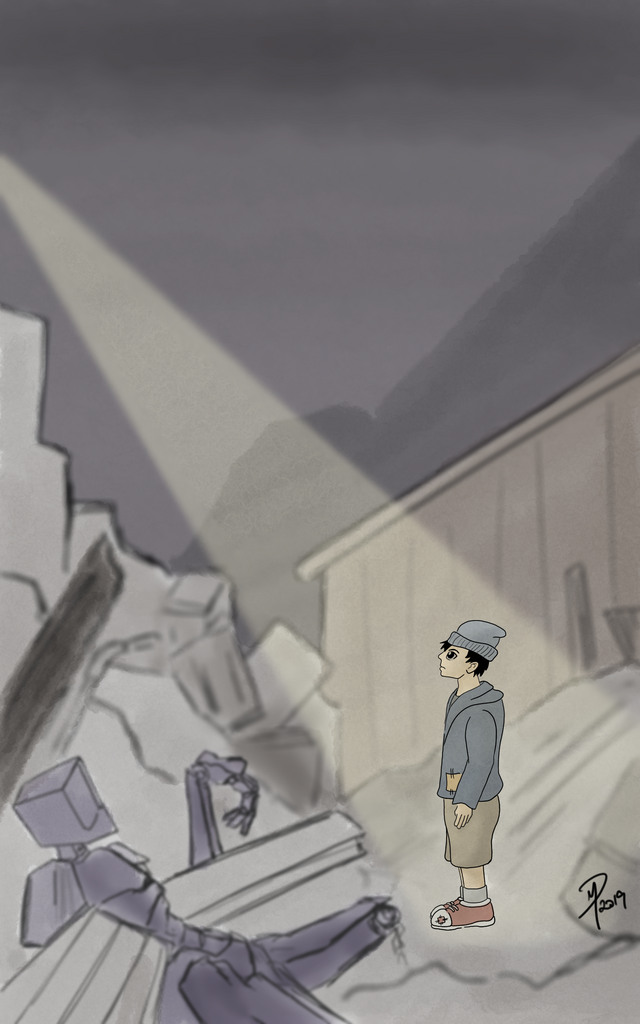 The excitement was quickly eclipsed when a pang of self-pity hit Sloan. The crowning glory of his life was that he found a good piece of trash.
Shoulders slightly slumped, Sloan plodded over to Avenue 22 to continue his scavenger hunt. Junk is still just junk.
Out of all the dumping sites of Old City, Sloan liked that place best. It was only at Avenue 22 that an ethereal stream of light from New City shone down.
The light never failed to strike him blind for a minute or two – Old City was perpetually draped in a gun-metal grey darkness – but he didn't mind.
Bathed in that white light, Sloan could dream.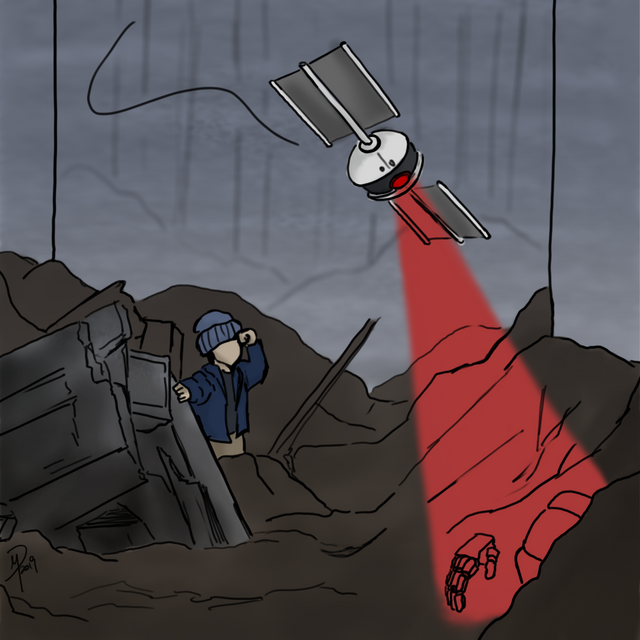 A soft buzzing whir, all too familiar to Sloan, disrupted his dreams. He stiffened up, back upright and eyes peeled open.
The Eternal Yggdrasil Enterprise (E.Y.E.) surveillance bot was approaching Avenue 22.
The whir evolved into a deafening siren. Sloan had to cover his ears with his hands, for the sound pierced through his eardrums and into his soul. It was shrill, like that of twice-ancient pterodactyls.
Hurriedly, Sloan ran away from the E.Y.E. surveillance bot and its red laser scanners.
More than ever he tasted fear on his tongue; it seemed that the bot was not merely here to conduct its cursory mid-day round.
Was E.Y.E. looking for something?

The ditigal artworks and story are all original, borne from a collaborative effort by Matthew (my graphic designer boyfriend) and myself.
Get the Eternal Yggdrasil Enterprise surveillance bot merchandise HERE!
E.Y.E. am watching you!