Thor, God of Thunder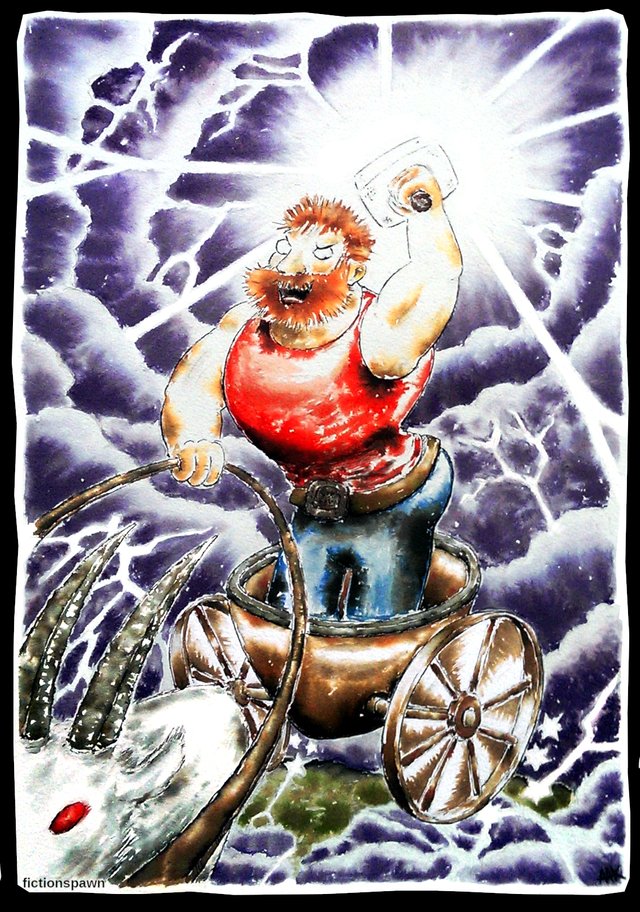 This is my visual interpretation of Thor, the Norse god of thunder, warcraft and fertility amongst other things.
Thor is the strongest of all the Norse gods, and he rides the skies with his wagon pulled by two bucks. When he does, thunder roars, and when he throws his hammer Mjöllnir, lightning flashes. He has several other magic objects as well: His belt, which makes him even stronger, and a pair of iron gloves called Járngreipr. I forgot to draw in the gloves when I made the illustration, which gave me the idea to a story: When Thor Lost His Iron Gloves.
The mythological Thor should not be confused with Marvel's superhero version of Thor. First of all, Thor is a god, and the strongest of them all. Even Hulk would be an easy match. Thor is the Aesir's (the Norse gods') protector, yet he's not particularly bright. The giants, the Aesir's enemies, keep fooling him, and so does Loki, although it usually ends bad for them all.
Norse mythology is known today as the Viking belief system, but it's really a lot older. Before Christianity battled its way up through Europe, the Norse gods were the gods of all the Germanic cultures, but it survived for a longer time up north. There were probably lots of variations, but the gods were mostly the same.
The illustration took me quite a lot of time and hard work, but the sketch came out quite naturally. Not much is changed from the first lines I put down on paper, which made me able to focus more on the inking process. It's also one of my bigger illustrations, in a full A3 scale.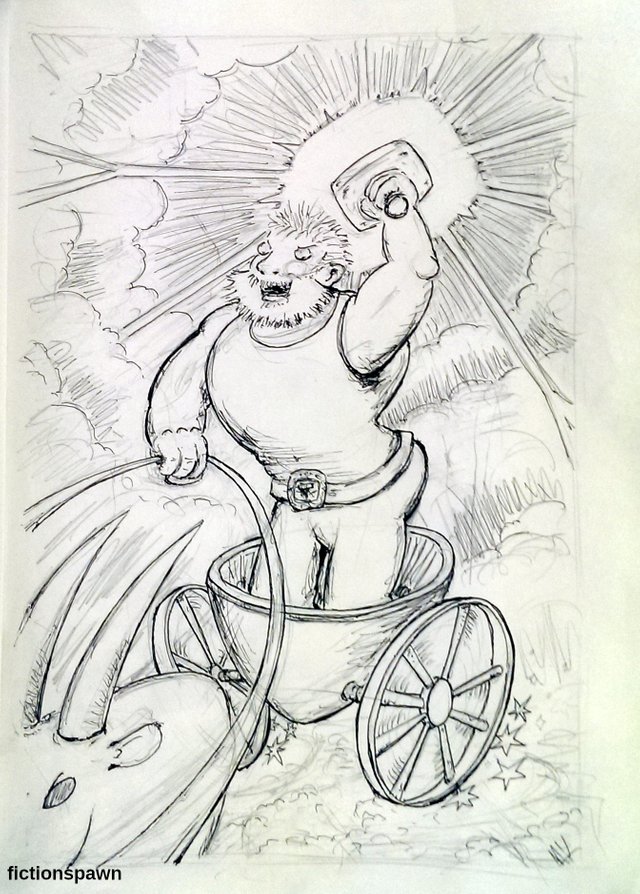 If you want to know more about Thor, here's a good article: https://norse-mythology.org/gods-and-creatures/the-aesir-gods-and-goddesses/thor/
You can also check out my earlier article about his father and chief, Odin, here on Steemit.