Odin - Chief of Gods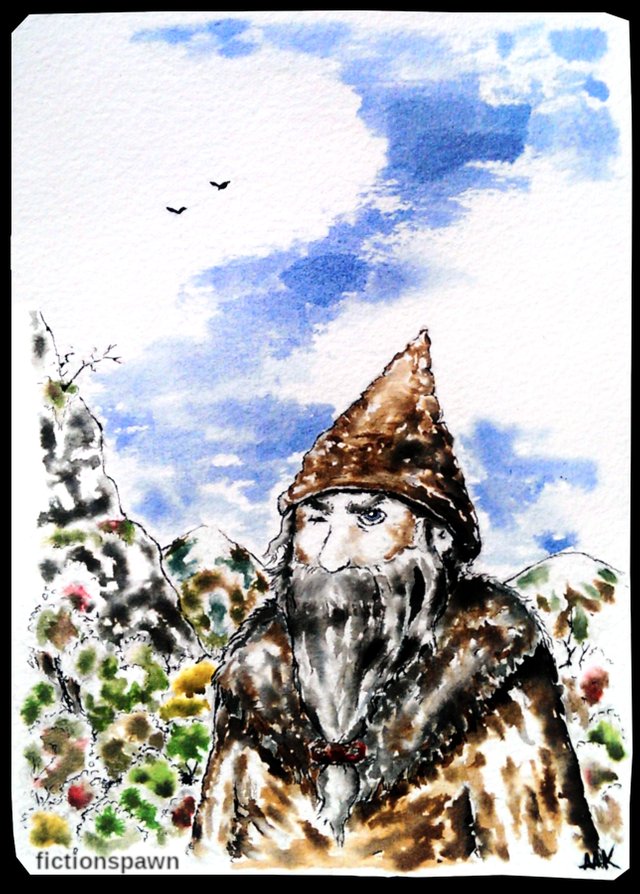 Growing up in Norway, I was always interested in Norse mythology. There was something about the human-like ways of the Norse gods, how they were both good and evil, and the monsters, like the demon wolf Fenrir and the World Serpent Jörmungandr, both children of Loki.
I recently read Neil Gaiman's Norse Mythology, and it brought me back to my childhood stories of gods fighting giants, or jotner, as we call them in Norwegian. It inspired me to make an illustration of Odin, as you can see above. Odin was the leader of the Aesir, the Norse gods, and the father of all, the Allfather.
Odin knew all and saw all. To achieve this he sacrificed himself by hanging in the world tree Yggdrasil for days, and he gave one eye to Mimir for a sip of his well for knowledge. He also had two ravens flying around the nine worlds, reporting back to him whatever they saw, and they saw everything.
He had two wolves, Geri and Freki, a magic spear named Gungnir, and two golden bracelets which reproduced themselves, making him the wealthiest of all. Magic items are quite common in Norse mythology, with Mjölnir, Thor's hammer, as the most famous one.
The Vikings feared Odin, more than they feared most of their gods, and they did fear them a lot. They made sacrifices to him, both of animals and humans. He was a god of war and violence, but also of knowledge and poetry. Odin might even be one of the oldest origins of Father Christmas, since he at midwinter used to travel the world and give present to good children and bring with him the bad ones. He's soften up quite a bit through the centuries.
One day, at Ragnarok, when the world will end, Odin will be eaten by Fenrir. Fenrir will also eat the sun, and it will all be over.
This is the sketch for the illustration: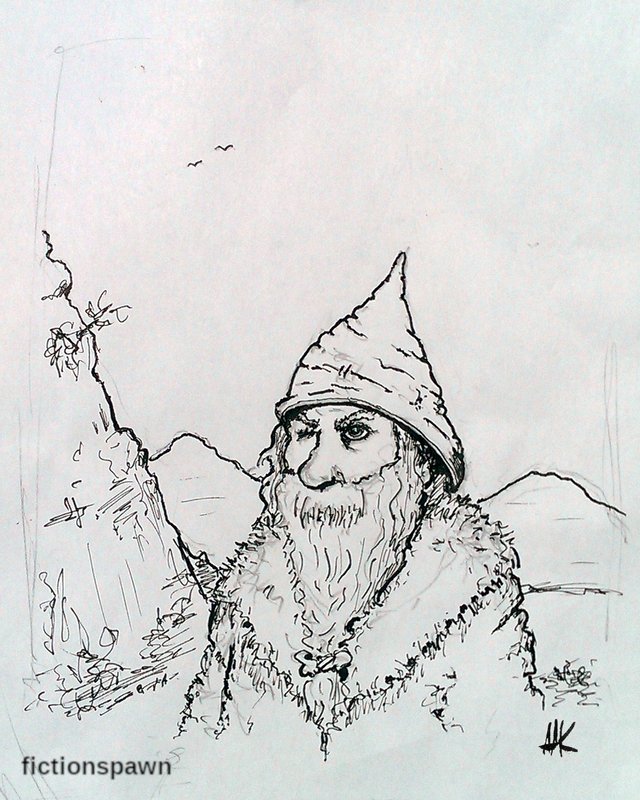 I changed it a bit, because I wanted him to look mightier.
I wrote a little story about Odin after making the illustration, which you can read here, on Fictionspawn Monsters.
Over at Writing on Tangents there's a good rewiev of Gaiman's book, here.
And here's a bit more information about Odin.
Thank you for reading, please upvote and follow for more.