The Three Sisters.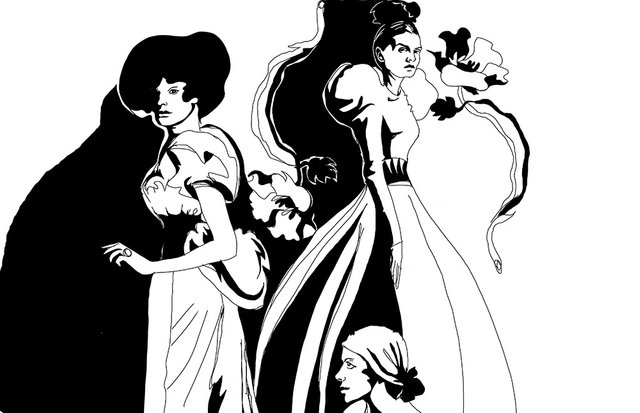 The entire piece: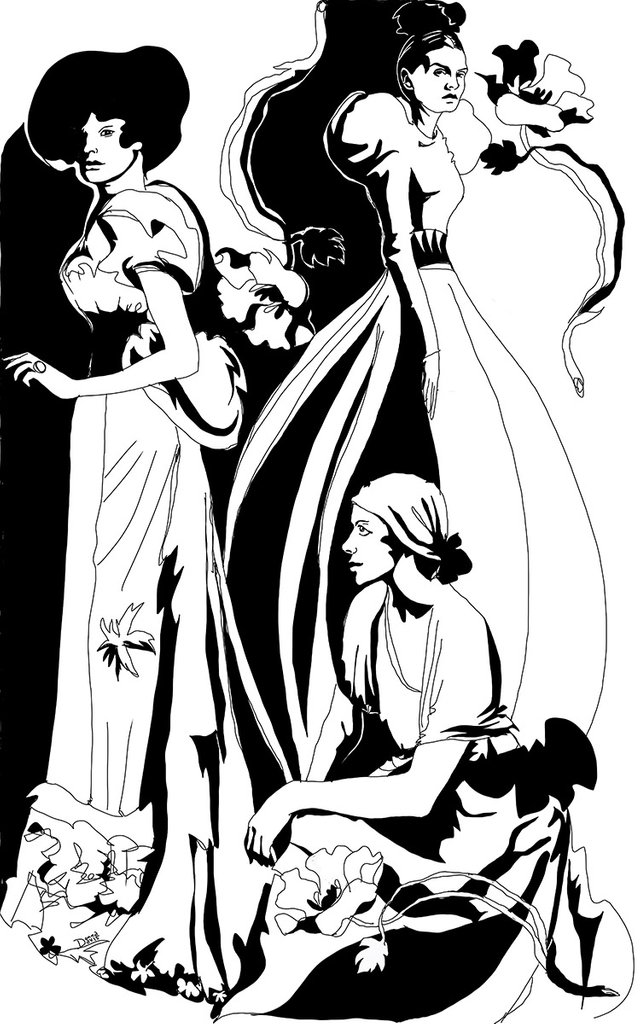 I have mentioned before that I love black and white line drawings and that to me they are a way to take a pause or a breath. That is not to say that I don't still labour over composition and work from pencil sketches, but
in their contrast of light and dark lies a Zen moment for me.
Having laid out the composition and sketched in a general feel, the inking begins digitally. That means using my wacom tablet and putting on some lovely music and going into the world of shadow and light; black and white: negative and positive space.
This meditative moment of art creation is oft accompanied by music.
Today it was the lovely Lisa Gerrard with the Bulgarian Voices, an accompaniment that is transcendent. And thus, in my isolated studio digital pen to tablet, I transcend.
It might sound a silly exercise, but to me Art is such a part of my life that it takes on many forms. A sketchy afternoon at a cafe, it is my companion and camera, snatching up moments of a busy day. The world of daydreams, slipping in to imagine a new place that has a familiarity to the world, but a surreal slant that amuses. And, of course, the black and white practice that is, for me, a meditation.
Art is a constant companion in my life, whether making or admiring.
Of course, waxing poetic also often accompanies my day and my drawings. I cannot help but live in the narrative. It is simply how my relationship with art has always been.
As a small child I would spend hours drawing on large pages given to me by my father. His old desk calendar page would come to me. These were so large to my small frame, that I could lie upon the hard floor of my playroom and cover half of it with myself.
The back of these large calendars pages (representing a month) were blank on the back and so I'd fill them randomly. Starting at any point and going out in all directions, but they were filled with characters interacting, women grew into sea creatures upon houses.
It made no visual sense to anyone else, but to me it was a place to delve into; another world I could slip into as easily as Mary Poppins into chalk drawings.
I remember that waiting for the next calendar month to end had a bit of Christmas morning in it. You'd draw and draw but watch the calendar knowing soon enough, in 30 days or so, another page blank and ready would arrive. I think maybe that was the beginning of my setting goals and waiting for results that has always been tied into my art. Making a plan, looking for an outcome, and then filling in all the bits in between with doodles and scribbles, paint and ink, colour and black and white.
Well, I have gone on long enough and did not even mention the work itself. "The three sisters" take it as you see. Are they the Muses? Are they witches? Are they a familial group or simply the stages of a woman's day? They are, really, all that and more.
What do these three ladies conjure up in your mind? Let me know down below, if you feel so inclined.
If you like my work by all means upvote, resteem, and comment. I always appreciate comments.
---
And check out my other posts.
---
Copyright @donnadavisart - All Rights Reserved