Daniel - Portrait ❤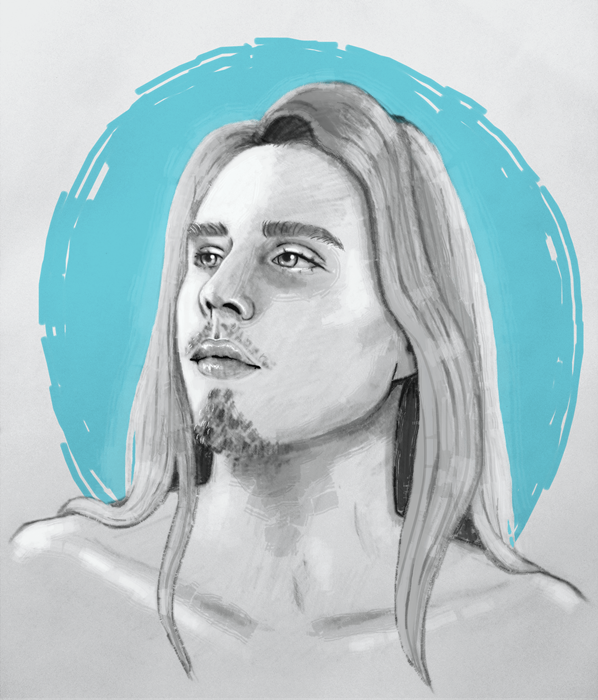 Luckily, you exist.

And luckily, too,
you do not only exist,
but you put yourself here,
right next to everything that is far away,
to be close.

And luckily, even more,
not only do you exist
and you stand here,
but you are in that exact place
in which you make me think
that I deserve to inhabit it,
know the corners that contain you
and know how to look at you too
when I close my eyes.

Like a dream.

Like the dream that appears
in the precise moment
in the place that you occupy.
Original poem by Elvira Sastre
Translated by me

     Hello community! Today I bring you another portrait, this time from a special person, my lovely boyfriend
@danig
❤ This is a surprise gift for him ❤
     To make this portrait I used as a reference a photo that I had taken to him a few months ago, I made a hand-made drawing, then I took a photo and in the Paint tool SAI program I finished the drawing.
     Despite working digitally, I wanted the drawing to keep the appearance of having been done in pencil, so I used the tool "crayon" of Paint tool SAI. I did not use graphic tablet, only mouse. It took me about 2 hours to finish this work.
❤ Details ❤
Copyright @anrux - All Rights Reserved

I hope you liked my post. You can support me by voting for the post and leaving me comments :3
❤ Thank you very much! ❤