🎨My Chinese painting:A boat, a man and mountains国画:一舟一人一群山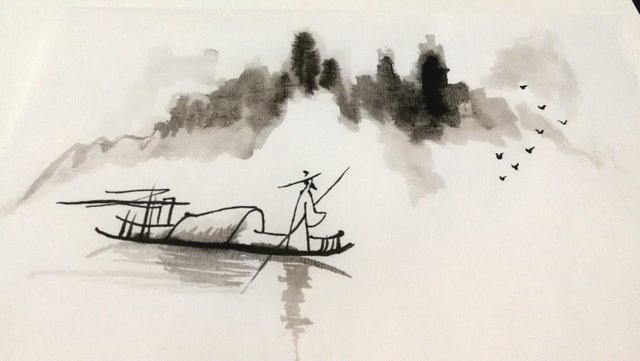 Chinese artists believe that calligraphy and painting share one common source.
Chinese painting, which is done with a brush on paper or silk in black ink, can be divided into three different ories: landscape painting, figure painting and bird-and-flower painting.
It also absorbs the best of many forms of art, like poetry, calligraphy, painting, and seal engraving.
This is a picture which I drew yesterday. It took me about 15 minutes.
🎨The Drawing Breakdown:(绘图步骤)

---
中国国画博大精深,可惜我连门都没有入。
远处画的那个山,简直就像一团"尸米"(允许我文明一点,把字分开打)。
我画的是一个老翁带着大大的帽子,蓄着长长的翘翘的胡子,泛着小舟,准备去远处山里一探究竟。远处一大群飞鸟在山的这头熙熙攘攘的叫唤,打破了原本的平静。
好久没碰国画了,主要是技术太差,不敢献丑。
等我研究一些时日,准备再次挑战牡丹试试(头两次画牡丹失败,一团糟)。从哪里跌倒就要从哪儿爬起来!
---
★ "Drawing Master" Past Contests( 齐白石杯绘画大赛往期回顾):
---
11.6th "Drawing Master" Contest,★Theme: The World Cup★第6届:世界杯
---
Thanks for reading.
---
If you like my articles. Please contact me. Follow me @angelina6688. We can discuss and make progress together!
如果你也喜欢我的文章,联系我追随我吧。我们可以一起讨论一起进步!
@angelina6688
---