Colores de punta a punta/Colors from end to end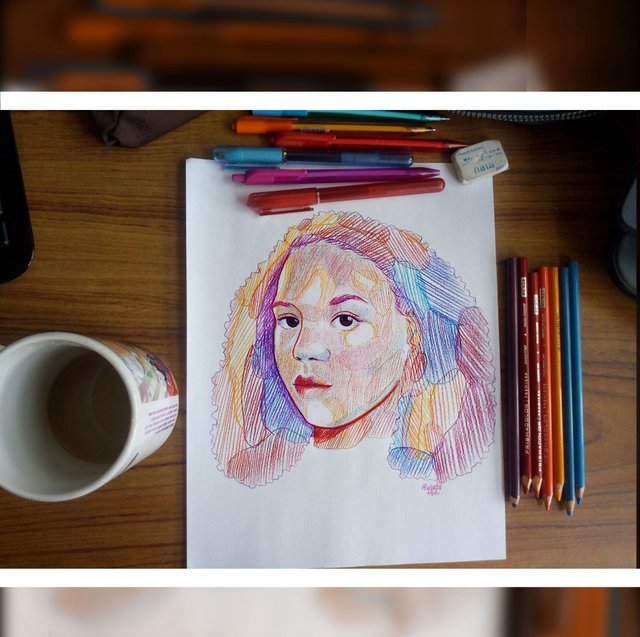 Color splash girl by Alejandra Herrera
Es un poco frustrante tener disponible decenas, y hasta cientos de colores a tu disposición y nunca trabajar con ellos. La razón es que cuando están acostumbrado a no usar colores, o si ha pasado mucho tiempo desde la ultima vez que lo hiciste, el período de adaptación suele ser engorroso.
En estos momentos estoy felizmente saturada de trabajo editorial, y salir de la rutina creativa es un respiro.
¿Cómo lidio con el "bloqueo creativo"?
ROMPIENDO LA RUTINA. Hago lo que sea y si sale mal, no importa, puedo arreglarlo o usarlo para un collage. Pero si hay algo seguro es que Crear es siempre una experiencia maravillosa, aunque los resultados no sean siempre los esperados.
Este es un ejemplo de ello. Al principio (1ra imagen del proceso) sólo quería hacer un retrato utilizando bloques de color, pero utilicé los colores con la técnica que estoy más habituada: portaminas, estilógrafo y lapicero). Así que decidí hacer éste retrato con mi técnica de siempre, pero dando un giro: creé bloques de formas y los rellené con líneas de color. Estos los distribuí de acuerdo a cómo la luz de reflejaba en su rostro, y afiné detalles usando bolígrafos de colores.
Es un inicio, y empiezo a disfrutar los colores.
---
English version
It is a bit frustrating to have dozens available, and even hundreds of colors at your disposal and never work with them. The reason is that when you are used to not using colors, or if it has been a long time since the last time you did it, the adaptation period is usually cumbersome.
Right now I am happily saturated with editorial work, and getting out of the creative routine is freshing.
How do I deal with "creative blocking"?
BREAKING THE ROUTINE. I do anything and if it goes wrong, it doesn't matter, I can fix it or use it for a collage. But if there is something certain, it is that Creating is always a wonderful experience, although the results are not always as expected.
This is an example of that. At first (1st image of the process) I just wanted to make a portrait using color blocks, but I used the colors with the technique I am most used to: mechanical pencil, stylographs and pen). So I decided to make this portrait with my usual technique, but with a twist: I created blocks of shapes and filled them with colored lines. I distributed these according to how the light reflected on his face, and refined details using colored pens.
It is a beginning, and I begin to enjoy the colors.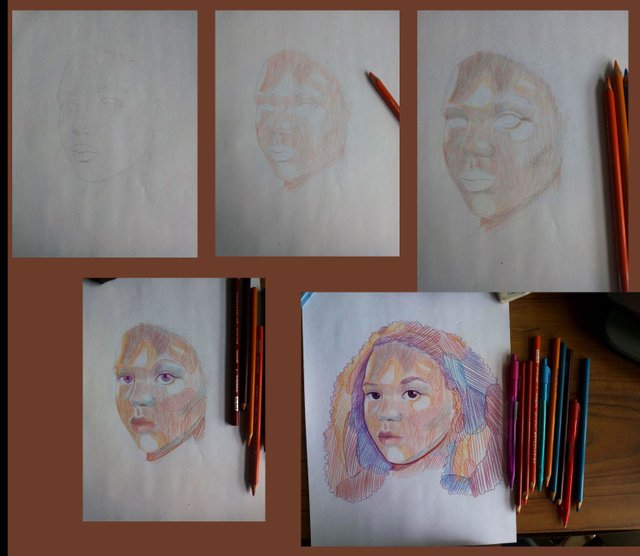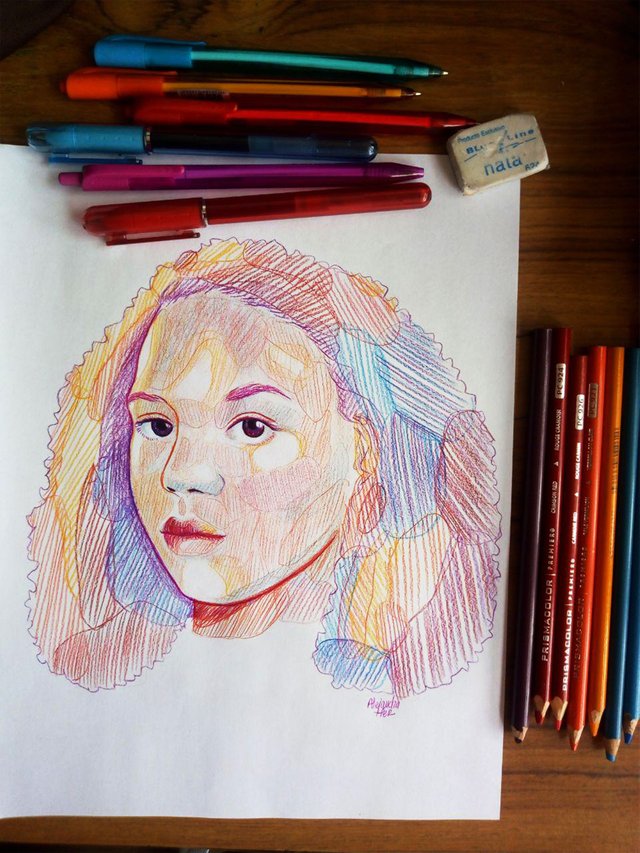 Si te gustó mi ilustración, puedes revisar mi post anterior,en el que hago un retrato usando color y bolígrafo rojo. Solo haz click AQUÍ
If you liked my illustration, you can check my previous post, in which I make a portrait using color and red pen. Just click HERE
If you like my work, visit my Instagram Account