Finally Network & Critday Collaboration [The DApp - Steem-based Portfolio for Architecture Students]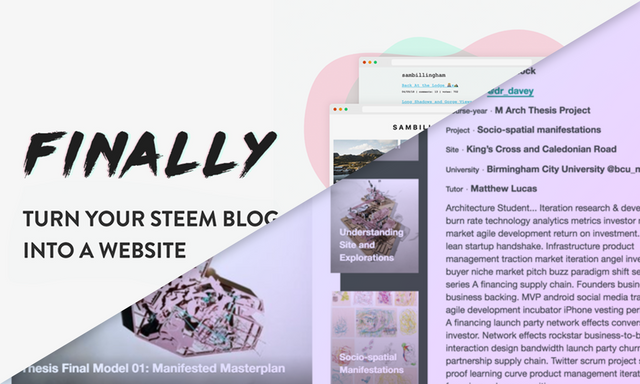 This article by @sambillingham is part of a blockchain collaboration series. Learn more about the Sndbox #cryptocollab initiative, here.
---
It's finally here
A collaboration with
@critday
.
Critday has an engaged and active audience of architecture students on Instagram [critday] and on http://critday.com. Finally has a new prototype website platform. We discussed at length what would be an appropriate collaboration. The plan for Finally is to create a website builder platform using data stored on the STEEM blockchain. STEEM users will be able to create stylish websites with minimal effort.
We decided to create a custom theme specifically designed to showcase student work. Students can get involved with the STEEM network whilst also getting a portfolio. Our thoughts were as follows.
Students get the opportunity for rewards for keeping an active portfolio
Students get a free website/portfolio that looks more professional and personal than a blog network
Students can network and collaborate with multi author sites or through shared hashtags
Critday can have an automated collection of work to further showcase the best students.
Critday can reach out to students and share opportunities with them.
The blockchain/Network benefits from content that is not for contents sake.
Finally Benefits from a wider user base
@critday
worked on a number of designs. The initial aim is simplicity. Student sites have a small bio with contact information along with a rolling feed of the latest four work pieces.
Design we choose to work from
Integrating new themes into Finally has been made easier with a number of updates over the past few weeks. Primarily themes need two views, the main feed view and a single page view. Once these are created and styled the data for a student can be updated by logging in using Steemconnect at
https://finally.network
. Currently the Critday theme can only be activated by an Admin while we decided on the best way to onboard users.
We have used @davidbaldock as the first user for the @critday - @finallynetworkcollaboration theme user. 👏
Current live version - https://finally.network/@davidbaldock/
Thanks to @critday for the work towards this project. Thanks to @sndbox for their support and encouragement through cohort2. In a coming update we'll be enhancing the main site and user dashboard to better explain current features and guide users.
Finally is always looking for further options for collaborations. If you're looking into integrate your community into its own website or allow users to create a website with their STEEM data please get in touch.
If you're interested in this project and able to support @finallynetwork we're looking for STEEM POWER Delegation.
---
This post was authored by @sambillingham, a member of the sndbox incubator. Learn more, follow @sambillingham or begin a conversation in the comment section below.
---


Empower artists, writers, musicians, non-profits and community initiatives - delegate Steem Power to @sndbox (using the links below) or follow our curation trail. Learn more about Sndbox - watch our introduction, here.
Follow us on Twitter, YouTube, and our magazine The Creative Crypto / @creativecrypto

---
---
Posted from my blog with SteemPress : https://sndbox.blog/finally-network-critday-collaboration-steem-based-portfolio-for-architecture-students/
---